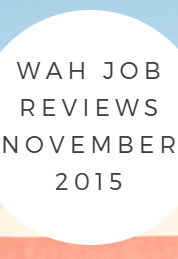 Another month has passed and 2015 is almost over! Today I have the November wrap up post with a list of all the Work At Home Job reviews here at Full Time Job From Home.
I cover a few list posts, some work at home jobs, some unique ways to make an extra income, and some smartphone apps.
As always, I left a brief description of each, but you can see my full review by clicking on the products name.
Hopefully you enjoy this wrap up post, and don't forget to see how I recommend to make a full-time and extra income online!
---
Work At Home Job Reviews November
Ways To Make Money Online Lists
13 Ways To Get Paid To Download Apps : As the name suggests, this post will show you 13 different sites and apps to use to get paid to download other apps.
7 Ways To Get Paid To Listen To Music : Learn 7 different sites you can use to get paid to listen to music and the radio.
6 Ways To Get Paid To Clip Coupons : Learn 6 sites you can use to clip coupons online and get paid.
13 Ways To Get Paid To Visit Websites : See a long list of sites that pay you to visit website otherwise known as "paid to click"
Make Money Online Tips & Tricks
How I made $100 Shopping At Ebates Last Week : In this post I'll show you how I made $100 in a week shopping at Ebates through their referral program. The best thing is you can take advantage of this referral system too! Refer 3 friends and earn $100.
How To Earn More At PaidViewpoint: My Favorite Pure Survey Site : PaidViewpoint is one of my favorite survey sites that only sends you surveys you're pre-approved for. Meaning you'll never get kicked out of a survey again! I go over some very helpful tips on how to earn more.
Transcription
Transcription Hub : A transcription site perfect for beginners. You will have to pass a test, but it's very easy. Once you're accepted you can claim work and get paid by audio hour transcribed.
Reading & Editing
Measurement INC :  A editing job that requires at least a 4 year degree. They do offer a flexible schedule. Most members make around $12 an hour.
Tutoring
PrepNow : One of the most sought after tutoring jobs out there. Most tutors make $15 an hour and keep a full schedule due to the long term students you're assigned.
Paid To Visit Websites
NeoBux : One of the more popular paid to click sites. Visiting websites earns you a few cents. Crazy difficult referral program and some restrictions with a free account.
AdFiver : Another paid to click website that pays a few cents for visiting websites. You can join for free, but it does offer a premium paid membership.
Shopping & Free Products
SnagShout : An awesome site that gives you cool Amazon products for a few bucks in exchange for a review.
Giving Assistant : A site similar to Ebates, where you purchase a product through a store and earn cash back!
PunchCard App : Upload receipts from almost any store. Earn points to exchange for gift cards.
Paid To Listen To Music
HitPredictor : Get paid to listen to popular music and let them know if you liked it. Very limited rewards.
Paid To Receive Mail
US Monitor : Get paid $10 a month to receive mail.
Hausernet Mail Decoy : Get paid $.10 for every piece of mail you receive.
Extra Income Apps
ClaShot : An app that lets you take pictures and upload them for sell on your mobile device.
Perk TV App : Get paid to watch videos on your smartphone. One of the most popular perk apps.
Perk.com 11 Apps : A full review of Perk.com and all of their apps. Earn points through a variety of ways to earn. Exchange your points for sweepstakes entries and gift cards to popular stores.
Scams
Take Surveys For Cash : A complete scam that promises you a secret to making more with surveys.
Real Writing Jobs : Promises a system to get you a writing job with no experience needed.
Elite Mystery Shopper : A mystery shopping product that just gives you a list of other mystery shopping sites.
Paid Shopping Providers : Another mystery shopping product that isn't worth the price.
---
More Work At Home Job Reviews
Thanks for checking out this wrap up post from November. But the WAH reviews don't stop here.
If you'd like to see a larger list of reviews, check out My Free WAH Jobs Directory.
You can also see how I make an online income with My #1 Recommendation.
Not interested in working at home? Here's some ways to make an extra online income, that anyone can take advantage of.
If you have any questions about these reviews, just leave me a comment below!