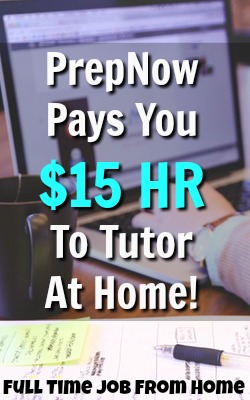 If you have some tutoring experience, you may be interested in the tutoring position at PrepNow. PrepNow is a website that hires tutors to help students in a variety of subjects. From what I can see the company and it's teachers are very happy.
There're some requirements you'll need to meet to apply, but if you can land the job, this is a pretty awesome tutoring job.
In this PrepNow Tutoring Review I'll cover the requirements, application process, how it works, how much you get paid, and what other tutors have to say about the position.
A similar company called SayABC is currently actively hiring and paying up to $28/HR! Make sure to check them out!
---
PrepNowTutoring Review: How It Works

PrepNow is an online tutoring website where Tutors are hired to tutor K-12 on a variety of subjects such as test prep, math, science, and much more. All tutoring sessions are done 1 on 1 and tutors are paid an hourly rate.
All tutoring sessions are set up in advance and put on your schedule. PrepNow prides itself on having long term students, meaning once you tutor a student you'll most likely be able to tutor them long term, maybe even a couple times a week.
All tutoring sessions take place in the PrepNow virtual classroom. The tutor and student will be able to speak and communication just like they would in a face to face tutoring session.
---
PrepNow Tutoring Requirements
There are a few requirements to become a PrepNow tutor. I've listed them below:
2 Years of teaching or tutoring experience
4-year college degree
28 ACT score or 650 SAT
Night and Weekend Availability
Available at least 6 hours each week
If you can meet these requirements, you can apply to become a PrepNow tutor. But even if you do meet the requirements, there's no guarantee of being hired. They do evaluate your teaching style to make sure you're a good fit for them.
---
PrepNow Tutoring Application Process
The application can be filled out on their website if you meet the requirements. You'll need to provide contact information, schedule your availability, provide proof of education/test scores/employment, and they give you an opportunity to tell them why you're right for PrepNow.
If they're interested, they'll contact you via email. If hired there's a training period that teaches you what they expect and how to use their classroom effectively during tutoring sessions.
I'm not 100% positive if the training period is paid, but did find in some forums that it is.
---
PrepNow Tutoring Pay
Now I've done some investigating, and it looks like most tutors are paid around $15 an hour. I also found that if you continue to improve and take the training they provide, there's room for advancement and pay raises.
So if you take into consideration the required 6 hours a week, you can easily make $350-$400 a month as a tutor, and that's if you work the minimum amount of hours.
---
Why Tutors Like PrepNow?
Getting paid to tutor online isn't a new concept, there're many sites out there that hire tutors. But PrepNow seems to be one that tutors enjoy and want to work for. Here're some things I found in forums that tutors like about PrepNow.
Long-Term Students
The biggest advantage I saw, and many tutors mention, is long term students. Most tutoring sites are set up like freelance sites, where you bid on jobs or only work with the student once.
With PrepNow, most of the students need frequent tutoring throughout the year. This means once you acquire a student you should be able to tutor them often, without having to find new students to tutor.
Easy To Use Classroom
PrepNow makes it easy to have all the tools you need to tutor. They have a built-in online classroom that lets you share your screen and do problems right in front of the student, just like a face to face tutoring session.
PrepNow does all it can to make the tutoring session as seamless and efficient as possible.
Room For Advancement (Higher Pay)
I don't have any exact details on this, but other tutors have mentioned that with good feedback, experience, and some additional training tutors can receive higher pay.
It's good to know that it's no just a dead end, part time tutoring job, and that staying with the company can raise your hourly wage.
---
PrepNow Tutors Complaints & Concerns
Seasonal
Just like all tutoring jobs, there's a ton of demand during the school year and basically nothing during the summer. The unfortunate thing is that's when most teachers and tutors have the most time.
I'm sure you'll be able to tutor a bit in the summer, but 90% or more of the tutoring you do will be during the school year.
Part-Time
This goes along with seasonal work. Obviously, most students are in school all day and then need tutoring at night and on weekends.
There's no way for this to be a full-time job. There's just not enough demand throughout the day to make it possible. You should know that the work is part-time and you may have to give up some free time at night and on weekends.
---
Is PrepNow Tutoring A Scam or Legit?
From what I found PrepNow is a completely legit scam free tutoring site that tutors enjoy working for. The biggest advantage that I found was the long term students. A lot of other tutoring sites make you wait online for students that need help or have you bid on tutoring sessions. Well with PrepNow you're assigned a student, and most students need frequent tutoring sessions throughout the whole school year.
If you're interested in becoming an online tutor, I highly recommend checking out PrepNow. If you can meet the requirements, you should at least apply on their website here.
It seems that they get back with applicants pretty quickly, so if you do apply expect to know if they're interested within a week.
If PrepNow isn't for you, here's some other work at home jobs to check out. You might even be interested in how I work from home with My #1 Recommendation.
Have any other information about PrepNow Tutoring? Let me hear your thoughts on this review in the comments below.
Summary
Reviewer
Review Date
Reviewed Item
Author Rating