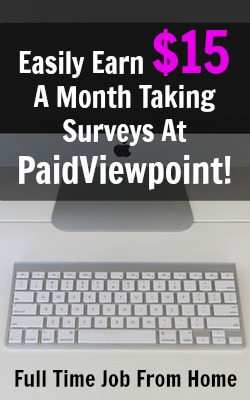 A few years back I joined a cool survey site called PaidViewpoint. Today I thought I'd cover some cool cheats and tips on how to earn more.
If you're not familiar with the site, you can see my full PaidViewpoint Review here. I like this site because you're always approved for the surveys. If you've ever taken surveys you've probably answered a few pages of questions and then were told you did not qualify. Well with PaidViewpoint, that will never happen.
Another remarkable thing is most surveys are only ten questions and take under 2 minutes to complete.
These are the two big reasons why I love PaidViewpoint, but today I'm going to give you some knowledge on how to earn more with this site.
Please understand that although PaidViewpoint is legitimate and my favorite survey site, it's not going to be a huge income. If you're looking for a full-time income, check out My #1 Recommendation, it's how I made over $13,000 online last month!
So let's get started.
---
PaidViewpoint Cheats & Tips To Earning More
Below I've covered a few tips on how to raise your trait score and make the most money possible at PaidViewpoint.
1) Fill Out Your Profile Completely
When you join, you'll need to complete your profile. It's just a few questions that take under a minute to complete.
The easiest way to get more surveys, raise your trait score, and earn more money is by making sure your profile is complete.
This gives PaidViewpoint some information to make sure you qualify for surveys. And they will also ask you questions during trait surveys that you've already answered on your profile. If you answer correctly, it's an easy way to raise your trait score over time.
2) Take Every Survey They Send You
For some reason, people ignore PaidViewpoint's trait surveys, but it's the key to earning more. Make sure to take every survey that they send you.
Yeah, trait surveys only pay $.10 (some countries pay lower), but it only takes a few minutes to complete, and your trait score will rise over time. Having a high trait score means more surveys and bonus earnings.
3) Be Quick 
This goes right along with taking every survey they send you. When PaidViewpoint sends you an email saying you have a survey available, make sure to take it as soon as possible.
Usually, trait surveys are available for a full day, but it's always good to take every single one they send. But the surveys they send do close after a certain number of people take them.
To earn the most and raise your trait score, make sure to take all surveys and take them as soon as possible before they're no longer available.
4) Accurate & Consistent Answers 
If you're already a member of PaidViewpoint you know about the trait score. This a measurement of how active and consistent your answers are.
While taking trait surveys, you'll probably notice that they ask the same questions over and over sometimes.
Make sure you answer honestly and give consistent answers during trait surveys. This will raise your trait score and lead to a bonus every time you take a survey.
5) Cash Out As Soon As You Reach $15
As I mentioned in the introduction, I usually reach the cashout amount 2-4 times a month at PaidViewpoint, so I have some experience with the site.
It seems to me that when your account is low, meaning just a few dollars in earnings, you'll receive many more surveys. Once you get up to $12 or so, the surveys seem to slow down a bit.
My advice is to cash out right after you reach the $15 amount. It seems after you cash out you'll receive surveys every single day while your account is still at a low dollar amount.
---
PaidViewpoint Payment Proof
Since I've mentioned having the highest trait score possible and getting paid by PaidViewpoint. I thought I'd included a few screenshots to show proof.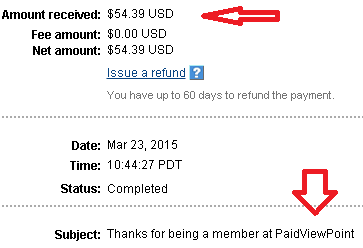 ---
How To Join PaidViewpoint?
PaidViewpoint is one of my favorite survey sites and with the tips I shared above you should have no problem making some money on this site.
They are 100% legit and scam free, I included a few screenshots above with my trait score and proof of earnings.
If you'd like to start earning at PaidViewpoint, you can join at PaidViewpoint.com.
Hopefully, you enjoyed these helpful tips on how to earn more at PaidViewpoint, but this isn't the only site I use to make money online. To learn how I get a ton of referrals and make a full-time online income, check out My #1 Recommendation
If a significant income isn't for you, here's some other great sites to earn an extra income online.
Do you have any other PaidViewpoint Tips, Tricks, & Cheats? I'd love to hear your thoughts below.