13 Scam Free Ways To Get Paid To Download Apps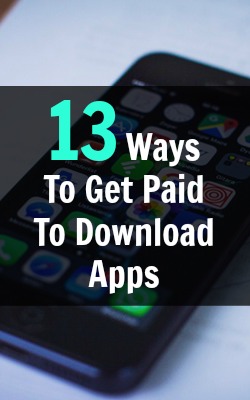 Today I've put together a list of 13 scam free ways to get paid to download apps on your smartphone and mobile devices. I'm a huge fan of making "extra income" anywhere that I can. Apps are a great way to build an extra online income, and they happen to be conveniently located right on your phone!
This list of apps are ones that pay you for downloading other apps. Most are apps that you're going to download anyways; you might as well get paid to download and use them.
Please understand that downloading apps won't be a large income, it' just a way to make a small extra income on your phone in your spare time. If you're interested in making a full-time income online, check out My #1 Recommendation, it's how I made over $13,000 online last month!
Every app on this list is completely scam-free, and I use a few to make some extra cash. Let's get started with this list and make sure to leave comments below if you have any apps to add to this list!
---
How Does Getting Paid To Download Apps Work?
Before I cover the legitimate ways to make money downloading apps. I thought I'd include exactly how most of these apps work.
You'll download one of these apps on your phone. Inside you'll see a long list of apps that they pay you to download. They usually show you the requirements; some require you just to open the app, and some might require you to play the game and reach a certain level.
Once you click on the app you'd like to download; it usually redirects you to the app store, where you can download the app as you normally would.
Make sure to open that app and meet all the requirements. Once you're done, head back over to one of the apps listed below, and you'll see your payment.
Most of these apps pay you in points that can be exchanged for gift cards to Amazon and a few other popular stores.
---
13 Apps That Pay You To Download Other Apps
Feature Points : Read Review Earn Points by downloading apps. Payments made by PayPal, Amazon, iTunes, Google Play and more. Does offer a referral program that gives you 50% of your referrals earnings. Use the referral code: 4YK9XY, to earn 50 free points.
Last Month I Made

$13,841 Online
I Bet You're Tired Of Making Pennies Online. No More BS. If You're Serious About Making A Full-Time Income Online You Need To See The TRUTH. Stop Wasting Your Time With The Next Big Thing When There's Already A Proven Method That Works!
AppBounty: Read Review Get paid to download apps listed inside the AppBounty app. They even have some apps that pay huge amounts if you reach a certain level inside the app. Redeem points for gift cards starting at $5 to Amazon, iTunes, and a few other options. You can also invite your friends to earn more.
AppNana : Read Review Earn points that they call "nanas" by downloading available apps. Also lets you earn more by reaching certain levels inside of game apps. Trade your nanas for gift cards to PayPal, Amazon, and a few other options starting at $2. Get extra nanas for referring your friends and using the app every single day.
FreeMyApps : Earn points by downloading free apps. Exchange points for gift cards to Amazon and a few other stores. Does have a referral program built in and an affiliate program with larger income capabilities.
Boom Gift : A rewards apps that pays you to take surveys, complete offers, and watch videos. They also pay you to download apps. Exchange points for Amazon, iTunes, and Google Play gift cards.
GiftBay : Earn by downloading apps, completing tasks, and referring your friends. Exchange points for Amazon, PayPal, iTunes, and a few other gift cards. Formerly known as BoomGift and 1000 Gift.
Fusion Cash : Read Review Fusion Cash is a "paid to do" site that offers a variety of ways to earn, but also pays you to download apps. Open Fusion Cash on your smartphone and download any of the available apps to earn cash. Earn a $5 sign up bonus when joining and get paid via PayPal, Direct Deposit, and Check.
TapCash : Not available for iPhone. Get paid to download apps. Exchange points for Amazon, PayPal, and Google Play credits. Does offer a referral program.
AppTrailers : Read Review App Trailers is an app that pays you to watch videos, but they do offer a small section that lets you download apps for cash. Works the same as every site on this list where you click the link, install the app, open the app, and earn money. Does have PayPal as a cash out option along with gift cards!
AppDown : Get paid to download apps. Pays via Amazon gift cards or PayPal. Invite your friends and earn 50% of their earnings.
AppDog : Earn "bones" for downloading free apps, completing offers, and watching videos. Exchange your bones for Amazon, PayPal, and Facebook Gift Cards.
CashOnApps : Only available on prepaid cellphone plans. Earn credits by downloading apps and using them. Exchange your credits for a mobile plan recharge (credit towards your prepaid plan).
AppRewarder : Earn coins for downloading apps and using them. Exchange your coins for gift cards to PayPal, Amazon, and iTunes.
---
Ways To Make An Extra Income
Hopefully you enjoyed this awesome list of smartphone apps that pay you to download other apps. I've mentioned it multiple times, but these apps are only extra income. None of these apps will make you rich, but can be a few extra bucks each month.
If you'd like to make more money, smartphone apps probably aren't for you. But you can see how to build a large online income and how I make money online at My #1 Recommendation.
If you're happy with extra income, head over to the extra income sites I recommend. There's a ton of smartphone apps that can help you build an online income on the list!
Do you have any other "paid to download apps" to add to this list? Used any of these apps to make money in the past? Let me hear your thoughts in the comments section below.