One legit way to work at home is by being a freelance writer, but I came across a scam the other day called Real Writing Jobs. I decided to throw a review together to make sure you save your money if you're looking to work at home as a writer.
Real Writing Jobs is a complete scam; the product is set up to give you a bit of training and be the middle man between writers and companies hiring writers. The problem is you're paying for a list of writing jobs. You can find companies that will pay you to write for free all over the internet.
The site promises you freedom and a substantial income, but that's not what you'll get with this product!
In this Real Writing Jobs Review, I'll cover what you receive when purchasing and why it's a scam!
---
Real Writing Jobs Review
Product: Real Writing Jobs

Price: $34.00
Score: 40 Out of 100
Verdict: Scam 
In this Real Writing Jobs Review, I gave it a bad score and marked it a scam. I've reviewed similar products, most having to do with taking surveys, but the design is the same.
They have a good converting sales page that promises you a large income, no experience needed, and the freedom of working from home.
The problem is that the information you pay for doesn't guarantee any of this. If you're a good writer, you can go out and find writing work without this product. If you're not a good writer, well I'm sorry, but you won't get paid to write.
All the information in this product can be found for free; there's no reason to pay for a list of writing sites when you can check out my Free WAH Jobs Directory and see all the writing job leads that I'll give you for free!
---
What's Included In Real Writing Jobs
The main portion of the member's area includes a bit of training along with the job leads that they promised. I've covered them both in detail below.
Writing Jobs Training
The training included in Real Writing Jobs is okay. I'm not a freelance writer, but I don't think this training would help me out much.
They cover how to join the sites that they give you and talk about getting writing work, but to me, that's pretty much self-explanatory.
Working at home as a writer comes down to, are you a good writer or not. Purchasing this product won't make you a better writer, and all the information in the training can be found for free on the web.
Writing Job Leads
One thing they do deliver on is giving you a list of writing job leads. The list doesn't have any secret companies on it, though. You can find a list of sites for free across the web. I even have one that you can check out in my Free WAH Jobs Directory.
You're paying for a list of places to get paid to write. Lucky for you here's a link to some great Free writing jobs!
---
Why Is Real Writing Jobs A Scam?
There are a few things that make Real Writing Jobs a scam. I've already covered the training, which is a joke, and the list of job leads, which you can find for free. But they do include a few things on the sales page that jump out.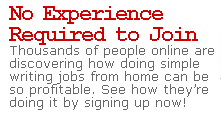 No Experience Needed
One thing they bring up a few times on the sales page is no experience required! If you're familiar with freelance work, you know that it's all highly competitive and harder to get work at a good rate more than ever.
Can you try to get writing work with no experience, yes but you probably won't be that successful. If you're a good writer, you can pick up some work, but you might be working for a less than minimum wage rate!
Obviously, if you don't have experience and are a bad writer, you have no chance of ever getting writing work! The thought that you need no experience to get freelance writing work is just crazy and not true!
Old Product Since 2010
Usually, when I see a product that's been around for a while, it's a good thing. But Real Writing Jobs has been around for five years now and made many changes in that time frame. The thing is that they've made changes because they've had problems.
Real Writing Jobs used to be a monthly membership site where you were billed every month. They had to stop doing this because they kept messing up billing and charging people odd amounts at any time.
I'm not sure how easily people got their money back, but they did make it a one time fee to get rid of the problem.
Product Just Isn't Needed
To me the last thing that makes Real Writing Jobs A Scam is that it's just not needed. There's no reason to purchase this product when you look at what you're getting. They can sell you the idea of a large writing income and work at home freedom, but you're the only one that can tell if you have the tools to make that happen.
Purchasing this product won't make you a great writer. If you want to give writing a shot, just check out a free resource to find writing jobs. If you have what it takes you don't need Real Writing Jobs to make it happen!
---
Where To Find Real Writing Jobs?
That heading may have been a bit confusing since it's the name of the product in this review, but Real Writing Jobs is a complete scam. There's no reason for you to purchase this product. If you do yes, you might get some useful information, but you'll be paying for something you can get for free.
Luckily Real Writing Jobs has a 60-day money back guarantee, so if you've already purchased this product, get a refund and thank me later!
If you're looking to find legitimate writing jobs, that's great. Working at home as a writer is a good way to make an income. But please know it's a very competitive field, which is why I choose to write for my website and make much more than a writer.
You can see a huge list of writing jobs on my Free WAH Jobs Directory. You can also see a wide variety of other ways to work at home. Check out this free list and see if there's anything that sounds interesting to you!
If you'd like to learn more about how I make money with my writing, you can see the whole process at My #1 Recommendation.
Do you think Real Writing Jobs is a scam? Have proof this product is legit?
Make sure to leave me your thoughts on this review below!
Summary
Reviewer
Review Date
Reviewed Item
Author Rating