4
13 Scam Free Ways To Get Paid To Visit Websites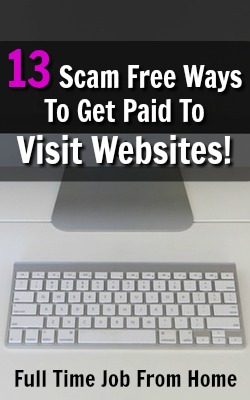 Almost every single day I get an email or comment with someone asking how to make money visiting websites. Well, to answer everyone's questions I put together a little list of 13 scam free ways to get paid to visit websites.
If you're not familiar with this way of making money online, you'll be clicking on ads and staying on a website for a short duration. For every website you visit, you'll earn a few cents.
One thing to know up front is that this won't be a very big income. You're getting paid to click and look at the screen. As long as you know this is just "extra income" then you should be happy with the 13 sites I've listed below.
If a small extra income is not what you're looking for, check out My #1 Recommendation, it's how I made over $13,000 online last month!
On the list, you'll find that some are what most call rewards sites. These sites offer other ways to make money, not just by visiting websites. I've done my best to give you a brief description of each, so you know what you're getting into before signing up. Here're some great ways to click ads and get paid to visit websites.
---
How To Get Paid To Visit Websites
Clixsense : Read Review This is my favorite site to get paid to view websites. They also offer a few other ways to earn with surveys and offers, but the main way to earn is through visiting websites. Payments are made via Check, PayPal, and a few different options after $8.
NeoBux : Read Review Another very popular paid to view ads site. There're a few other ways to earn, but the main way is through visiting websites. The great thing about this site is PayPal payments start at $2.
SwagBucks : Read Review They have a few different paid to visit websites offers. The main way is called nCrave. You'll earn a few Swagbucks for viewing a website for 30 seconds. You'll also find some offers that require you to visit a website. Swagbucks can be exchanged for gift cards starting at $5 to almost any store. 
Fusion Cash : Read Review This is a site that offers many ways to earn, but one is by visiting websites. It's under the paid to click tab. You'll earn $.15 for viewing five pages in 2 and half minutes. It can only be completed once per day, but there's plenty of other ways to earn. Get paid by Check, Direct Deposit, or PayPal after $25.  
InstaGC : Read Review This is another site that pays you to do many things. They also pay you to visit websites or what they call "clicks." Most of them pay around 2 cents and require you to visit a website and interact for a few seconds. InstaGC pays via gift cards, Direct Deposit, and Check. 
Last Month I Made

$13,841 Online
I Bet You're Tired Of Making Pennies Online. No More BS. If You're Serious About Making A Full-Time Income Online You Need To See The TRUTH. Stop Wasting Your Time With The Next Big Thing When There's Already A Proven Method That Works!
PrizeRebel : Read Review With this site you can get paid to visit website with the daily points and through some offers every once in a while. Once you reach 1,000 points, you can exchange points for $10 gift cards. 
GiftHulk : Read Review Get paid to view websites with the engage program at Gift Hulk. View each page for 45 seconds and earn 25 points for every ten pages. They offer many other ways to earn as well. Exchange Hulk Coins for Gift Cards to PayPal, Amazon, and much more. 
AdFiver : Another Paid to click website that's completely legit. Not as popular as some of the others, but still good with a $3 minimum cash out amount via PayPal and a few other methods.
UseClix: Another good paid to click website. Has a minimum cash out amount of $4 via PayPal and a few other methods. 
BuyVertise: Pays after $2 in earnings via PayPal. 
PaidVerts: Pay after $1 via PayPal, Direct Deposit, and a few other methods. Pretty popular and completely legit. 
Buxept: Has a low $2 cash out amount, but does not offer PayPal as a payment method.
GrandBux: Pays via PayPal after $5. They let you rent/buy referrals, I recommend staying away from this, supposedly they're all bots.
---
Paid To Click Ads and Visit Websites Scams
Since so many people are interested in getting paid to visit websites, there's a lot of scams out there that you need to avoid. I've reviewed a few myself and even lost out on a lot of money with one. Now this isn't a full list of all the paid to visit website scams, but it's the ones I've covered before and know about. If you have questions about another site, just leave a comment, and I can check it out.
CashTasks
NerdBux
DrClix
GladBux
Noulinx
The-Bux
Two Dollar Click
Clixzor
The sites above are listed because they never or no longer are paying their members. Make sure to stay away from these sites, and if you have any to add, make sure to leave a comment!
Paid Memberships & Buying Referrals
I'd also like to cover this in the scams section of paid to click on websites. I've found that a lot of the legit sites on this list offer a paid premium membership. You do not need to have a paid membership to make money and get paid on any of the sites. I don't recommend you paying for any membership.
You'll also find that a lot of the legit sites let you buy/rent referrals. This is another thing I don't recommend. Most of the referrals you'll buy are not real, and you'll most likely end up losing money on the deal. If you want referrals, go out and get them yourself!
---
Legit Ways To Get Paid To Visit Websites
Hopefully this list helped shed some light on some legitimate places to get paid to visit websites. Make sure to avoid the scams listed above and comment below to add any sites to the list. As long as you know that paid to click and visiting websites won't earn you much; you should be happy with most of the sites above.
But this isn't the best way to make money online, in my opinion. To see how I make a much larger income without clicking on crappy ads visit My #1 Recommendation.
If you're just looking for a few extra bucks, visiting websites is perfect, but check out some of the other great ways to make an extra income online.
Do you use any other sites to get paid to visit websites? Have a paid to click scam to add to the list? Leave me some comments with your thoughts and recommendations.