9
Perk TV App Review: Is Perk TV A Scam or Legit?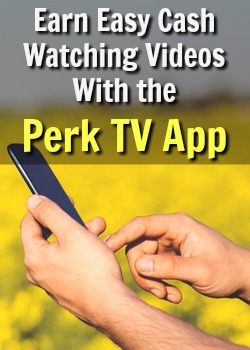 The Perk TV App is one of the most popular apps in the Perk App family. There's been a lot of hype about this app, so I decided to write a review.
I've seen a lot of information on the forums suggesting that the Perk TV app is a scam, today I'll be showing you proof that this app is legit, but it might not be for everyone. This app is available on Android and Apple mobile devices.
Please understand that watching videos with Perk or any other app that makes you money won't be a large income. If you can make $10 a month you should be very happy! If you're looking for a large online income, check out My #1 Recommendation, it's how I made over $13,000 online last month!
In this Perk TV App Review, I'll cover how it works, how much you can earn, the rewards, and answer is this app a scam.
---
How To Earn With The Perk TV App
The main ways to earn with the Perk TV App is through watching videos, but there are a few categories listed below that I'd like to cover individually.
Movie Trailers
In this section, you'll see a long list of movie trailers to watch. Before the trailer is shown, you'll see a 30-second ad. After the ad, the trailer will start. Most of the trailers range from 1-3 minutes. You'll earn 4 points for every two videos watched.
Popular Videos
This section is very similar to the Movie Trailers other then it's different videos. You'll see some how-to videos and other popular videos you may have already seen on the internet.
Most of these videos range from 1-3 minutes;  they show a 30-second ad, and you'll earn 4 points per 2 videos.
Last Month I Made

$13,841 Online
I Bet You're Tired Of Making Pennies Online. No More BS. If You're Serious About Making A Full-Time Income Online You Need To See The TRUTH. Stop Wasting Your Time With The Next Big Thing When There's Already A Proven Method That Works!
Live TV
This portion takes you to another Perk App called Perk TV Live. You'll get paid for watching TV and not fast-forwarding through commercials.
---
The Perk TV App Rewards
Once you've earned some points and tokens, you can exchange them for a few different options. I cover each in more detail below:
Gift Cards
You can exchange your points for gift cards inside the app. You'll see Amazon, Target, CVS, Starbucks, along with a few other options.
Most of the gift cards start at $2 or $5, but you can cash out an Amazon gift card starting at just $.25 or 350 points.
Sweepstakes
You can also exchange your points for Sweepstakes entries. It seems that Perk has a lot of sweepstakes running at any given time. Most of the sweepstakes entries cost from 25-100 points each and vary in winnings. There's always prizes and a few cash payments available, even as big as $500 PayPal.
Personally, I don't like to leave my rewards up to chance, but you could make some good money if you win a few sweepstakes inside this app.
---
How To Earn More With The Perk TV App?
EZ Points
If you're familiar with sites like CashCrate or Swagbucks, you know that some sites will pay you to do things like takes surveys, complete offers, and more.
One way to earn more with Perk TV is by visiting the EZ Points section. This section gives you some offers and surveys to complete for extra points.
Referral Program
The Perk TV App does offer a referral program that works across all of the Perk Apps. Perk gives you a referral link, a referral code, and lets you easily share your link on social media.
You'll earn 500 points for every friend that joins through once they cash out their first reward.
I wish you earned some points for them signing up, but it shouldn't take long for your friend to reach the smallest reward at 350 points.
Leaving the App Running
When I was researching this app, almost everyone was talking about leaving the app running on your phone. This means you won't watch the videos, which is against the apps TOS. For that reason, I do not recommend doing this, but I thought I'd cover it.
The app does not make you do anything to make sure you're watching, and the app will automatically play the next video. For that reason, you can leave the app running all the time and keep earning points for watching videos.
It's an easy way to earn more, but keep in mind it's not legal, I don't recommend it, and it could get your account banned.
---
Perk TV App Review

App: Perk TV App
Price: Free
Score: 85 Out of 100
Verdict: Legitimate 
In this Perk TV App Review, I gave them a pretty good score and marked it legit. The Perk TV App is going to pay you to watch short videos. This isn't going to be a huge income, but it can be an easy way to earn a few dollar Amazon Gift Card each month.
Some people say to leave the app running in your background, and you can earn $1-$2 a day, but that does violate the Perk TV App's TOS since you're not watching the videos.
To me, Perk TV isn't more than a way to pass some downtime watching videos. If you're okay with just earning a few points per video and a couple of bucks a month, you should be pretty happy with Perk TV and the other perk apps.
---
Is the Perk TV App A Scam?
To be honest, the Perk TV App is not a scam. But it's not going to be a huge income. The Perk TV app is one of many Perk Apps that you can use to make money.
To make more than just a few bucks a month you'll also need to use other Perk Apps.
The easiest way to do this is by signing up at Perk.com. Then you can download any of the apps, and all your earnings go to one place.
If you'd like to join, you can do so by signing up on Perk.com.
If the series of Perk apps aren't for you, here are some other great ways to make money on your smartphone or check out all the extra income sites I recommend.
I don't make much each month with smartphone apps, but I do make a full-time income online, check out My #1 Recommendation, it's how I made over $13,000 online last month!
If you didn't find what you were looking for here, check out these helpful links to other ways to make money online:
Work From Home Companies Hiring Now
All The Extra Income Sites That Pay Me
How I Made Over $13,000 Last Month
Do you think the Perk TV App is a scam? Have proof it's legit? Let me hear your thoughts on this Perk TV App Review in the comments section below!
Summary
Reviewer
Review Date
Reviewed Item
Author Rating