2
HitPredictor Review: Is Hit Predictor A Scam?

Did you know you can get paid to listen to music? HitPredictor is a scam free site that pays you to listen to up and coming and established artists.
Now Hit Predictor isn't going to make you rich, but if you enjoy music, you may be interested in signing up for a free account. You can also check out my list of 7 Ways To Get Paid To Listen To Music Online. You might find a site that fits you better there!
UPDATE 2019: HitPredictor isn't the best option to get paid to listen to music! View How to get paid to listen to music at FusionCash!
Please understand that HitPredictor or any other site that pays you to listen to music will never be a huge income. If you're looking for a full-time income online, check out My #1 Recommendation, it's how I made over $13,000 online last month!
In this HitPredictor Review, I'll cover how you get paid to listen to music, how much it pays, and answer is it a scam or completely legit!
---
How Does HitPredictor Work: What Is it?
1) Sign Up For A Free Account

You can quickly sign up for a free HitPredictor account here. Just create a username and password to get started!
2) Earn Points By Listening To Music
You can earn 3 points for every song that you listen to and give feedback on! Most of the songs require you to listen to 1-2 minutes. Once you're done listening, you choose how much you liked it and have a section to leave comments.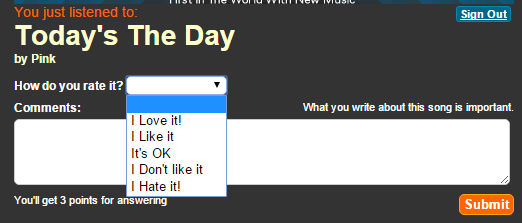 Last Month I Made

$13,841 Online
I Bet You're Tired Of Making Pennies Online. No More BS. If You're Serious About Making A Full-Time Income Online You Need To See The TRUTH. Stop Wasting Your Time With The Next Big Thing When There's Already A Proven Method That Works!
You can see from the screenshot above that it's super easy to leave feedback on music. After you submit your feedback, you'll earn 3 points. There's usually at least ten songs available at any time.
3) Exchange Points For Rewards
HitPredictor lets you exchange points for raffle entries, CDs, and DVDs. Most raffles start at 500 points, and physical rewards start at 1,250 points.
---
What Kind Of Music Can You Listen To?
I was pretty surprised to see that you can get paid to listen and rate popular and current music. Usually, sites only have up and coming artists or unknown artists that pay for their music to be on there.
But with HitPredictor, you will also receive well-known artists music. In the screenshot above you can see that I got paid to listen to Pink, not my kind of music, but obviously a famous artist.
---
How Much Does HitPredictor Pay?
You'll earn points for rating music and answering short one question polls.
You'll earn 3 points for every song you listen to. Usually, there are 10-20 or more songs available to listen to.
For every short one-question poll that you answer, you'll earn 5 points. There's usually 10-20 polls available at a time.
---
What Rewards Are Available?
Here's the crappy thing about HitPredictor, the rewards available aren't great. Most rewards start at 1,250 points, so it does take awhile to reach the amount.
You'll find a few CDs and DVDs available, right now the only one I've heard of is a Luke Bryan CD. It's one that's pretty old too.
You can also spend your points to enter raffles; these usually cost 500 points. The raffles are for $50-$100 iTunes gift cards.
---
HitPredictor Referral Program: Earning More!
HitPredictor does offer a referral program to help you earn more. They give you an easy to share link that you can post on social media or your website.
You'll earn 25 points per referral that rates at least five songs in the first 30 days of joining.
The referral program is just a simple way to earn more without having to do any work!
---
HitPredictor Review Concerns & Complaints
Small Income Rewards Suck
The only concern I have with HitPredictor is the time it's going to take you to reach enough points for rewards. After you get enough points, the rewards pretty much suck.
I wish the had a cash option, even if it's check. There's only a few different CDs and DVDs available, and they all seem to be old. I'd say that the most sought after reward would be the iTunes Gift Card raffle.
But with that you're just entering a raffle, meaning there's no guarantee of actually getting any reward for your time!
---
Is HitPredictor A Scam Or Legit?
HitPredictor is not a scam, but I don't think it's worth your time.
But if you'd still like to try out HitPredictor you can join here. It's a scam free and legit site, so you should have no problems getting paid when you reach the 1,250 points mark.
If getting paid to listen to music isn't for you, here are some other great ways to make an extra income online.
If extra income isn't enough, check out My #1 Recommendation, it's how I made over $13,000 online last month!
Do You Think HitPredictor is a scam? Have proof it's legit? Let me hear your thoughts on this review in the comments below!
Summary
Reviewer
Review Date
Reviewed Item
Author Rating