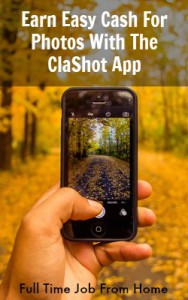 NO LONGER AVAILABLE. Check Out These 19 Ways To Get Paid To Take Pictures!
ClaShot is an app that lets you upload your mobile photos for sale. Every time one of your photos sell on DepositPhotos you get paid.
I recently reviewed a similar app called Foap. It seems that both are very similar, it really all depends on which app you prefer.
If you'd like the most comprehensive guide to starting your own freelance photography business, check out the Digital Photography School. They have tons of free and paid resources for photographers.
I especially recommend their e-book Going Pro. It will teach you everything you need to know to sell your photos online for extra cash or even as a full-time business!
In this Clashot App Review, I'll cover how it works, how much you get paid, and answer is this app a scam or a legit way to make money selling photos on your mobile device.
---
What Is Clashot and How Does It Work?

Clashot is an Apple and Android mobile app that lets you take, edit, and upload photos to be sold. When your photos are approved they'll be added to a leading stock photo site called DepositPhotos.
If your pictures sell you'll get paid cash. Here's how it works:
1) Download & Sign Up
The Clashot app is available on Apple and Android devices. Just install the app as you would normally through your devices app store.
You'll need to create an account. You can easily sign up through email or by linking your Facebook, Twitter, or G plus account.
2) Take Pictures & Upload
You can use the Clashot app to take photos or you can upload photos from your photo library.
They do have built-in camera and do give you some editing features inside the app that are useful.
After you're happy with your photo you'll need to add your location, a description, and tags that are relevant to the photo.
3) Get Paid If Your Photos Sell
Once you upload your photo on Clashot, it's added to your profile. Before you can make any money from your photo it will be reviewed by a Clashot member and approved.
After approval, it will be added to DepositPhotos, where it will be listed and available to purchase. If your photo sells you'll get paid.
---
How Much Does Clashot Pay?
Unfortunately, there's no way to tell you exactly how much you'll get paid for your photos. But if your photo is accepted and you make a sale you'll earn 44% of the total sale price.
You can withdraw funds after your account reaches $50. Payments are made via PayPal or Skrill, usually within 7 days of requesting payment.
---
What Type Of Photos Sell?
There's no exact formula for getting your photos bought, but here's what Clashot has to say about the type of photos that sell the most.
Of course, all the photos you upload need to be of high quality. They say that you need to take commercial use into consideration when uploading photos.
They say unique photos that have a cool story behind them usually sell well. Also if you have photos from a current major event you can usually sell the photos very quickly!
---
The ClaShot Community
One key portion of this app is the ClaShot community. It reminds me of Instagram, where's it's photo-driven.You can follow other photographers, and build your own following inside the app.
The community is going to be a key to getting your pictures accepted for sale. If you build your following and get people to like your photos you'll start to get some attention.
If Clashot is something you decided to join, make sure to follow some of the more popular photographers and work on building your own following. It's key to getting your photos accepted for sale which means a chance of more money for your photos!
---
Earning More with The ClaShot App
Clashot does offer an easy way to earn more called Offers. Basically, these are special requests and themed photos that clients are looking for. For example, a company might be looking for stock photos of cool and old looking buildings. Offers are more specific photos with pretty strict requirements that companies are looking for.
Not everyone receives offers, but if you do receive a special invitation to participate in an offer I highly recommend doing it because they usually have a much higher price tag then photos that sell on depositphotos!
---
Is The Clashot App A Scam or Legit?
The Clashot app is completely legit and scam free. I really like that they brought the social side of things into the app and that they do have some editing options inside the app.
One thing I want to mention is that not all photos get selected to be sold on depositphotos. Meaning that not all of your photos will be for sale.
If you build your following and put out good photos, there's a great chance some of your photos will begin to be selected.
Of course, there's no guarantee that your photos will sell after they're added to depositphotos.
As long as you know there's no guaranteed income and that it most likely won't be a huge income, you should be pretty happy with this app!
If you'd like to learn more you can visit Clashot or just download the app in your mobile devices app store.
If Clashot isn't for you, but you'd like to get paid to take pictures, check out these 19 photography jobs.
Not a photographer? Here are some other great ways to make an extra income online or if you're looking to make a full-time income online, check out My #1 Recommendation, it's how I made over $13,000 online last month!
Do you think Clashot is a scam? Get paid to take pictures already? Let me hear your thoughts on this Clashot app review in the comments below!
Summary
Reviewer
Review Date
Reviewed Item
Author Rating