The PunchCard App is available for Apple and Android Mobile Devices; this app pays you to upload receipts after your shopping trips.
I've reviewed a few similar apps and have a huge list of shopping apps you can check out.
You'll earn points for every receipt that you upload. You can exchange points for gift cards or sweepstakes entries.
In this PunchCard App Review, I'll cover how it works, what rewards are available, and is this app legit or a scam.
---
How Does The PunchCard App Work?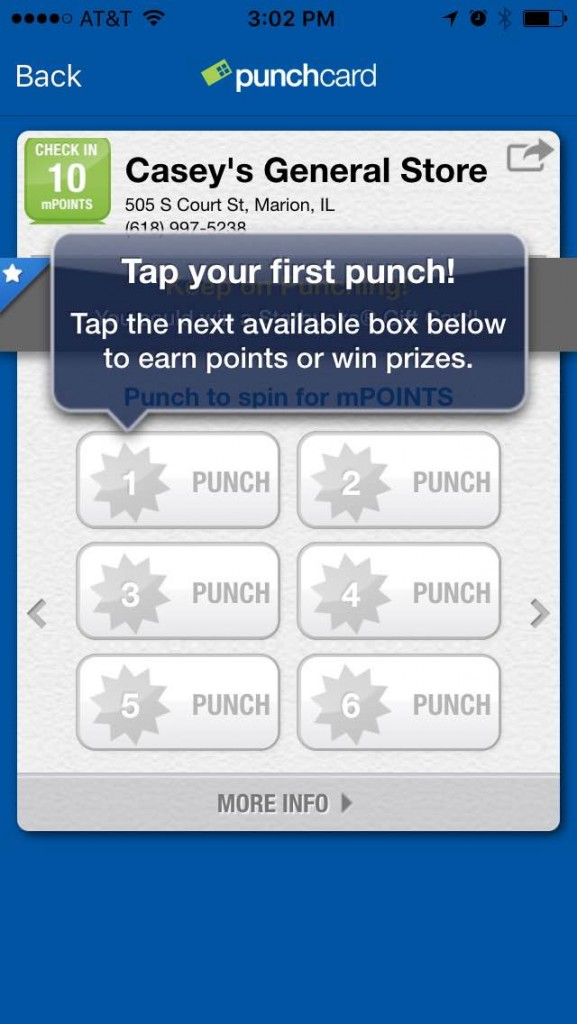 Find Stores
Once you download the app, you can see all the stores available on PunchCard. You'll have to share your location, but when you do, PunchCard will bring up all the stores near you.
You can search through the nearest stores or just search by category and find the store you're looking for. I'll cover more on what stores are available a bit later, but almost every place you can think of is available.
Upload Your Receipt
Once you find the store, you can click the "punch" button to upload your receipt. The app will access your camera, and you can snap a quick shot of the receipt.
One thing to mention is that the receipt must be less than five days old to qualify.
Spin The Wheel
After you take a picture of your receipt, you'll need to spend the wheel. You'll spin the wheel to see how many points you'll receive for your receipt.
I've included a few pictures that show the wheel and the points I received after the spin!
[one_half_first]
[/one_half_first][one_half_last]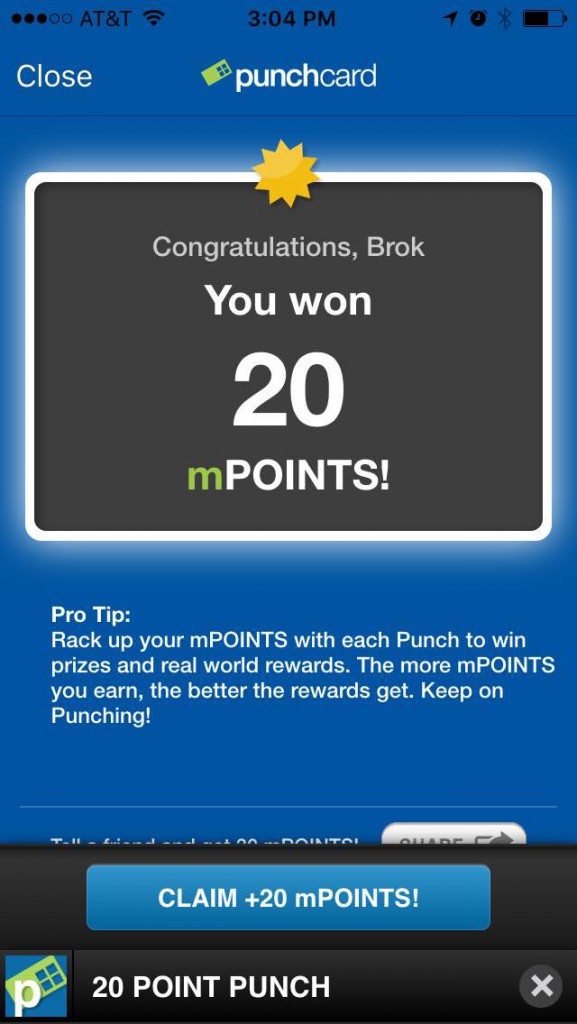 [/one_half_last]
Redeem Points For Prizes
Once you earn some points, you can exchange them for gift cards, physical products, and sweepstakes entries. I'll cover more of the rewards a bit later on.
---
What Stores Are Available On PunchCard?
Any store that you can think of is available on PunchCard. When I first downloaded the app, I was concerned because I live in a small town. I figured only a few stores would be available. But after using the app, almost all large retail stores are available and even a lot of the local mom and pop stores in the area.
The best advice I can give is go ahead and download the app. You can see all the stores available in your area.
Even if you live in a tiny town, most likely a local grocery store and gas station will be available.
---
PunchCard Rewards
The points you earn through uploading receipts can be exchanged for rewards on what they call mPoints. When I first heard, it was under another name I was concerned. But you can access rewards inside the app even though it goes by a different name.
You can exchange points for things like sweepstakes entries, physical products, and gift cards.
It looks like they have ten or so sweepstakes going on at once. All sweepstakes entries cost 100 points.
There are some physical products, but they are usually expensive products. Most can be redeemed for 100,000 points or more. I'd say most people will never use the app long enough to reach these.
The last option is gift cards. They have gift cards starting at $5 to stores like CVS, StarBucks, Lowe's, and a few other stores. The $5 option starts at 12,500 points. They also have $10, $25, and a few $50 options, for more points of course.
---
PunchCard Concerns & Complaints
Pocket Change
As you can probably guess, PunchCard isn't going to make you rich or give you a solid income. At very most this could be an extra $25-$50 a month, but that will require a ton of receipts.
Another complaint is that you have to spin the wheel to figure out how many points you'll receive for your receipt. But others like it because there's a chance you can win more.
If you're happy with earning a few extra bucks just uploading receipts, you'll be happy with PunchCard.
Rewards Kinda Suck
As mentioned, the points you earn through this app can be exchanged for prizes at mPoints. The rewards available are sweepstakes entries, physical products, and gift cards.
Some of the products they have cost a crazy amount of points which I don't think most people will ever reach.
That leaves gift cards. Unfortunately, they don't have Amazon, which is my favorite, but they do have stores like CVS, Nike, Lowe's, Starbucks, and a few others starting at $5.
I'd like to see a cash option, such as PayPal, and at least Amazon if they're not going to pay cash.
---
PunchCard Review: Is It A Scam?
I've been using this for a bit now, and PunchCard is not a scam, it's a completely legit way to upload receipts and get paid for it.
I like that you can use receipts from any store and it doesn't matter how much you spend. I make multiple stops a day to get drinks at gas stations, so I've been uploading each of those.
I'm honestly still not anywhere near the cashout amount for any rewards, so the big concern with PunchCard is it worth the time. It's going to take awhile to reach any gift card amount, even the $5 ones.
To be honest, I probably won't use this app again after I finish this review. To me, I'd rather use a shopping app like Ibotta. They only pay you to buy particular items, but they pay much more than a few cents per receipt.
The choice is yours, if you feel that PunchCard is worth it, you can join by visiting PunchCard.com or downloading the app in your app store.
If you agree that this pocket change doesn't make it worth it, check out how I make a Full Time Income Online.
Have you used the PunchCard App? Let me hear your thoughts on this review in the comments below!
Summary
Reviewer
Review Date
Reviewed Item
Author Rating