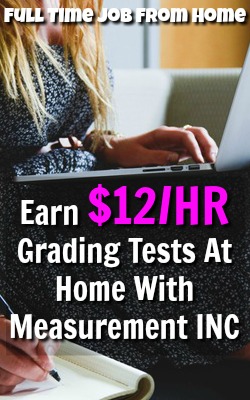 If you have a four-year degree, you may be interested in working at home for Measurement INC. Measurement INC hires a Work At Home position as a reader/evaluator. You'll be grading papers and tests from home.
This is not a full-time job, but when work comes in you're required to work a full schedule for the duration of the project.
In this Measurement INC Jobs Review, I'll cover what you'll be doing as a reader/evaluator, the requirements, how much you're paid, and answer is this job a scam or a legit way to work at home.
Visit my Work From Home Jobs Directory to see the Work From Home companies that are Hiring now!
If you're interested in making a large online income and being your own boss, make sure to check out My #1 Recommendation and see how I made over $13,000 last month online!
---
Measurement Inc Requirements

There're some pretty strict requirements to become a reader/evaluator. Here's what you'll need!
A 4-year Bachelors Degree in any subject
Eligible to work in the US
Computer and Internet Access
Secure work area
If you have a college degree and can work in the US, you're probably good to go. You can then move on to the application.
---
Measurement Inc Application
You can fill out an application on their website. You'll need to include your personal information, any references, and past work history. During the application, you'll also need to provide proof of your 4-year degree. This can be your diploma or an official transcript from your university.
If they're interested, they'll contact you via email. You will have to complete a placement assessment and schedule an interview. If you do well on the test and the interview goes well you'll be an independent contractor and work on a per-project basis.
---
Reader/Evaluator Job
As a reader/evaluator for Measurement INC, you'll work on a per project basis grading papers and tests. It says that they grade papers for all levels and subjects.
You'll be given the scoring criteria, and you'll be in charge of grading the paper.
It seems that the work varies. You might get work grading papers then the next job might be math problems.
Each project is different, and the scoring scale is different, but each project has a paid training period where you'll be informed beforehand on the requirements.
---
How Much Does It Pay?
On the website, it says that pay varies. This is because each project is different, but it looks like pay is on a per-project basis.
From what I could find through the forums, it seems most members make $9-$12 an hour when you break it down.
---
Typical Schedule
Measurement Inc does offer a flexible schedule, but when you do accept a project, they expect you to work Monday-Friday to complete the project.
If this doesn't work into your schedule, you can decline the project. Since it's on a per project basis, this is not steady work. You might go a few weeks without getting work, but when you do get work, it seems to be a significant time commitment until the project is complete.
One thing to mention is that each project has a training period, where the requirements are covered. The training period is mandatory, but is paid!
---
Is Measurement Inc A Scam Or Legit?
Measurement Inc is completely legit. You can get paid to grade papers from home with the reader/evaluator job. The key to getting this job is having a 4-year degree; they say that no teaching experience is required.
One thing to keep in mind is this is not a full-time job; work is not guaranteed. You might go a few weeks without getting a project. But once you accepted a project you're usually busy Monday thru Friday for a few weeks, depending on the size of the project.
Measurement Inc did not give out the pay on their site, but the forums suggested around $10 an hour. It's a decent rate, and I like that you get paid for the mandatory training period.
If you have a 4-year degree and would like to learn more, visit Measurement Inc Jobs to apply.
If this reader job isn't for you, here's a huge list of WAH jobs in my free directory. To see how I make a full-time income online, make sure to check out My #1 Recommendation!
If you're just looking for some part-time, income visit the extra income sites I recommend.
Have you held a reader/evaluator job position? Think this job's a scam? Let me hear your experiences and thoughts on this review in the comments!
Summary
Reviewer
Review Date
Reviewed Item
Author Rating