Over 50 Extra Income Sites That Actually Pay!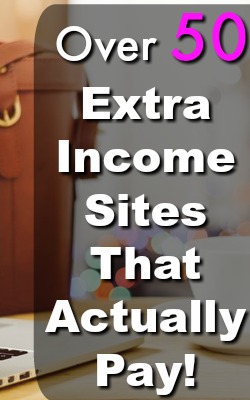 If you've been on my blog before, you know that I'm a huge fan of making an extra income any way that I can. Today I'd like to share with you over 50 extra income sites that actually pay. I either use or have used all of these sites in the past and know they're legitimate.
Let me make it clear up front; these are "extra income" sites. Don't expect to make thousands of dollars with these sites. If you join a few sites on this list, you can expect an income of $20-$50 a month.
If you're interested in a site on this list, you can click the name to join, or visit my full review to see all the important details of the site.
Let's get started, visit the next page to see all of the extra income sites that pay!