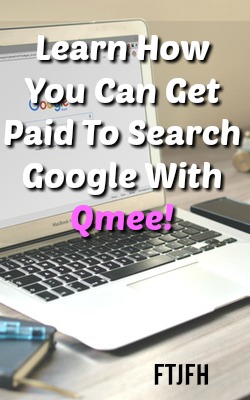 Getting paid to do things that you already do on the internet is flat out amazing! I have reviewed and personally use quite a few programs that make me money every day and the best part is I don't have to do anything extra or abnormal than my normal routine.
My newest find is a company called Qmee, Qmee rewards you for searching the internet! Qmee has become one of my favorite browser extensions to use to make some extra bucks each month, and I highly recommend you checking it out.
Qmee pays you to search the internet and as you probably expected it doesn't pay much. Qmee is legitimate but if you're interested in a large online income, check out My #1 Recommendation, it's how I made over $13,000 online each month!
In this Qmee Review, I will be showing you exactly what Qmee is, how Qmee works, why I like Qmee so much, and even talk about Qmee Cheats.
---
What Is Qmee & How Does It Work
What is It?
Qmee is a company that offers a free browser application that promotes paid search ads within major search engines. The application works on PC and MAC across the major search engines such as Google, Bing, Yahoo, Amazon, & eBay. Qmee brings up search results relevant to your searches then pays you for clicking on them.
How Can They Do This?
Qmee is directly affiliated with major search engine ad programs. Basically, Qmee is the search engines way of giving back to users for clicking on paid ads and keeping them in business.
How Does It Work?
The Qmee process is actually very simple. First, you join Qmee, which you can do here, and install the browser extension. From now on when searching within the 5 major search engines Google, Bing, Yahoo, Amazon, and eBay, Qmee will automatically pull up search results related to your current search.
When Qmee brings up results, it will show the website information, and the amount you will receive for clicking on the ad. Once you click on the ad, you will be taken to the ad page and your Qmee account will be credited.
---
Qmee Review
Website: Qmee.com ⇐ JOIN HERE!
Price: FREE
Score: 97 out of 100
Verdict: LEGIT!
I gave Qmee a 97 out of 100 because it requires no work from you other than your normal searching and you get paid for it. I have been using Qmee for a while now and have been paid multiple times by it through PayPal. I have had zero problems and no complaints, it's basically flawless other than a few concerns.
---
Qmee Positives
Payments
The best part about Qmee is the payment system. There is no minimum cash out amount which means you can cash out with as little as $.05 in your account.  All payments are made through PayPal which means you must have a PayPal account to use Qmee, but if you don't have PayPal you need to get one anyways!
UPDATE 11/16: Qmee now offers payments via Gift Cards to Amazon, iTunes, and Starbucks. But don't worry donations and PayPal are still available!
Payments are made at any time. No need to wait until the end of the month. When you request a payout from Qmee, they will instantly transfer money. Funds are usually in your PayPal account within just a few minutes.
Here is proof of payment that I received just while writing this review.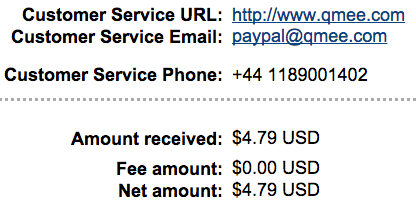 Referral Program
Qmee does offer a referral program, and it's a very simple one. Once you've used the program for a while you will gain access to the invite friends tab.
They will give you your own referral link, and you can invite friends easily by sending out social media posts.
You will earn $1 for every friend that you invite who cashes out at least 1 time. Once they cash out any amount of money you earn $1 for referring them!
---
Qmee Concerns
Not Going To Make Tons of Money
One thing you must understand is Qmee is not going to make you $1,000s of dollars each month. Qmee is meant to earn you cash on searching and should be used with other online opportunities if you would like to make a solid income online. You can learn more about other online opportunities here.
Only Available On Computer
One disadvantage to Qmee is there is currently no Mobile App. They say there will be in the future, but for now, all earnings will have to come from your computer.
Only Available in US & UK
Qmee is actually a UK based company, but it is also available within the US. Qmee says at this time there is no plan for expansion to other countries.
---
Qmee Cheats
You will not be given search results from Qmee on every single search that you perform, which is understandable or you could search all day and earn on every single search, which leads to people taking advantage. Personally, if you find any cheats out there I would not recommend using them on the chance of your account being banned.
But here is what I can tell you. First off make sure you are searching normally. Don't just search 100 times in a row Qmee will catch on. It seems that results only come up if the company is affiliated with Qmee. From personal experience any local searches don't give you results your best bet is searching for big company products. These searches seem to give you results most often!
---
Final Verdict
I highly recommend using Qmee to start earning money for searching the internet. Although there are a few concerns I don't see how they outweigh the positives. I personally use Qmee every day and think you should too!
---
What To Do Now?
I highly recommend joining Qmee. It's a great way to earn some cash for something you already do. I want to also inform you of a few other similar companies. SwagBucks also rewards you for searching the internet along with multiple other ways to make money. Both are great options to earn money while searching and I personally use both and get paid by them all each month!
If you're just looking for extra income Qmee is an awesome browser extension to use. If you're looking for a full-time online income, check out My #1 Recommendation, it's how I made over $13,000 online each month!
Thank you for reading my Qmee Review. I hope you enjoyed your time on my site and I hope you take advantage of the links above to find a great way to make money online for you. If you have had experiences with this company, I'd love to hear about them in the comments section below and don't forget to share with your friends!
If you didn't find what you were looking for here, check out these helpful links:
How I Made Over $13,000 Online Last Month
Work From Home Companies Hiring Now
Extra Income Sites I Use That Pay Me
Summary
Reviewer
Review Date
Reviewed Item
Author Rating