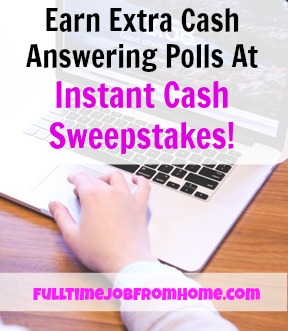 No Longer Available As of 2/1/2107. The company also owns a site I highly recommend called Paidviewpoint, which is still available. 
As you all know I do a ton of reviews on "paid to do sites" or what I like to call supplemental income opportunities. Instant Cash Sweepstakes or ICS is one of the better supplemental income sites out there.
It defers from a lot of the sites I recommend because it's short 3 question polls and the big earnings rely heavily on sweepstakes, which I am usually not a huge fan of.
With that being said there is so many things I like about this program I had to write a quick Instant Cash Sweepstakes Review to show you how you can start making cash with this program.
If you're wondering if Instant Cash Sweepstakes is a scam then don't worry, it's not at all. It's a legitimate extra income opportunity and I will be showing you exactly why in this ICS review!
---
Instant Cash Sweepstakes (ICS) Review

Website: InstantCashSweepstakes
Price: Free
Score: 93 Out of 100
Verdict: Legit!
No Longer Available As of 2/1/2107. The company also owns a site I highly recommend called Paidviewpoint, which is still available. 
As you can see I gave Instant Cash Sweepstakes a very high score and marked it legit. This is one of the better poll taking website that I have ever seen and it's so easy to make money with this site it's impossible not to give it a great score.
They have a very low cash out amount of $2 and they pay by PayPal. Along with the easy payments they also have a great daily drawing for $50.
This site is great and I recommend it to anyone looking to make a few extra bucks each month!
---
What Is Instant Cash Sweepstakes

Instant Cash Sweepstakes or ICS is a paid to do site. With this site you will be taking short 3 question polls. Each one of these polls takes just a few seconds to answer and you will instantly earn rewards in three different forms of payment.
Here are the different ways to earn with ICS:
$50 Daily Sweepstakes
The biggest prize you can win is a $50 drawing that they have every single day. It all has to do with how many tickets you have which you earn though taking polls.
To be honest I have not yet won a $50 prize, but I know real people are winning because one of my affiliate marketing buddies has won.
The odds are defiantly stacked against you on this one, but if you're a lucky guy or gal you just might win some money.
The more time you spend on the site the better your chance of winning.
Polls
The main way that you're going to be earning money with Instant Cash SweepStakes is through polls. Basically these polls are user-generated questions. There is 3 questions within each poll and usually 4-5 multiple question answers.
You can see an example of one below!
You can see the poll is very simple. Answer 3 simple questions like this and you get paid!
These polls earn you the three different options for payments within ICS which are covered below!
Cash
The main form of payment within Instant Cash Sweep Stakes is going to be Cash. This is just like it sounds straight cash money. This shows up in your account like $1.06, so no need to worry about crazy point systems turned into cash.
Cash can be withdrawn at any time by PayPal.
Tickets
Tickets are the number of entries you have in the daily $50 Sweepstakes drawing. These tickets do reset everyday, but it's very easy to build this back up by taking the very short polls.
The key to tickets is going to be being involved my taking short polls and referring friends. The awesome thing is the more involved you are the more tickets you have which will also translate into you earning more cash!
Coins
Coins is the last way that you can get paid by ICS. These coins are very special and you will be rewarded coins every single time you take a poll.
These coins can be easily converted to sweepstakes tickets at any time, improving your chance of winning.
Payments
Payment is one of the best things about Instant Cash Sweepstakes. All payments are made through PayPal and there is a very low $2 minimum cash out amount.
Payments can take up to 72 hours to reach your account, but every time I've been paid it's been less than 24 hours!
If you ever do win the $50 Daily SweepStakes this payment will be added to your rewards balance and you can cash it out at any time just like normal earnings!
Here is proof that Instant Cash Sweepstakes really pays. I've been lucky to get paid by them several times!
---
How To Earn More With ICS
Referring Others
The easiest way to earn more with Instant Cash Sweepstakes is by referring your friends. ICS has a fantastic referral program that can lead to some serious earnings!
The referral program matches 100% of all your referral earnings. They match cash, tickets, and coins.
That means if your referral takes a poll that earns them $1, 30 tickets, and 50 coins you receive the exact same amount for all three categories of payment!
Referring others is going to be a major key to make a huge income with this site.
---
My Thoughts On ICS
So throughout this review I have been on the up and up about this product. ICS is a great company and site to join, but I do want to talk about a few concerns before moving on to my final recommendation.
Not A Huge Income
As I mentioned at the beginning of this Instant Cash Sweepstakes Review, this site is a supplemental income opportunity. Meaning that it's not going to make you an online millionaire, but can earn you a decent income if you participate and work at it.
Basically I've earned about $20 a month from this site. I have a lot going on so if I devoted some more time I know I could bump that up some more, but the big thing is this site is legit.
Some people think that a site that can earn you a few bucks a month isn't worth it, but I think wasting your time on the internet for no money isn't as good as spending time on ICS and making a bit each month.
ICS can also be combined with other Scam Free Jobs to make a larger income online.
---
Is Instant Cash SweepStakes A Scam?
Instant Cash Sweepstakes or ICS is not a scam! I have personally been paid by this company and have seen this program work well to earn you some extra money each month.
I really like the very low cash out amount and how easy it is to take the polls and get paid by this company.
I highly recommend this site to anyone looking to earn some extra income online.
Join Instant Cash SweepStakes Earn $.25 Bonus
---
Start Earning Cash With Instant Cash SweepStakes
No Longer Available As of 2/1/2107. The company also owns a site I highly recommend called Paidviewpoint, which is still available. 
You've learned a lot about Instant Cash Sweepstakes in this review and seen that this site can make you some extra money each month.
If you would like to join Instant Cash Sweepstakes do so here. 
If you enjoy sites like this I recommend checking out my All Scam Free Jobs page. This page has all kinds of other opportunities similar to ICS that can be combined to make a larger online income.
If you would like to see how you can make a larger income that can built up over time visit Start Your Own Online Business. 
Join Instant Cash Sweepstakes!
Thank you for reading this ICS Review. You've found that Instant Cash Sweepstakes is not a scam and actually a site I highly recommend you joining. You can join through the links above and make sure to share with your friends and leave comments on your thoughts!
Summary
Reviewer
Review Date
Reviewed Item
Author Rating