FOR THE LAST FEW MONTHS THERE HAVE BEEN VERY LIMITED REBATES AVAILABLE ON BEVRAGE AND IBOTTA HAS PICKED UP THEIR ALCOHOL OFFERS. IT MIGHT BE IN YOUR BEST INTEREST TO USE IBOTTA FOR ALCOHOL CASH BACK. AT THIS TIME BEVRAGE IS STILL PAYING! 8/24/17
BevRAGE is an app that pays you cash back on alcoholic beverage purchases. Very similar to Ibotta, but they do not have any food items, only adult beverages.
BevRage offers many types of rebates on a wide variety of alcohol. Rebates can be claimed from store bought items or a bar/restaurant.
If you purchase alcohol regularly I highly recommend trying out BevRAGE to earn some cash back!
In this BevRAGE review, I'll cover how to the app works, what offers are available, how to get paid, and any complaints about the app!
---
BevRAGE App Review
App: BevRAGE
Type: Cash Back App (Alcohol)
Verdict: Legitimate
In this BevRAGE App review, I marked it legitimate. If you purchase alcohol, this is a good app to use. I personally use Ibotta every time I shop for groceries, but the alcohol section is always limited. With the BevRAGE app, there're tons of options for brand specific items, and you can even get cash back on any brand in most categories.
Overall BevRAGE is an app I recommend to anyone that purchase alcohol on a regular basis.
To learn more or to join visit: BevRAGE.com.
---
How Does The BevRAGE App Work?
If you've used cash back apps before, such as Ibotta, it's pretty much the same process. Here's what you'll need to do get cash back on alcohol purchases.
1) Join BevRAGE
The first step is joining the app. There're two ways to do so. You can visit BevRAGE.com and join or just download the app in the Google Play Store or Apple App Store.
If you decided just to download the app, enter the code: FTJFH  to earn a signup bonus!
2) Find Offers
Once you've signed up, you'll see all the offers available for cash back. The BevRAGE app offers cash back on Beer, Liquor, Mixers, and Wine.
In each category, you'll find generic and brand specific offers. For example, in the beer category, you can save $1 on any six pack, $2 on any 12 pack, or $3 on any 24 pack. You'll also see brand specific offers such as save $2 on any Samuel Adams 6 pack.
There're similar generic offers in the Liquor and Wine categories as well.
3) Make Purchase
Once you find an offer, you'd like to redeem, visit a local store to make the purchase. MAKE SURE you receive an itemized receipt when checking out. (This app will not work unless you have an itemized receipt).
Once you make your purchase and have the receipt, it's time to upload it in the app.
4) Upload Receipt
This process is the same as any other cash back app. Make sure to take a picture of the full receipt, including store name, date, and all the items you purchased.
Once you upload the receipt, you'll match the offers you want to redeem on the receipt. The BevRAGE app will confirm your receipt within 48 hours, but usually much sooner. Once it's approved, your earnings show up in your account balance.
5) Cash Out Your Earnings
Once you earn $20 $1 through the BevRAGE app, you can cash out via PayPal!
---
How Does The BevRAGE App Pay?
Once you earn $20 $1 in rebates, you can cash out. PayPal payments are made within 48 hours of cashing out. IOS users have the option to get paid by mailed check.
At this time, check is not available to Android users, but will be eventually. I've included proof of some payments from the BevRage app, that arrived immediately after cashing out: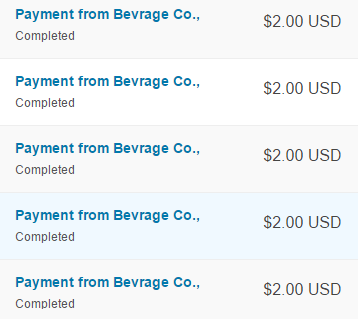 *Image is cropped to take out blank space
---
BevRAGE App Referral Program
The app does have a referral program that's available to all members. You're given a referral code to share with your friends. They can either join on the website or enter in the code when they sign up through the app.
Once your friend redeems their first rebate, you'll earn $2.
To start referring you can join at BevRage.com or download the app and use the code: FTJFH
---
BevRAGE Complaints
Itemized Receipts
This won't be an issue for most people, but in the area I live in, most of the liquor stores don't give out itemized receipts. To get credit for an offer, you'll need to make sure you receive an itemized receipt. If you're not for sure what that means, it shows the exact items you bought and the price of each.
Most major liquor stores and all box stores give out itemized receipts, as mentioned this won't be an issue for most.
Some Offer Restrictions
Offers do have limited availability. Just because the offer was available when you looked yesterday does not mean it's still available. You'll also see that some offers mention that it's only good for one bottle. Meaning you can only get cash back on the first bottle, even if you purchase two.
In regards to bar and restaurant offers, most of them have a limit of two per day. Meaning you can't get five drinks at a bar and get cash back on all of them.
---
Is The BevRAGE App A Scam?
The BevRAGE App is not a scam; it's a completely legitimate app that will pay you cash back on your alcoholic beverage purchases.
If you buy alcohol at a store that gives you an itemized receipt you might as well use this app. If you rarely buy alcohol or your store does not provide an itemized receipt, this app probably isn't the best for you.
If you'd like to learn more or to join visit BevRAGE, or just download the app and enter the code FTJFH to earn $2 just for joining.
If you're not currently using an app to get cash back on your grocery shopping, I highly recommend checking out Ibotta. It's my favorite cash back app, and they also offer cash back on alcohol.
Earning cash back on your purchases is great, but it's not the only way to make money online. Here's an extensive list of ways I use to make an Extra Income Online!
Extra Income not enough? A few years ago I started blogging; I now have a monthly income over $3,000 just from this website. Learn how you can start your own Profitable Blog today!
Have you used the BevRAGE app? Think this app is a scam? I'd love to hear your thoughts in the comments below! 🙂
Summary
Reviewer
Review Date
Reviewed Item
Author Rating