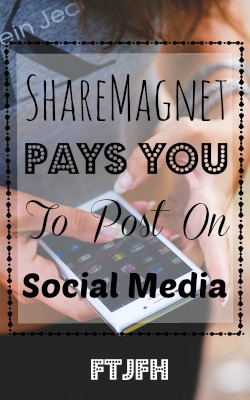 I recently came across a site called ShareMagnet. If you're wondering What ShareMagnet is, the name gives you a pretty good hint. Basically Share Magnet is a site that pays you for sharing links on social media accounts.
ShareMagnet let's you share sponsored links to basically any social network that you can think of and you're paid for every click you generate from your post. ShareMagnet is a pretty cool concept that is easy to join and implement so it may be a good option for you if you have some followers that will engage in your promotions.
There are some small details that I need to cover so in this ShareMagnet Review I will show you exactly how you can get paid to share links.
---
What Is ShareMagnet
ShareMagnet is a site that brings advertisers and promoters together. They pay you for advertising links on social media and pay per click. They let you share on almost any social media site that you can think of including sending emails to a list.
---
How ShareMagnet Works
First you need to join ShareMagnet here. During the application you will need to pick 10 interests out of a long list. These will be the type of links you can share to earn cash. Once you submit your application they must approve you. For me I heard back the next day and was accepted.
Once you get into the members area you can see all the links (what they call magnets) that you can share. Find a Magnet you would like to promote and click on share. You will see a list of all the available social networks. Choose the social network of your choice and another window will appear. You will be able to customize the message and the link will automatically be added for you.
Once you've shared the Magnets make sure your friends on social media see it. For every click you generate you will be paid a few cents usually ranging from $.02-$.10.
Continue this process with other Magnets to continue earning. As you can see it's a pretty simple process.
---
What Type Of Links Can You Promote?
When you join you will need to choose 10 interests from a very long lists. Only Links that fall into those interests will be available for you to promote. But here are some of the categories.
Sports, Business and Finance, Home Improvement, Health And Beauty, Offers and Coupons, Relationships and Dating, Art, Web Design, Food and Grocery, Automotive, Books, Blogs, and much more.
When you pick your interest you will be shown available links with the amount they pay per click. Pretty much all the links include a picture, but you will be able to type a custom message before you post a link.
---
ShareMagnet Payments
ShareMagnet makes all of their payments through PayPal. The minimum cash out amount is $1. Payments can be requested at anytime once you reach $1 and usually show up in your PayPal account within 24 hours.
At this time there are no other options for payments so you will need a PayPal account to participate in this opportunity.
---
ShareMagnet Concerns And Complaints
Earnings Are On Delay
One major concern that freaks some new members out is that most of the time earnings take a day or so to show up in your account. So if you post a link today and get 10 clicks the earnings most likely won't show up until tomorrow.
This really isn't a big issue, as long as you know that there is a delay, but some people like to cash out right away which might not be possible because funds are not yet in your account. But once funds are in your account the payments to PayPal are very quick.
I will say that some people have reported having problems with getting credit so if earnings don't show up contact support. Members who have had this problem contacted support and got it resolved easily.
Money Expectations
The biggest concern I have with ShareMagnet is how much you can earn. Compared to some similar sites they actually pay pretty well per click, but some people looking to join these opportunities are expecting a huge income.
I wouldn't rely on income from ShareMagnet, but look at it as some extra money coming in.
Some people will be surprised to see how hard it is to actually get clicks. Some of the links are pretty interesting which makes it easier, but some most people won't have any interest in. For most people who just share with their friends you can expect to make $5-$100 depending on how much you post and how engaging your followers are.
To see a huge income out of this you're going to need a huge following that engages regularly and has a interest in what you're promoting. Most people don't have this, so a smaller income is probably what you're looking at.
---
Is ShareMagnet A Scam?
ShareMagnet is not a scam it's a completely legit site that will pay you for clicks on links that you promote. I do have to say that this type of site isn't for everyone and income opportunities really depend on your following. But if you have what's needed you can make some extra money from this site.
If you would like to learn more or join visit ShareMagnet.com.
Getting paid to share might not be for you, but check out some of these other work from home opportunities that can earn you some extra income. You may also be interested in my #1 recommendation. It's how I make money online and get to work from home and help all of you make money online!
Thank you for reading this post on ShareMagnet. Have you used this site? Had problems or good experiences? Let me know your story in the comments below.
Summary
Reviewer
Review Date
Reviewed Item
Author Rating