10
6 Online Mock Jury Jobs: Become A Mock Juror and Get Paid!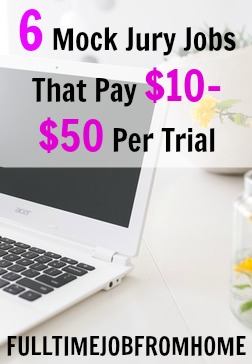 Recently I came across a really cool way to make money online, it's called a mock jury, and I've made a list of 6 legit mock jury jobs.
This is possible because attorneys want to present a case in front of a fake mock jury before presenting it in court. The process gives them a ton of feedback on their case and a verdict of what the mock jury thinks about the case.
These jobs aren't going to make you rich, but it can be some extra income each month. From different feedback in the forums, if you're into the legal system you'll probably enjoy these sites, but if you're not the income from these opportunities probably won't be worth your while.
Please understand that these sites will be a very small income for your time, if you're looking for a full-time income, check out My #1 Recommendation, it's how I made over $13,000 online last month!
Either way here are some different sites to check if becoming a mock juror is something that you're interested in.
---
6 Mock Juror Job Sites
eJury is a mock trial site that pays between $5-$10 per trial. From their website, most $5 trials take around 30 minutes to complete.
You'll need to review all the information, provide a verdict, and also answer some questions for additional information.
Payments are made a few days after you complete the trial via PayPal.
Pays you to participate in mock trials. Payments range from $25-$50 depending on the length of the mock trial.
In the forums, it says most cases take around 30 minutes to an hour to complete.
Last Month I Made

$13,841 Online
I Bet You're Tired Of Making Pennies Online. No More BS. If You're Serious About Making A Full-Time Income Online You Need To See The TRUTH. Stop Wasting Your Time With The Next Big Thing When There's Already A Proven Method That Works!
They pay within a week of completion via PayPal or Check.
Most cases pay between $20-$60. On their site payment is based on how long the mock trial is. Most range between 30 minutes and an hour.
Payments are made by Check only.
Jury WorkShop – No Longer Available
Is a mock jury site that pays $25 a trial for the first 16 members that accept the job. You can still complete the trial if you're not one of the first members, but you'll only be paid in points that can earn you gift cards.
Trials take over an hour to complete.
Payments are made via PayPal a few days after you complete a trial.
Is actually more of a survey site, but from time to time you'll be sent mock jury jobs. Since this site does more than mock trials, I couldn't find much information about how much they pay or how long they take.
I'd say all trials vary in length and pay around $10+.
Does not give out information about how much they pay but does say they pay by Check within two weeks of participation.
Will be emailed when mock trials are available, most take around an hour to complete. My best guess is it pays around $25 per mock trial.
---
Like I mentioned at the beginning of this article not everyone is going to enjoy this type of work and might not feel that the money is worth the time. But if you do enjoy the legal system this could be something you do in your spare time to earn some extra cash.
These sites won't make you rich but can give you some extra spending money. Most of these sites are easy to apply to and notify you when you have mock trials to complete.
Every site on this list is completely scam-free and will pay you for your time.
If mock trials aren't for you, check out some of the other ways to earn an extra income online. Please understand these sites are a small income for your time and won't make you much, if you're looking for a large online income, check out My #1 Recommendation, it's how I made over $13,000 online last month!
Thanks for checking out these mock jury jobs. Have you worked for any of these companies? I'd love to hear some feedback in the comments below!
If you didn't find what you were looking for here, check out these helpful links to other ways to make money online:
Work From Home Companies Hiring Now
All The Extra Income Sites That Pay Me
How I Made Over $13,000 Last Month