Have you ever wanted to get paid for searching the internet? What about getting paid to complete surveys, offers, and much more!
Now you can with Swagbucks! In this Swagbucks.com review, we will be covering how you can make money with Swagbucks, how to get paid by Swagbucks, what I think about Swagbucks, and is Swagbucks a scam!
Swagbucks is one of my favorite sites to make money with online and I have found it's one of the easiest to cash out with. Continue reading to learn more about Swagbucks and start earning today!
Please keep in mind that Swagbucks and other legitimate reward sites won't make you much, the ways to earn just don't pay enough. If you're serious about making a full-time income online, check out My #1 Recommendation to learn how I made over $13,000 online last month!
Swagbucks is currently offering a $5 sign up bonus!
---
How To Make Money With
SwagBucks
Searching the Web:
Getting paid to search the web is one thing that sets SwagBucks apart from many companies. All you need to do is search normally through the Swagbucks search bar. Every so often you will get rewarded Swagbucks for your searches.
I have to touch on this because I know people are wondering how does Swagbucks pay you to search. The answer is really simple. Just like Google, the Swagbuck search shows ads at the top of the search results. When people click on ads Swagbucks earns cash. In return, they pay you for using their search bar!
One thing to keep in mind is that you won't get Swagbucks for every search. If you use the search bar normally I have found that I get paid every 6-12 searches. The amount of bucks you earn for a search varies, as you can see from the picture above I have been rewarded a range of 5 to 25 swag bucks for a single search!
Offers:
You can earn swag bucks for completing offers. Most offers range from 1-1500 swag bucks. Some offers are completely free, some require you to sign up for a free trial, and some require you to buy a product. Every day at least 10-15 free offers are on Swagbucks which is an easy 50+ Swagbucks
Watch Videos:
You can earn up to 3 Swagbucks for each video you watch. All videos differ in length, but can be an easy way to make some money while killing some time on the internet! Most of the videos are interesting which makes it easier to watch.
Play Games:
You can earn Swagbucks for playing games and winning tournaments. There are 100s of games to choose from and are all fun! The way you earn through games is by entering competitions. Most games have a few different tournaments going on at the same time with various amount competitors. The more competitors usually means higher earnings for winners.
Answer Surveys:
Another way to earn Swagbucks is to answer survey questions. There are four different survey providers through Swagbucks.com. All offer you a few surveys a day and have decent payout amounts. I would suggest signing up for all four to get most earnings.
Daily Polls:
You can earn at least 1 Swagbuck a day just by answering the daily poll. Each day there is a multiple choice question. All you have to do is answer it, and you receive 1 Swagbuck!
Shopping:
When you shop online, visit the link through Swagbucks and earn a percentage back on all purchases. There are 100s of stores such as Amazon, Walmart, and Target. Visit the store through the Swagbucks link, and you will get a percentage back on your purchase.
Coupons:
When Clipping Coupons with Swagbucks you first download the coupon printing software. This software is safe so no worries there. There are usually a few hundred coupons on Swagbucks every day, and you earn $.10 every time you redeem a coupon in store!
Referring Friends:
Like almost all survey type sites you can get paid for having referrals. One key to the referral program is qualified earnings, so I have decided to cover this in the next section.
---
Referring Others To
SwagBucks
One of the keys to earning more with Swagbucks is through referrals. It's so important that it has its own section in this review. First off Swagbucks does give you your own referral URL that can be posted on social media sites or your blog. Swagbucks also has banners for you to place on your blog with your referral ID built-in.
Any referrals after the date of 1/24/2014 will now earn you 10% of their earnings for life. This is a major upgrade from getting paid for searching with a limit of 1000 swag bucks.
The new policy change gives you 10% of all earnings in the following categories: Shopping, Search, Watching Videos, Playing Games, Answering Surveys, Special Offers, and Coupons.
---
How To Get Paid With
SwagBucks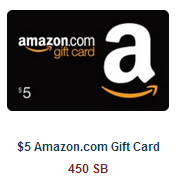 One of the only downfalls of Swagbucks is you get paid in gift cards. Even though your only option is gift cards, there is a variety of gift card options, and certain cards are always discounted.
Gift cards range from $5-$100; most $5 cards are 500 SwagBucks with the same ratio all the way up to the $100 gift card.
Some gift cards available are Wal-Mart, PayPal, Amazon, and nearly every restaurant or big chain store. To maximize your earnings with Swagbucks I recommend redeeming your bucks for the $5 Amazon Gift Card. This gift card is always discounted for 450 Swagbucks. That is a savings of 50 swag bucks!
---
My
SwagBucks.com

Review

Website: SwagBucks.com

Price: Completely Free

Overall Score: 96 Out Of 100 

Verdict: Legit

I have used Swagbucks for a few months now and have already cashed out over $50 in Amazon gift cards. Not bad for completing some offers, using the search bar, and referring my friends!

I enjoy the Swagbucks site and find it one of the easier sites to earn on and reach the cashout amount. I highly recommend this site to anyone who is looking to make a few extra bucks a month or someone who has the power to gain a lot of referrals.
---
Payment Proof

I know one thing everyone wants is payment proof and I completely understand. With so many scams out there it's hard to find online opportunities that are legit. Lucky for you, Swagbucks has paid me multiple times! Like I mention above in the how to get paid from SwagBucks section I am a huge fan of getting the $5 Amazon Gift Cards which are discounted for 450 bucks instead of 500. You can see my payment proof from the pictures below!
UPDATE 12/6/2017
I've been using Swagbucks now for several years and for some reason haven't updated payment proof here on my review. For a long time I was getting paid via Amazon gift card, but now have been cashing out via PayPal. Here're some of my latest payments and proof I was paid via PayPal!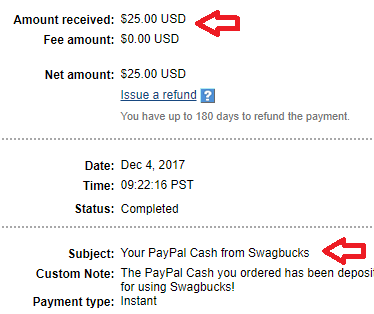 ---
How To Join
SwagBucks

!

You can join Swagbucks for free now through the link below. Best thing is you get 30 Free Swagbucks just for signing up and completing your profile. Go ahead and click the link below to get started. You may also be interested in the way I make the most money online. Click here to learn more!

Currently Offering a $5 Sign Up Bonus!

 

Please keep in mind that although Swagbucks is legitimate it will never be a HUGE income. If you're serious about making a full-time income online, check out My #1 Recommendation to learn how I made over $13,000 online last month!

Thank you for reading my Swagbucks.com Review. We have gone over What Is Swagbucks, and I have shown you that SwagBucks Is not a scam. If you have used this company in the past, I'd love to hear about your experiences. Leave a comment below letting me know how it's worked for you!

 

If you didn't find what you were looking for here, check out these helpful links to other ways to make money from home:

How I Made Over $13,000 Online Last Month

Extra Income Sites I Use and Recommend

Work From Home Jobs Hiring Now

Summary

Reviewer

Review Date

Reviewed Item

Author Rating