8
Cross Media Panel Review: Is It A Scam?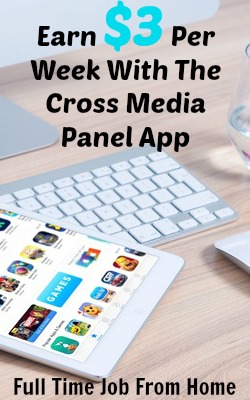 The Cross Media Panel, formerly known as Screenwise Trends, is a browser extension you can install on your browser, smartphone, or tablet. You'll get paid to download the program and keep it installed.
I've been using Screenwise Trends for a few years now, and it wasn't the easiest members area to use, but a few months back Cross Media Panel took over. This program is 100% legitimate, and I'll show you proof in this review. At this time, Cross Media Panel is only available in the US.
In this Cross Media Panel review, I'll cover how it works, how much they paid, reward options, and the concerns I have with this site.
---
Cross Media Panel Review

Site: Cross Media Panel
Type: Passive Income Tracking
Score: 85 out of 100
Verdict: Legitimate
In this Cross Media Panel review, I gave them a good score and marked it legitimate. As I already mentioned, I've been using Screenwise Trends (what it was formerly known as) for a few years now. I've probably earned around $150 in that time frame in Amazon gift cards.
Last Month I Made

$13,841 Online
Make sure to learn how you can get started for free!
As long as you're comfortable installing the safe browser extension and it doing some tracking in the background, you'll probably love this site. If privacy is a concern, I recommend skipping this opportunity. It is completely safe, but if you have any doubt the small income is not worth it.
If Cross Media Panel isn't for you, check out these Extra Income Sites I Recommend.
---
How Does Cross Media Panel Work
Installing The Browser Extension
If you live in the US, you can join the Cross Media Panel and get paid. You earn cash for installing the extension on your computer browser, phone, and or tablet.
The browser extension is the easiest to get going and works on Google Chrome, Mozilla Firefox, and Internet Explorer. Just click the install now button, and the browser extension will install.
Installing the extension on your phone is a bit more difficult. The extension works on Android or Apple smartphones and tablets. Android users have it easy, just visit the app store and download the Screenwise Meter. Apple users must visit a webpage in Safari (won't work in other browser apps such as Chrome) and the download will happen, just follow the prompts.
You can install the app on one device or all three. The more devices you link, the more you'll get paid.
Keep The App Installed
Once you have the app installed you'll earn money every single week you keep it installed. Pay is based on how many devices you have set up. The first week you'll earn a sign-up bonus and then get paid every week following.
Here's a diagram of the pay based on how many devices you have connected:
Keep the apps installed, once you reach $5 in earnings you can cash out a reward!
---
Cross Media Panel Rewards
The Cross Media Panel has some pretty awesome reward options. Some rewards start at $5 and others at $10. All rewards have a $10 and $25 amount options. Here's a list of the rewards based on starting price:
$5: Amazon, Target, Starbucks, Best Buy, CVS, Chipotle,  Macy's, REI, Sephora, Home Depot, Walmart
$10: Gap, Hotels.com, Nike
Once you reach the minimum cash out amount, you can request an e-gift card at any time. Rewards are instantly emailed to you.
---
Proof Cross Media Panel Is Legit
Since I've been using this site for a few years, I thought I'd show proof of payment. When they switched over to Cross Media Panel, I logged in and saw that I had built up $75 in earnings. I cashed out 3 $25 Amazon gift cards, and they arrived in my email immediately. You can see a screenshot below:
---
Cross Media Panel Complaints
Privacy Concerns
The obvious complaint from some people is the privacy concern. The browser and app does track website and app usage. For example, it will track how long you use certain apps or how long you stay on a web page.
They say that the information is not traceable back to you, but is compiled with other people's data and then presented on a much larger scale.
Some people are not comfortable installing a tracking browser extension. If that sound like you just skip this opportunity.
---
Is Cross Media Panel A Scam?
The Cross Media Panel is not a scam. I've used the site for a few years and have been paid. Since Cross Media Panel has taken over the site has become much better. As long as you're comfortable with the privacy concerns you'll be happy with this site.
To learn more or to join visit CrossMediaPanel.com to get started.
Concerned about privacy? This is not the only legitimate way to make money online. Here's a long list of Extra Income Sites I Recommend.
Extra income is great, but you could make a much larger income online. If that sounds like something you're interested in, take a look at How To Start A Profitable Blog. My #1 Recommendation will show you how it works for completely free!
Used the Cross Media Panel Before? Think it's a Scam? I'd love to hear your thoughts on this Cross Media Panel Review in the comments below! 🙂
Summary
Reviewer
Review Date
Reviewed Item
Author Rating