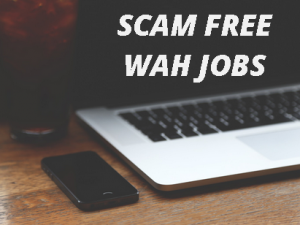 Check Out My New Work From Home Directory
Are you looking for some scam free work from home jobs? You know here at Full Time Job From Home, I'm all about finding you the best work from home opportunities and here is my list of legitimate work from home jobs in all categories.
These jobs actually require you to apply and work for a company, usually as an independent contractor. These jobs can be a full time income or just a supplemental income on top of your full time job or other online opportunities.
Below you will find links to all the jobs in that category, but if you move a little bit farther down the page you'll find a brief description of each category along with some links to helpful resources for that line of work.
---
All Scam Free Work At Home Jobs
---
Work From Home Jobs By Category
Writing Jobs
These work from home opportunities are writing jobs. Most of these sites work on a per job basis where you will be bidding jobs or asked to write a particular post for a company. You can find all kinds of writing such as informational posts, press releases, list posts, and much more. Of course being a decent writer is a requirement and better writers have any easier time getting off the ground and pulling in jobs.
These sites are mainly what you would call Freelance sites that specialize in writing.
An extremely popular site that allows anyone to get paid to write. Only thing is jobs for low level writers are hard to find so being a good writer is a must to get any jobs!
A get paid to write site, that has a low $10 cash out amount and relies heavily on past buyers ratings to determine your ranking and pay rate. A pretty good site for beginners to get started making an income online writing.
See All Work At Home Writing Jobs
---
Transcription Jobs
These work from opportunities are transcription jobs. If you're not familiar, Transcription is basically converting audio files into text. You usually get paid per audio hour and all sites have different rates. The qualifications for most sites are good listener, good to great typists, and the ability to work from home. These jobs are usually very flexible and pay pretty well once you get the hang of transcription.
Open to anyone who has a PayPal account, will need to pass a pretty easy transcription test, and pays $20 per audio hour.
Pays $10 an audio hour, payments by PayPal, and pretty easy to get accepted.
More of a seasonal transcription job, pays on a per word basis instead of per audio hour, and requires 4 hours a day during peak seasons.
See All Work At Home Transcription Sites
---
Search Engine Assessor Jobs
These work from home opportunities are pretty specialized, but the companies offer training. What you will be doing is finding out of place websites within search results. These companies pay hourly and can be a full-time or part-time job. If you have a general understand of how search engines work you can probably make a living from home being a search engine assessor.
Pays around $10-$14 an hour, has long application process, but does offer room for promotions.
Pays around $12 an hour and requires you to take a pretty hard test that you must pass the first time.
See All Search Engine Assessor Jobs
---
Photography Jobs
Pretty good with the camera? Here are some sites that will allow you to sell your photos online. There really aren't very many full time positions available in this field, but you can post photos for sell. These sites take a commission for bringing you together with the buyer, but it is possible to make a solid online income from posting your photos for sale. This field is very competitive, but if it's your passion and you're good at it, there is no reason why you can't work from home as a photographer.
A pretty hard site to get photos accepted to, but does offer pretty good rates per download.
---
Tutoring Jobs
You can actually teach people from home. Most of these sites require at least a degree from a college or university and some require a degree in a certain area. These sites tutor in all kinds of subjects at all age levels. As long as you meet the qualifications you can make some extra money in your free time or rev up your hours and make a decent living from tutoring students online.
A pretty popular tutoring site that pays $10 for an hour tutoring session. You will need a 4 year degree from a college or university.
Pay $9-$13 a hour based on experience. Prefers you have a 4 year degree, but people in school can still apply and get a tutoring job.
---
Phone Jobs (Coming Soon)!
Companies are now hiring people to work from home as customer support, technical support, and sales. Phone jobs usually require you to have a either a phone line or good quality headset, but every company differs. These jobs are pretty flexible with hours, but you can find 40 hours a week jobs if you want.
Here are some of the best sites for finding Work From Home Phone Jobs.
---
Data Entry Jobs 
If your looking for a work from home job you've probably heard about Data Entry. Basically with a Data Entry job you will be providing short tasks, this could mean transfer files from one form to another, putting things into categories, or really any job that is time consuming, but usually pretty easy. Data Entry can be done in your spare time or even as a full time work from home job.
Here are some great sites to find Data Entry Jobs:
Great American Opportunity
Really the only data entry site that pays close to minimum wage. Pay is per form, will be transferring information from fundraising order forms. Most workers make around $9 an hour.
See all work at home data entry jobs
---
Virtual Assistant Jobs
Have a background as a secretary or assistant? You can now do the job you've been doing for years all online. It's hard to put an exact description as what you will be up to as a VA, but it's basically all up to who ever hires you. VA duties can include scheduling appointments, responding to emails, writing, answering phone calls, and really anything they ask you to do.
Here are some really good companies that are leading Virtual Assistant providers.
---
Miscellaneous Work From Home Jobs
These are all the Work From Home Jobs that I wanted to include on my recommend list that really don't fit into any of the categories above. I've included some description of what these jobs entail just so you don't go in blind.
---
These are all the scam free work from home jobs that I recommend. If you would like to see all the companies that offers jobs in a certain category head up to the top of this post.
I pride myself in offering up to date information and the best work from home opportunities to you so I'm always updating this list. But I could always use your help!
Have any Work From Home Opportunities Not On This List? Worked For Any Of these Companies? I want to hear what you have to say in the comments section below.