Become A Content Divas Writer: Content Divas Job Information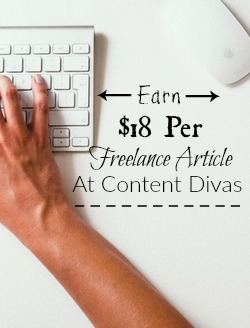 If you're a writer struggling to get freelance work you might be interested in a site called Content Divas. Content Divas hires writers to write articles for their clients.
The awesome thing about getting hired as a Content Divas writer is there's no more going out and finding jobs like a freelancer would. Once hired Content Divas sends you topics to write about.
In this Content Divas writer review, I will cover the requirements, how to apply, how much you get paid, and some other important job information.
Make Sure To Check out Write Your Way To Your First 1K!! It's an Awesome course that will teach you everything you need to know to become a successful Freelance Writer!
---
Content Divas Writer Requirements & Application
The only requirements to become a Content Divas writer is English being your primary language and you reside in the US. Experience ins't really necessary, but you'll have to submit your work during the application process.
When you apply you'll submit two pieces of writing. The first is a 400-500 word article and another a 250-300 blog style post. You may choose to write about a few different topics such as internet marketing subjects and a few others.
Once you submit your writing, they'll contact you within a week. If accepted you'll be required to sign a NDA form, this lets you continue freelance work, but you can't write for another outsourcing company like Content Divas.
---
What's Being Content Diva Writers Like?
This isn't one of those sites where you can log on at anytime and choose articles to write. Content Divas will send you what they call "packages" to work on. Most packages have multiple writing assignments in them. You could receive a package that's a total of 10,000 words in total, but this would be broken down into 10-15 shorter articles.
All packages have a deadline so when you do get a large order, you'll need to complete and submit all the work by the deadline to get paid.
They use the word "ghost writer" on their site. Basically this means you won't own any of the content you write. Once you submit your work the company/customer is free to do anything with the writing.
Work is not guaranteed, for a new writer you won't have work all the time. That's why this is a good option for someone with free time or who's already doing some freelance work.
---
How Much Does Content Divas Pay?
Content Divas pays based on word count and type of article you're writing. It looks like they pay more for articles that require more research, but the average rate is $18 per 1000 word article. Things like e-books and press releases pay more, but there's no guarantee that you'll ever get any of these projects to complete.
Some projects pay more than the base rate for the type of article, but these require much more research to complete the project.
Content Divas makes payments by PayPal. Most projects will pay within 7 days of completion. It does look like on larger projects you get half of your earnings up front and the remainder once project is approved.
---
Important Content Divas Job Information
I'd like to cover a few important things about this position. First off they do have what they call a "get out of jail free card" this means, if you do a few projects and don't feel like writing for Content Divas is right you can leave the company without any penalty and no hard feelings. They also say it works both ways. If they don't like your first few projects they can ask you to leave the company.
Also you'll be an independent contractor for this company. Meaning you're responsible for taxes if you make over $600 writing for this company.
---
Is Content Divas Writing Jobs A Scam?
From what I can see Content Divas is completely legit. There is proof that they pay their writers and it seems that most people are satisfied with the pay and work. The schedule is flexible, but keep in mind that there's deadlines on all projects. You can choose when and where you work, but do need to get your work done on time.
To me Content Divas is a good writing job, especially if you do freelance work already. Joining an outsourcing company can help bring in steady work when freelancing is going slow.
If you'd like to learn more or to apply visit Content Divas Jobs.
Want To learn how to make money as a freelance writer? Check out Write Your Way To Your First 1K!
Don't forget about some of the other work at home jobs I recommend, or maybe you'd like to learn more about working from home as your own boss. Either way I've reviewed tons of different ways to make money from home, surely you can find something that's perfect for you.
Applied to Content Divas? Know More about how much Content Divas Pays? Share your story in the comments section below!