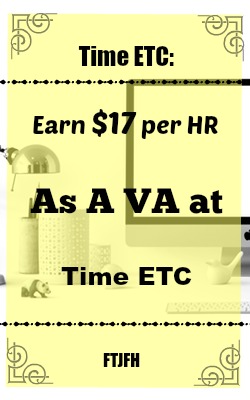 Recently I've been jumping into the work from home job opportunities field. Today I have a virtual assistant job that may be perfect for you.
Time ETC is a company that's been around since 2007 that hires Virtual Assistants in the US and UK. If you're not familiar with what is VA is don't worry, I will cover it in this Time ETC Review.
I will be covering all the details with this company and show you exactly how you can become a Time ETC Virtual Assistant.
Let's not waste any more time and start learning in this Time ETC Review.
If you're interested in becoming a Virtual Assistant, make sure to check out the course 30 Days or Less To VA Success. You can also get their freebie: 150 Services You Can Offer As a Virtual Assistant.
---
Time ETC Review
What Does A Time ETC VA Do?

One thing about being a virtual assistant is there really is not any one thing that you will be doing. It really all depends on who hires you and what they need you to do.
In general, you may be scheduling appointments, helping with a website, contacting clients, completing paperwork (online though), and much more. There really is no end to what you could be doing.
Along with the type of work, your hours or time required can vary some jobs will be just a few hours a week where some may be a full-time job.
---
Time ETC Requirements
To become a Time ETC Virtual Assistant you will need at least 2 years of experience, fluent in spoken and written English, and organizational skills.
You will also need access to a computer and high-speed internet access. Some jobs will require you to have a private office with a locking door on it, but that is just job to job.
---
Time ETC Application Process
To begin the process you will need to fill out an application on their website. This includes personal, education, and work information. After you submit your app. Time ETC will then verify your identity and work experience.
If they think you will be a good candidate they will then schedule a virtual interview.
If all goes well the final step in the process is taking a few skills test just to make sure that you don't just talk the talk, but can also walk the walk.
Altogether the application process should take a week or two. As long as you have some experience you should be able to get accepted.
---
How Much Does Time ETC Pay?
I couldn't find an exact number on this, but from what I've found is Time ETC will pay anywhere from $11-$17 an hour. Pay rate has to do with your experience and how long you've been with the company.
I couldn't find any exact information on requirements for certain rates, but it does seem that you can get a raise if you do quality work and stick with the company.
Payments are made monthly via PayPal and it seems this is the only way to get paid.
---
Time ETC Schedule Requirements
Time ETC is pretty flexible on the requirements for working. They would like you to be available Monday-Friday and at least work 5 hours a week.
They do require you to sign a one year contract with them promising you will work for them for at least one year.
Seems like they are really flexible on when you work, and are fine with this being a part-time job or supplemented with another work from home opportunity.
---
Time ETC Concerns and Complaints
Experience Required
For all of you with no prior experience, you probably won't get accepted. It seems like they will accept some people that have never been a virtual assistant if you have some experience in the offline world, but they prefer VA experience.
You will have to have some background knowledge to pass the skills tests that they require, but if you have the experience you should be good to go on these.
But as I said if you're a newbie this might not be the best opportunity for you.
Locked In For A Year
To me, this isn't a huge deal, but people change their minds all the time and it seems like people change jobs just as often.
I understand why they do this, they are looking to hire long-term employees so they want to let you know that you're locked in for at least a year.
The only big issue with this is if you haven't had much VA experience and find out that you don't like the work or if you have a lifestyle change.
From what I've heard for family matters or problems you can get out of the one year contract.
---
Is Time ETC A Scam Or Legit?
Time ETC is a completely legit opportunity. You will need some experience to get this work from home job, but as long as you at least have some offline experience you can apply and give it a shot.
I'm not really a fan of the 1-year contract, but if you know working from home is what you want to do, it should not be a huge deal.
Looks like Time ETC is pretty flexible with how much you work so it can be combined with some other work from home opportunities.
To learn more or join you can fill out an application on their website here.
New to working as a VA? Make sure to check out the 30 days or less to VA Success. It's an awesome course that will teach you everything you need to know about working from home as a VA!
If you're not ready for their course. Make sure to claim your freebie e-book: 150 Services You Can Offer As a VA!
If becoming a Time ETC Virtual Assistant isn't what you're looking for, check out some of these other Work From Home Jobs.
Do you want to be your own boss? See my #1 recommendation, to see how I make a full-time income online and am my own boss.
Thank you for reading this Time ETC Review. Have you applied for this company? Worked from home as a VA? Let me know your story in the comments below!
Summary
Reviewer
Review Date
Reviewed Item
Author Rating