3
Is Fancy Hands A Scam? A Fancy Hands Review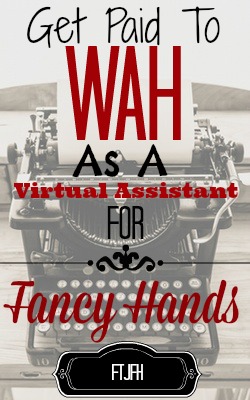 Recently I came across a Fancy Hands Review that wasn't very good and really didn't answer the questions is Fancy Hands A Scam.
So I decided to write my own and try to really figure out the important information about Fancy Hands and becoming a virtual assistant with them.
As a VA for Fancy Hands, you can work as little or as much as you would like. I was really impressed with how easy going it is, which makes it perfect for beginners.
Keep on reading to learn more about this opportunity and how you can become a Fancy Hands Virtual Assistant.
Make sure to check out 30 days or less to VA Success! It's an awesome course that teaches you how to become a success Virtual Assistant! For a limited time, get a copy of their free ebook: 150 Services You Can Sell As a VA!
---
Fancy Hands Review
Fancy Hands is a pretty cool VA site that pays per task instead of by the hour. I kind of like this because if you work hard there is no limit to how much you can make in an hour. As a VA for Fancy Hands, you will find a variety of different tasks.
It seems that there are some phoning tasks such as scheduling appointments, but there are also plenty of non-phone tasks such as gathering information on the internet for your client.
The pay seems pretty fair and it's pretty easy to get accepted, as long as you can communicate well. Overall Fancy Hands is a good site to join as a Virtual Assistant.
---
Fancy Hands Requirements
The requirements are very simple. They don't say that you need any previous experience so this is great for beginners. You will need a computer with high-speed internet and during the application, you will need a headset or at least a computer with built-in speakers (even if you won't be completing phone tasks.)
On their information page, they say they are looking for people who communicate well and must be fluent in English.
Last Month I Made

$13,841 Online
Make sure to learn how you can get started for free!
The only other requirements is a Gmail account, which you will need to begin the application process.
---
Fancy Hands Application Process
Applying is super easy. You will need a Gmail account as mentioned above. You will then need to answers some general knowledge questions. The next page you will have to do a short recording of yourself. They give you a prompt and it says it's just for the sound quality check and I'm sure they want to see if they can understand your English.
Next you will be given a few sample tasks. These are very simple and are set up to measure your search engine research skills. All you will need to do is find some information on the page.
After you finish the application, it's a waiting game. From what I could find some people hear back quickly and some never hear anything back. I think it has a lot to do with if they are hiring at the time.
---
How Much Does Fancy Hands Pay?
Fancy Hands differs from a lot of VA sites, where they pay per task instead of by the hour. Some people enjoy this and some are not going to like this, but I think it's a good thing because you can control how much you make in an hour.
Tasks are priced based on the amount of time they take and the difficulty or certain skills needed to complete the task. From what I've seen tasks range from $2-$7.
Payments are made via PayPal. I could not find how often they pay, so if anyone knows please share in the comments!
---
Fancy Hands Complaints and Concerns
Application
Although the application process is very easy in my opinion, it kind of sucks that there is no guarantee they will get back to you. I've heard mix responses on this and it seems to depend on if they're hiring at the time.
It would be cool if they let you know either way if they are hiring, but at this time they allow apps at any time and there is no guarantee you will get a response!
Being Paid By The Task
Personally, I like this. Most VA places pay from $10-$14 an hour, but by being paid by the task allows you to control how much you make. There have been complaints that some tasks are underpriced and take a long time, but for the most part, people are happy with the pay.
To me it just put the ball in your court and the harder you work the more you will get paid, but I understand the arguments by those slackers out there 🙂
---
Is Fancy Hands A Scam?
Fancy Hands is not a scam. It's a legit site that most members are very happy with. There are some things that people may not like, such as being paid per task and the fact that they don't always get back with you about your application.
Overall I think Fancy Hands is a good site to apply to. It can be a full time or just a part-time income and the hours are extremely flexible. This makes it easy to suit your needs and as long as you can get accepted you control how much you work and make.
If you would like to apply visit the Fancy Hands VA app.
New to working as a VA? Make sure to check out the 30 days or less to VA Success. It's an awesome course that will teach you everything you need to know. For a limited time, get a copy of their free ebook: 150 Services You Can Sell As a VA!
If this doesn't sound like something you're into, take a look at the rest of my scam free work from home jobs or my #1 recommendation for making money online. Either way, I'm here to help you find a legit way to make money online!
 Worked For Fancy Hands? Have more info for this Fancy Hands Review? Think Fancy Hands is A Scam?
Let me know what you're thinking in the comments below!
Summary
Reviewer
Review Date
Reviewed Item
Author Rating