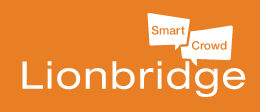 If you follow my site you've probably seen a lot of reviews on products and work at home business ideas, but today I have something a little bit different. LionBridge is basically a work from home company that hires you as an independent contractor to do work on the internet form home.
I like to think of this opportunity as a "work from home" job, because you're being hired by this company, just like you would offline, but you have the freedom to work from home.
With that information in mind LionBridge is not a scam, although there are some shady, or for lack of better words difficult hoops to jump through to work for this company. But, from what I can tell LionBridge.com is legitimate.
In this review I will give you information about this site and prove that LionBridge is not a scam, but a legitimate work at home opportunity.
UPDATE 5/20/16: Camille left a insightful comment that answered a lot of my questions about payments and what working for this company is like. You can see it by scrolling down to the comment section below the post!
---
LionBridge Work At Home Opportunity Information
What You Do?
When you join LionBridge and are approved you become what they consider an Internet Assessor. Basically in this position you will be in charge of making internet search "more exciting, relevant, and interesting to users within the United States."
To explain a bit more basically you will be given search terms. You will then need to perform an internet search term and flag any results that don't really help or make sense with the search term.
It's really not a hard process and LionBridge has a strict set of guidelines to help you with what's relevant and what's not.
Requirements
LionBridge isn't like a free survey site where you enter in a bit and information and can start making money right away. LionBridge has a very detailed application process that involves a 3 part test that can take some members almost 40 hours to complete (what I've heard in the forums.)
But the general requirements are having an understand of how to use a search engine and how results are generated plus the obvious requirements of a computer with high speed internet connection.
Here is a list of a few more requirements:
Fluent in Written and Spoken English
Preferred Level Of Education: Bachelor Degree
A Legal Resident of the US for 5 years (This opportunity is available in other countries, but I'm mainly covering US jobs)
Update: Looks like LionBridge is now requiring the applicant have a smart phone since mobile search has become just as if not more important as computer search.
Payments
Unfortunately the LionBridge website doesn't go into detail about payments, but I will let you know what I'm seeing in the forums, but just know if you do join and get accepted the information they give you may be different then what I say here. If you do work from this company Please leave a comment clearing up some information for me!
UPDATE 5/20/16: Camille left a comment and said she gets paid once a month via direct deposit on the 1st of the month.
From what I've heard through the forums and review sites, LionBridge pays from $10-$14 when starting out, they do offer bonuses and increases in pay based on how long you're with the company, but I don't have any exact details on this.
It seems that no one is giving out any details about how they are getting paid by this company, but I'm assuming Check, PayPal, or Direct Deposit would be available. Most likely as long as you have the ability to use Direct Deposit you should be fine with collecting your payments.
One thing that surprised me about the company is, since you're an independent contractor you need to keep details of how much you work and turn it in at the end of the month to get paid.
I know a lot of wishy washy information in this section, but their site doesn't give any information about payments so I have to go off what I'm seeing around the internet!
---
LionBridge Concerns
Long Application Process
As I mentioned above there are a lot of requirements to become a LionBridge Internet Assessor, but the main concern here is the 3 part test. I'm seeing reports that it takes people almost a full work week to complete. That's a lot of time to spend before you even have the job!
Supposedly they also send out a couple hundred page PDF that you will need to read to prepare for the tests, which means you have even more time spent without having a job.
I understand that LionBridge only wants the best people working for them, so I get why you must put in so much work to get going, but to me that's a lot of time to spend that you don't get paid for, but if you need a job and working from home is what you want, you're going to have to put in the time and work.
Independent Contractor
Being an Independent Contractor really isn't a huge disadvantage, most jobs that you will find online are paid this way. But it does mean that you're required to calculate taxes out of your yearly income when it comes tax time. I'm not a tax professional, but it does make it a bit more tricky when planning your budget.
The big issue I have with this is really the keeping track of your own hours portion. Yeah it can be done and if you're organized it really shouldn't be a problem, but it really surprises me that this company doesn't have some type of automated system that keeps track of hours for you.
Management Issues
The last concern I have with LionBridge is coming straight from the forums. When you get the job you will have a boss, from what I've heard LionBridge does promote from within, but seems like people have a lot of complaints that their boss is not educated properly or doesn't help their employees out as much as needed.
Honestly I don't work for this company so I have no idea how the structure works or who they have in the higher positions, but the forums have a lot of complaints of having bogus people in management positions that should not be.
I also feel like most people who are interested in working online from home are trying to ditch the whole having a boss idea, which you can not do with LionBridge, but you can do with my #1 recommendation. 
---
Is LionBridge.com Legitimate or Scam?
Although I still have some unanswered questions about the details of working from LionBridge, the forums and reviews from employees show that this site is 100% legitimate. But just like all offline business they have their own set of strengths, weaknesses, and problems.
In my opinion LionBridge is a good choice if you're looking for a work from home job where you will be paid an hourly wage, but if you're looking for the Be Your Own Boss type of online business this is probably not what you're looking for.
As long as you have the right set of traits and really want to make this happen I think you can get a job with LionBridge and become successful in the company.
If you would like to learn more about the LionBridge Internet Assessor opportunity visit their website here.
If LionBridge doesn't sound like the type of work from home job you're looking for I recommend checking out how I make money online at Start Your Own Online Business. This will give you the ability to work from home and ditch the whole boss idea.
Thank you for reading this review. LionBridge.com is legitimate in my opinion, but I'd love if you could feel me in on the details of this company. Feel free to leave some comments and correct or confirm and portion of this review!
Summary
Reviewer
Review Date
Reviewed Item
Author Rating