8
Is Listverse A Scam? Earn $100 Per List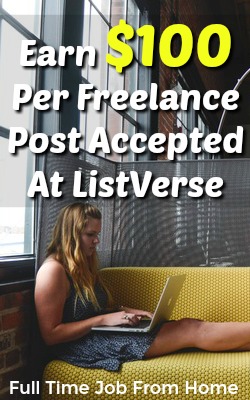 There's always people looking to get paid for freelance writing, the biggest complaint I hear is getting paid low rates for their work. Well, I came across a site called Listverse that might be able to end that complaint.
Listverse is a site that publishes lists on their blog, if you submit a list and it's approved you'll be paid $100. Now not all lists get accepted, but they're very clear on what they're looking for, so if you're a good writer you should be able to get something approved.
In this Listverse review I'll cover how this writing job works and answer is this site a scam? Lets go ahead and get started with how Listverse works.
Make Sure To Check out Write Your Way To Your First 1K! It's an Awesome course that will teach you everything you need to know to become a successful Freelance Writer!
---
How Listverse Works

Listverse is a very simple process and the sites super easy to use. Here's the steps you'll need to take to get paid for a list.
1) Write A List
I cover this more in detail, but here's a summary. All lists need to be 1500 words long and cover at least 10 items. Most of the lists they approve are far fetched and bizarre.
2) Submit It To Listverse
Once you're done with your list you can submit it to Listverse. You can include images if you'd like, but they will provide images for you. You can also leave links for your website and social media sites.
Listverse will get back with you, usually within 24 hours letting you know if they accept your list.
3) Get Paid
If Listverse accepts your list you'll be paid $100 via PayPal. If not you're free to keep your list and publish it on your website or other sites.
As you can see it's a very simple process. The key is writing lists that get approved. Here's some information on what they look for.
---
What Type Of Lists Get Approved
On their website they say that "off beat" and unusual lists are most likely to get accepted. From the looks of their website lists like 10 facts you probably didn't know about…. or 10 misconceptions about…. seem to be very popular.
My recommendation would be to think of a popular topic and then look for some unusual facts about it. For example if I submitted a list of 10 ways to make money online, it would not get accepted. But if I submit a list of 10 Ways To Make Money on your way to work, I have a much better chance of getting accepted.
Of course no matter what bizarre writing topic you come up with, it needs to be at least 10 items long and 1500 words.
---
Listverse Payments
You already know that Listverse pays $100 per list they accept. Payments are made via PayPal within 24 hours after your list has been accepted.
I can't find anything about this on their website, but some people leaving feedback about the site have said if you have a very popular post you can earn some additional bonuses and more payment for your post. Can't find any proof of this, but you could be looking at a larger payment based on the performance of your list.
---
Important Listverse Job Details
What If My List Isn't Approved
One thing I was worried about when I found Listverse is who owns your writing. If your list is purchased then they own the list, you'll still be credited for the writing, which I cover in the next section.
But, if you submit a list and they don't accept it, you still own the list and can publish it any other place you'd like.
Advantage For Website Owners
Listverse can give website owners some big advantages along with earning you some money. If your list gets accepted they will link back to your website at the bottom of the post. Along with a link to your website you can also add social media profiles.
Listverse is a huge site that has thousands a visitors a day. This is a great way to get some exposure and drive some traffic back to your website!
---
Is Listverse a Scam?
Listverse is not a scam, it's a completely legit way to get paid to write. The whole key is making a list that's a bit bizarre. It seems that these type of lists get accepted most often. This site has some great advantages if you have your own website and can help gain exposure. Even if you don't have a website you still get paid good money for the writing.
The biggest concern is getting your list approved. Really if you're a website owner you can always publish it on your website if it's rejected. If you don't have a website you still own the writing so you could submit it somewhere else and get paid.
Please Review Comments Before Submitting A List. If getting paid to write list posts seems like something you'd be interested in, learn more or submit a list at Listverse.
Want To learn how to make money as a freelance writer? Check out Write Your Way To Your First 1K!
If listverse isn't your thing, but you'd still like to work from home, check out some of the work at home jobs and extra income sites I recommend.
If you don't have a website to publish your content on, you're missing out. Publishing content on websites is how I make a living from home. To learn how to do this for free Visit My #1 Recommendation.
Does Listverse seem like a scam? Has Listverse accepted one of your lists? Let me hear your thoughts on this Listverse Review below!