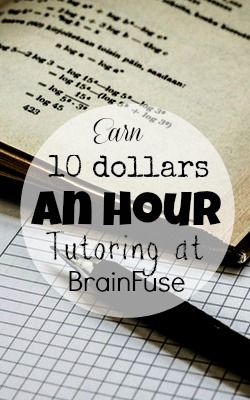 Have a degree in teaching? Looking to work from home? BrainFuse is an online tutoring service that hires real people and lets you work from home as a tutor.
BrainFuse offers some flexible schedules and you can work as much or little as you want.
In this BrainFuse Review, we will be taking a look at the getting a job as a tutor side of this site.
So if you're looking to become a work from home tutor you're in the right place!
Let's get started with this review and learn more about this work from home opportunity.
---
Become A BrainFuse Work From Home Tutor

Becoming a BrainFuse Work From Home Tutor is a pretty easy process. There are some requirements that you will need to meet and a few tests before you can start working.
But as long as your qualified it should be a pretty easy work from home opportunity to get involved in.
Keep on reading to learn more about this opportunity.
---
BrainFuse Tutor Requirements
The requirements to become a tutor are at least a 4 year bachelor degree. It's not a requirement to have a teaching degree, but it is preferred.
From what I've seen it still is possible to become a tutor especially if you have a degree in field that is tutored often.
You will be required to participate in a background check and they will check references.
The only other requirements are a computer with high speed internet access.
---
BrainFuse Tutor Application Process
To being the application process you will need to send your resume via email to BrainFuse. If they are interested they will send you information about training for a few tests you will need to pass along with information on the background and reference checks.
From what I've seen as long as you can pass the training tests and references check out you have a pretty good chance of getting hired.
---
What Do BrainFuse Tutors Do?
They don't give out a lot of information, but here is what I've found. When you apply and get accepted you're able to set what subjects and levels you are able to tutor. You're also able to set the time frames that you're available to tutor in.
When BrainFuse Students apply for tutoring BrainFuse automatically schedules these tutoring sessions to tutors in the time slots that they are available.
From what I've found students can request certain tutors so if you can build relations with a few students you can fill up your schedule pretty easily.
They also have a homework help section. Basically this kind of looks like a free for all section for tutors. Students will ask questions and tutors have the opportunity to answer and start a tutoring session if needed.
I'm a bit in the dark on the homework help section, but it seems that any online tutor can respond so it could be a way to pick up and schedule more tutoring sessions.
---
How Much Do BrainFuse Tutors Get Paid
Each tutor session lasts one hour and will pay you $10. If the student fails to show up in the scheduled time frame you still get paid $7 for your time.
There is no limit or minimum to how much you can tutor so your earnings are really up you.
BrainFuse pays monthly via direct deposit to a checking account. Like 99% of work from home opportunities you will be a independent contractor which means no taxes will be taken out of your checks. This isn't a big deal, but know you're responsible for that come tax time.
---
So Is BrainFuse Tutors Legit Or Scam?
From what I've found becoming a BrainFuse Tutor is a completely legit work from home job. I'm still in the dark on a few things, so if you're already a tutor I'd love to hear what you know in the comments below.
I think BrainFuse pays pretty good at $10 an hour and offers you a very flexible schedule that you can set. The only real concern with this site is that it may be hard to get accepted. From what I've heard lately they are looking and actively hiring new tutors, so it may be a good time to apply.
If you would like to apply visit their website here.
Is Tutoring not your thing? You may be interested in one of the other Work From Home Opportunities I've reviewed. To see all the scam free jobs I've reviewed visit Legit Online Jobs.
If you would like to work from home as your own boss I have a perfect opportunity for you. It's how I make a full-time income online and you can too. To learn more visit Start Your Own Online Business.
One last thing, Thank you for reading this BrainFuse Review. If you would like to become a work from home tutor I think this is a perfect site to try out.
Are you already a tutor? Have more information about this site? I'd love to hear more information and your story in the comments below!
Summary
Reviewer
Review Date
Reviewed Item
Author Rating