2
Appenscribe Transcription Job Review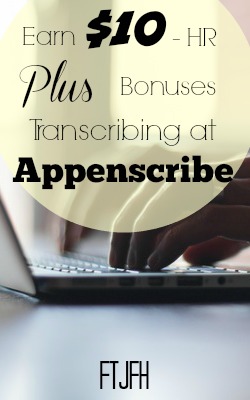 Appenscribe is a transcription company that hires beginning transcribers worldwide. This transcription job is pretty typical to most sites that accept beginners, but I still wanted to give you a detailed review of the job.
If you have any interest in transcription work, I highly recommend checking out the free general transcription course at Transcribe Anywhere.
Let's jump right into this review. Today you'll learn more about Appenscribe's application process, how much they pay, and what to expect when you're hired.
---
Appenscribe Requirements & Application

As mentioned Appenscribe is available worldwide. You need to be at least 18 and fluent in some language. There are audio files in many languages so being fluent in English isn't necessary, but if you're fluent in multiple languages, you'll have more files available.
You'll need a computer, high-speed internet, a high-quality headset, and foot pedal.
The application process is pretty simple. You'll fill out a form on their site that includes basic personal information and what experience you have, if any. After submitting the form, you'll have to transcribe two short audio files, just to make sure you're up for the job.
The whole application process should take under 30 minutes.
---
Typical Appenscribe Transcription Work
Like most transcription companies, there isn't always work available. Just like any business they go through slow stages where there're not many files to transcribe. But during the busy portions of the year, you can log into Appenscribe and transcribe at any time.
I did find on their website, that when it's busy, they would like you to work at least 10 hours a week so they can keep up with the workload. Appenscribe is a lot like most transcription companies where there are different length of files, and some are more difficult than others.
---
How Much Does Appenscribe Pay?
From what I can see all audio files pay a different amount, depending on difficulty and length. It does look like it's pretty close to the industry standard of $.005 per word transcribed. I checked the forums and most people are saying that they always average $10 or more per hour. Some people report $25+ if they get a batch of really clear audio.
They do offer bonuses for great work and if you transcribe a certain amount of words in a two week period. Also, they require you to have an 85% accuracy rating to get paid the full rate. You'll still get paid if you're below this, but it won't be the full rate, and if you continue to perform poorly you may not get any jobs.
They pay every two weeks via PayPal.
---
Full Time or Part Time?
Just like most transcription companies, this is not a full-time job. When there is a lot to complete you could probably make it into a 40 hour work week, but work is not consistent enough to consider this a full-time job.
If you're going to work at home as a transcriber, you'll have to join multiple sites to ensure that you have work to keep you busy year round.
---
Is Appenscribe Legit Or A Scam?
Appenscribe is completely legit; there's nothing that makes this site a scam. Current and past employees are all very happy with the work. The only real complaint is that sometimes no work is available. As long as you know this you should be pretty satisfied with this job.
I will say that it's a good idea to get involved with a couple of transcription companies. This will ensure that you have work to do when you're available.
To learn more or to apply, visit the Appenscribe Application.
If you'd like to join a few transcription sites, you can see a full list of the ones I recommend here. You may want to supplement this income with another type of site. Check out extra income sites to see all the sites I recommend.
To see how I make a full-time income online check out my #1 recommendation.
Have you worked as a transcriber? Have more information to add to this review? Let me hear what you think about Appenscribe in the comments section below.