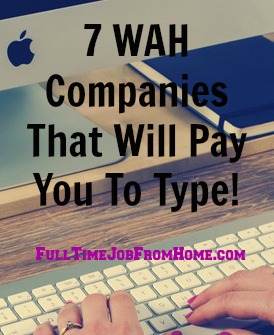 Lately, I've run into a lot of data entry scams. So I decided to put together a list of 7 work at home data entry companies that are completely legit. Now there might be some more out there, but these are the ones I know are scam free and safe to work with.
If you're not familiar with data entry, the primary job description is transferring information from one source to another. This could be finding information through searching and adding it to a spreadsheet or entering information from a printed list into a computer program.
For the most part, Data Entry is not high skilled labor, but more tedious work that business owners may not want to complete themselves. With this in mind, it's not an extremely high paying job, but some companies pay better than others.
Data Entry Jobs are not in high demand at this time, due to that the pay is usually pretty low. If you're looking to make a large online income I'd check out My #1 Recommendation. It's how I made over $13,000 last month!
On this list of 7 data entry jobs, I will give you the necessary details of each job and how much each job pays.
---
7 Work From Home Data Entry Jobs
A data entry company that pays $5-$10 per document that takes 30-60 minutes complete. Hires in the US and India. Payments by PayPal.
From what I can see they rarely have openings, but applying is very simple, and you can apply at any time. If they have openings, they will contact you.
No real requirements other than being comfortable with a computer and internet access.
Virtual Bee offers jobs such as transferring information from forms along with internet research. Each task ranges in pay, but most pay $.40-$.60 per 1000 keystrokes, which is a pretty low rate.
They pay once a month by check, and you'll need at least $30 in your account to cash out.
They hire US and international workers, will need to pass a typing test to get approved.
A work at home company that hires data entry workers from time to time. It does say that work is not guaranteed, but most members have enough to complete 20-30 hours a week. Requirements are high-speed internet and computer.
Has recently combined with LexisNexis. No information posted on rates and pay. You can learn more here.
Stands for The Data Entry Company and it's been around for awhile now with some mixed reviews. They do have a longer application process that includes a lot of training. But after getting accepted, they have data entry jobs listed for you to complete similar to Amazon MTurk.
Offers a very flexible schedule where you can log in anytime and complete work, given there's any.
Can't find any information on how much and how they pay, but I'd assume they pay per job completed similar to Turking. Meaning how much you earn is dependent on how fast you complete jobs.
Great American Opportunity
Not Currently Hiring.
Probably the most reputable and well-liked company on this list, mostly because of the higher pay rate than other companies and it's an established company. Nature of the work is entering information from a scanned order form to a computer software.
Pay is around $.10 per form. These usually only take 30 seconds or less to complete. The average worker makes around $9 an hour. All dependent on how fast you can complete the work.
They pay weekly by direct deposit.
There is a short test to pass before getting accepted, but if you are comfortable with a computer you should have no issues.
Most have probably already heard of the company because they offer a wide variety of jobs, not just data entry. The jobs offered at MTurk are called hits. Most are pretty short, take a few minutes to complete, and pay $.10 or less.
Almost anyone with a computer and internet access can join. A Very flexible schedule where you can log on at any time and complete hits for payment. Work is limited but can keep you busy in your spare time.
A company that hires data entry workers to update voter information. The job pays per piece. It's a pretty confusing system, but most pieces pay around $.04 and take just a few seconds to complete. Payment is based on accuracy.
An extremely flexible schedule where you can log on anytime and complete work, as long as there's work available. There is a short test to complete, but most won't have any issues.
Pays weekly by PayPal.
---
Thank you for checking out this list of Data Entry Jobs. As mentioned at the beginning of this list, data entry jobs are low-paying and don't require much skill. Pay for most of these sites is per piece or task, which means the faster you are the more you'll get paid.
Out of all these sites Great American Opportunity probably has the best pay rate, but it's still not a huge income. If you're in a bind, data entry can be a way to make some quick money, but honestly, I wouldn't want this as an occupation and don't think you can make enough to have this as a full-time job.
With that being said, the companies on this list won't scam you. They are completely legit, the pay for data entry just isn't that much. To see some higher paying jobs, check out the work at home jobs I recommend. If you're looking to supplement an existing income, I'd check out some of these extra income sites before getting into data entry.
If you're looking for a full-time online income, data entry won't cut it, check out My #1 Recommendation to learn more. I made over $13,000 Online Last Month!
Have you tried data entry work? Know of other legit companies? Ran into a data entry scam? I want to hear your thoughts in the comments below!