7
QuickTate Transcriber Job Information: Is It a Scam?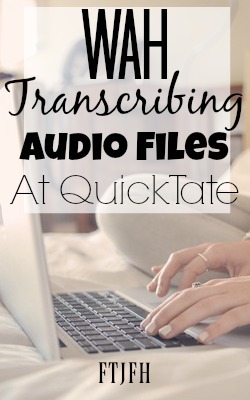 If you're a fan of transcription work, I have a site called QuickTate that you might be interested in. QuickTake hires transcribers and sends you audio files right to your email. From what I can see this is a scam free site and a good option for you transcribers out there.
QuickTate does not require any experience but does have a longer application than most sites. Despite that, it's a great option for beginners who are looking to make some extra cash transcribing audio files.
If you're a novice transcriber, make sure to check out a completely free 7 lesson course offered at Transcribe Anywhere. It can help you get started off on the right foot as a beginner.
Within this QuickTate review, I will talk about the application process, how it all works, and how much you'll be getting paid.
---
QuickTate Requirements
QuickTate does not require you to have any experience transcribing. You'll have to pass a test proving that you can transcribe accurately, but no prior transcription work or job experience is needed.
Like most online work you'll need a computer, high-speed internet access, headset, and they also recommend this foot pedal.
Before being hired, QuickTate will charge you $15 for a background check. They won't hire anyone with a criminal record.
---
QuickTate Application Process
The application is very simple. There is an application form to be filled out on their website. This form includes basic personal information and references must be provided. You'll need to pass a simple transcription test, just to make sure you're right for the job.
If all goes well and QuickTate is hiring, you'll begin to receive audio files to transcribe shortly after. Reminder there is a $15 background check that I mentioned above. They won't hire anyone with a criminal record!
---
How QuickTate Works
Just like most transcription sites, you'll log into QuickTate, and all available audio files will appear. You can preview them, but from what I've heard, most of the time there isn't a huge amount of files, so most likely you'll end up doing all of them.
The QuickTate transcription program plays the audio files and gives you all the features to quickly go back and re-listen to any portion of the audio file. All you need to do is type down what you hear and submit the written transcription to get paid.
---
How Much Does QuickTate Pay?
For most files, you will get paid 1/4 of a cent per word transcribed. They do offer 1/2 a cent for special medical transcriptions. Most sites pay per audio minute, and when you do the math, it all equals out and is a pretty fair if not s good rate for transcription.
QuickTate pays weekly by PayPal only. From what I can see there is no minimum amount needed to cash out so you should get paid your earnings every week no matter the amount.
---
QuickTate Job Information
I wanted to cover a few additional Items that don't fit into a category. First off QuickTate does offer room for promotion. It's not a promotion, but an invitation to transcribe for a partner company that pays twice as much, 1/2 cent per word in a standard audio file.
From what I can see, if you've been with the company for a while and have put out great work they may ask you to transcribe for them.
Also, QuickTate is open outside the US. It doesn't specify, but it looks like any country that PayPal is available in can transcribe for QuickTate.
---
Is QuickTate A Full-Time Job?
Like most transcription sites, audio files are limited. Since you're paid based on how much audio you transcribe, I don't see how this could be a full-time work at home job. If transcription is your thing, you could sign up for multiple sites and fill your time on multiple sites, but QuickTate isn't going to give you a full 40 hour work week.
---
Is QuickTate A Scam?
I've done my research on this company, and it seems that most workers are pretty happy with QuickTate. They pay on time, and there are no signs of people not getting paid. The pay rate per audio minute is decent, and there is room for promotion inside the company.
Whether you're experienced or a beginner, QuickTate will accept you, so it's a good transcription option for all levels. I will say that transcription is a skill that takes some time to build. I dabbled in the work, mostly with my YouTube videos and it's much harder than you'd think. For some beginners, you won't make much at first until you get better and can transcribe an audio minute quicker.
To learn more or to apply visit QuickTate.
I mentioned that you might want to combine this with other transcription sites. Visit all my work at home jobs or extra income sites to find good options for building a larger online income.
If you're looking to ditch the boss and work for yourself online, visit how to start your own online business.
Do You Have Anything To Add To This QuickTate Scam Review? Worried About How Tough Transcription Work Really Is? Let me hear your thoughts in the comments below!