16
9 Ways To Get Paid To Do Things You Already Do Online!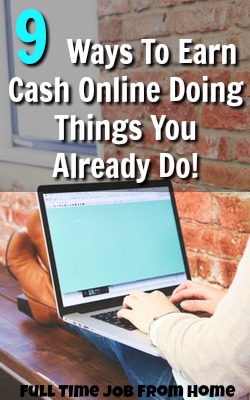 Most of my loyal readers know that most of my online income comes from affiliate marketing, but I'm a huge fan of making extra income. My favorite type of extra income is getting paid to do things I'm already doing.
Today I've put together a list of awesome ways to make some extra side cash just by joining a few sites and continuing to do what you do online already.
It's awesome that you can get paid for what you already do online, but please understand these sites are just a small extra income. If you're looking for a full-time income online, check out My #1 Recommendation, it's how I made over $13,000 online last month!
I use all the sites that I'm going to list, and I've been paid by all. Make sure to check them out and see if any spark an interest. Here're the ways I make extra income online:
---
9 Extra Income Methods You Already Do
Paid To Search
All of us search the Internet, did you know you can get paid to do so. There're a few different sites that I use to get paid to search the internet. I've listed them both below!
Swagbucks is by far my favorite extra income opportunity, and I've actually made over $500 just by searching on this site. Search as you always do with the Swagbucks search bar and you'll occasionally get rewarded "Swagbucks" which can be exchanged for gift cards and cash.
Last Month I Made

$13,841 Online
I Bet You're Tired Of Making Pennies Online. No More BS. If You're Serious About Making A Full-Time Income Online You Need To See The TRUTH. Stop Wasting Your Time With The Next Big Thing When There's Already A Proven Method That Works!
Qmee is a browser extension that works on most of the major browsers. The cool thing about Qmee is you can use any search engine, and it will show results off to the side of the normal results. Click on the Qmee results when they come up to earn cash. Cash out at any time via PayPal or gift card.
Paid To Watch Videos
Most of us watch videos online, whether it be news, sports, or make-up tutorials. Might as well get paid to watch videos right?
I enjoy watching videos at Fusion Cash because most of the videos are less than 1 minute long and usually pay $.01-$.02 a piece. Most other sites require you to watch more than one video to earn that much.
They offer many other ways to earn, and you can cash out once you reach $25 in earnings.
Swagbucks offers many ways to earn, but one is watching videos. Most of the videos that are available on Swagbucks will pay you 1-3 Swagbucks for 5-10 videos viewed.
It's not a huge amount, but there're many popular videos available to watch!
Paid To Shop
One thing we can't avoid is shopping, whether it be online or in-store, you might as well get paid cash back for your shopping. Here're two of my favorite options.
Ebates is a site that pays you cash back on your online shopping to over 1,000 stores. Most percentages range from 2%-10%, but some are much higher.
If you're going to make an online purchase, just visit Ebates first to ensure you get paid for your purchase.
Ibotta is an app that pays you cash back on your in-store shopping, mainly grocery items. All you need to do is purchase items at your favorite store. Upload your receipt by taking a picture inside the app, and you'll get paid cash back on any qualifying items!
Dosh in an app that pays you automatic cash back. When you link a credit/debit card you'll earn cashback when you shop at participating stores, which means you don't have to scan receipts. You can even earn cash back online and when booking hotels.
Once you earn $20 you can get paid via PayPal and Direct Deposit.
Similar to Dosh, Drop pays you automatic cash back with you shop at participating stores. Some participating stores include McDonald's, Walmart, Target, and Uber.
Once you earn $5 you can get paid via gift card to stores like Amazon, Target, Walmart, Starbucks, and many more.
GetUpSide pays you cashback when you buy gas! At this time it's only available in select locations, but you can earn $.02-$.10 cash back per gallon.
Once you earn $10 you can get paid via PayPal.
Trunow is another app that pays you cash back when buying gas, but it works anywhere in the US. The process is very similar but you'll only earn $.01 per gallon.
Once you earn $5 you can use your earnings to pay for gas or get paid via PayPal.
Paid To Open Emails
If you're like me you get 100s of emails a day, might as well get paid for looking at them right? Inbox Dollars is a site that will send you emails, directly to your preferred email, and you'll get paid a few cents for every single one you open.
Once you earn $30 you can request payment via check!
Paid To Visit Websites
Out of all the PPC or Paid To visit websites sites out there, the only one I use and recommend is Clixsense. That is because most of the other sites require you to pay for a premium membership to make money.
You won't earn much for visiting sites, but if you're bored and have a few minutes to kill you can make a few cents each day!
Paid To Receive Texts
Pretty much everyone receives and sends text messages every day. Now, 1Q will pay you to respond to their text messages. You'll receive no more than two messages a day, all you need to do is respond with a one letter response.
You'll earn $.25 for every text message you respond to, sent directly to your PayPal account!
Paid To Listen To Music
Let me first say this isn't as awesome as it may sound, but you can still make money listening to music at Musicxray lol. Once you join you can set the genres of music you like. You'll get songs sent to you, usually 5-10 per week, all you need to do is listen to the first 30 seconds of the song to get paid.
You'll get paid $.10 for every song you listen to. Once you earn $20, you can cash out via PayPal!
Paid To Download Apps
If you have a smartphone chances are you've already downloaded a few apps. There're many apps out there that will pay you to download other apps, but this is my favorite.
FeaturePoints will pay you to download a long list of apps available on their app. When you download an app and open it, you'll earn points. You can exchange your points for gift cards and PayPal payments starting at just $3!
Paid To Clip Coupons
I'm not really a huge coupon clipper, but I do like to save money when I can. These two sites will pay you to use coupons. Not only are you earning money, but you get the savings of the coupon too!
Fusion Cash will pay you $.02 for every coupon you redeem in store. There is a $.20 per day limit, but that still means you can earn around $6 a month just by saving money with coupons.
Coupon earnings are delayed a bit, usually take 15-30 days to show up, but once you earn $25 you can cash out your earnings.
Swagbucks will pay you 10 Swagbucks (equal to $.10) for every coupon that you redeem in store. You do have to install a coupon printing program, but it's safe to use.
Coupon earnings take a bit longer (8-10 weeks), but you can cash out once you earn $5.
---
Thank you for checking out the ways I make extra income online for things that I already do. Honestly, I love all of these ways of making an extra income and suggest you find a few you already do!
I hope you found at least a few extra income sites to join on this list, they should be an easy way to earn an extra income. If you'd like to earn a large online income, check out My #1 Recommendation, it's how I made over $13,000 online last month!
Have you tried any of these extra income websites? Let me hear how you make money online in the comments below! 🙂