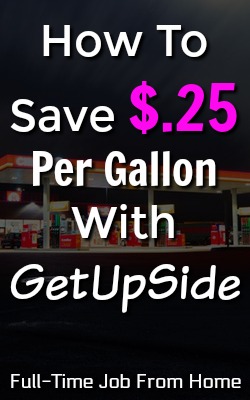 Today I'd like to review a new app called GetUpside. The GetUpside App pays you cash back on gas, grocery shopping, and dining out. You can find more information about this app at GetUpside.com.
Before we go any further, this app is available in most of the US, but it's location-based so there might not be in gas stations participating in your area. 
If you live in the area, you can save money on Gas, Groceries, and when dining out!
If you don't live in this area, I recommend checking out Dosh, Ibotta, and Drop!
In this GetUpside Review, I'll cover how it works, how you get paid, and if it's a scam.
---
GetUpside App Review

App: GetUpSide
Type: Cashback
Verdict: Legitimate
In this GetUpside review, I marked them legitimate. It's a pretty cool new app; the catch is it's only available in a small part of the US. If you live in the area, you've probably already heard about this app, but at least at this time, the app is not worth joining if you live outside the available states.
As long as you can take advantage of the offers, I recommend joining this app and saving a bit of money on gas!
---
How Does GetUpside Work?
1) Sign-Up For Free
The GetUpside app is available to download anywhere in the US in the Apple or Google Play Store. Although you can download the app, there are only participating stores in the District of Columbia, Virginia, Maryland, and Delaware, North Carolina, South Carolina, Florida, and Houston, Texas.  Update 4/30/20 GetUpSide is now available in most of the US. If you live in this area, visit GetUpSide.com to sign up for free. You can join with your email, Google Plus, or Facebook within a few seconds.
Here's a screenshot of the areas offers are currently available:
2) Find Participating Gas Stations, Grocery Stores, and Restaurants
If you let the app see your location. You'll see all of the available Gas Stations, Grocery Stores and Resturants in your area. If you click on a participating store, you'll see how much cash back they'll pay per gallon or a percentage of the total purchase price at a grocery store/restaurant. You can see an example below of a BP gas station. You can see that the normal price per gallon is $2.59 and they'll pay you $.17 cashback per gallon.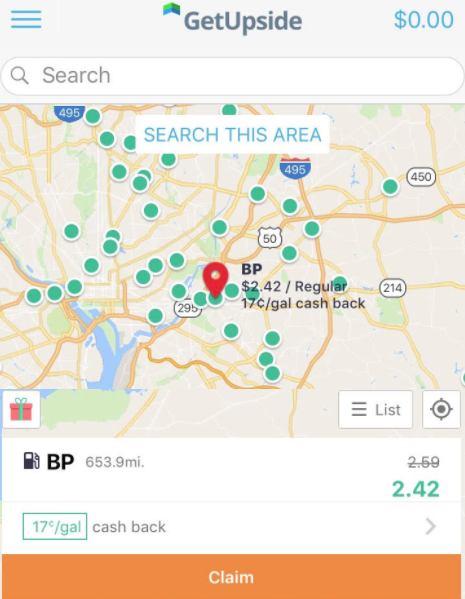 When it comes to participating gas stations, it looks like most of the major brands are participating such as Shell, BP, Mobile, Exxon. So there's no shortage of gas stations participating in the area.
When it comes to grocery stores and restaurants, that's a different story. On their site, they mention Street's Market and Moti's Market for grocery stores and Angelico, Botanero, and little Dipper Hot Pot for restaurants.
Hopefully, more grocery and restaurant offers will be added soon.
3) Claim Offers
Before you make your purchase, make sure to claim the offer. Once you claim the offer, go ahead and make the gas purchase. You'll have 4 hours to upload the receipt once you redeem the offer. They recommend you claiming the offer before you make the purchase because gas station offers change all the time, so the gas station's offer you're about to buy at might not pays as much if you wait to claim it later.
Grocery and Restaurant offers work the same way. It will show the percentage cashback they will pay you. Make sure to claim offer before making the purchase.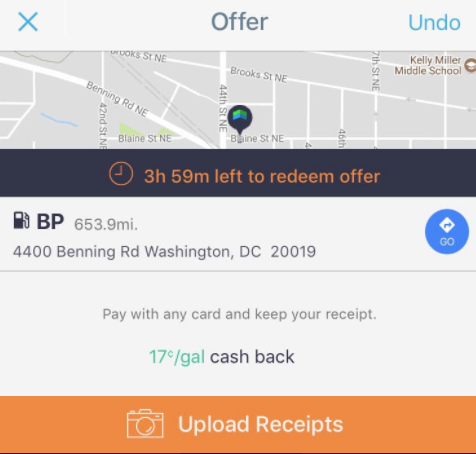 4) Make Purchase
Once you have claimed an offer, you can make your purchase. Again, make sure to claim the offer before making the purchase or you might not get credit.
Also, you must pay with a credit or debit card to be eligible for cashback. Cash and gift card payments are not available (more on this in complaint section.)
5) Upload Receipts
Once you've claimed your offer and have made the purchase, you'll need to upload the receipt. Make sure the receipt has the address of the gas station, date & time, items purchased, and the last four of your credit card number showing. As long as you take a picture of the full receipt you should be able to provide all of this information easily.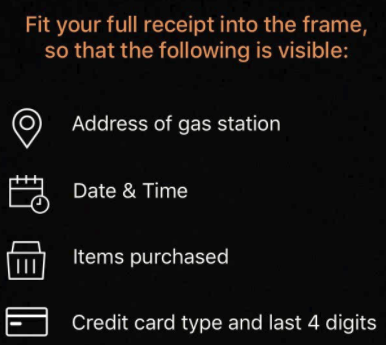 6) Cash Out
Once you upload your receipt, Upside will approve it within 24-48 hours. If your receipt is approved, you can cash out via PayPal or Check!
7) Refer Friends And Earn More
GetUpside does have a referral program that can help you earn more! When a friend joins and uses GetUpside for the first time, you'll get a $.20 per gallon bonus on the next receipt you upload. Additionally, you'll earn $.02 for every gallon of gas your referred friends buy and redeem in the app.
Just to be clear, when your friend joins you'll get a bonus to earn more on your next purchase and every time your friend redeems an offer you'll earn $.02 per gallon into your account balance!
At this time there are no referral bonuses for Grocery and Restuarant offers.
---
How Does GetUpside Pay?
GetUpside pays via PayPal or check. I can not find any information on the cashout amount. In their FAQs, it seems that you can cash out with any amount, but there's a fee of $1 for every PayPal payment under $15 or mailed check under $50.
However, if you refer a friend that uses the app at least once, there is no fee for cashing out.
They say that PayPal payments will show up in your account with 24-48 hours. Obviously, check payments will take longer.
UPDATE 9/1/2018: GetUpSide Now pays via gift cards as well as other payment options starting at $10
---
GetUpSide Payment Proof
Below is a payment I received from GetUpside, I referred a friend so there was no fee for me cashing out via PayPal once I earned $1!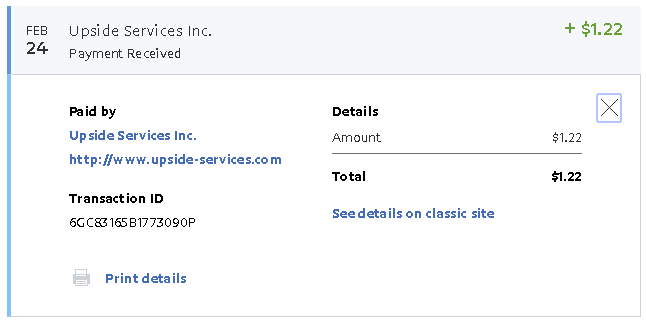 The app is still not in my area and most likely won't be for awhile but I've continued to earn through referrals and have been getting paid via PayPal. Here's my latest payment:
---
GetUpside App Complaints
Cash Won't Work
If you want to earn cashback when buying gas, you'll need to use a credit or debit card to ensure your identity. Cash and gift cards do not work! Here's their reasoning why:
"When paying at the gas station, make sure to use a credit or debit card to make your purchase. Cash payments and gift cards are not an eligible form of payment for GetUpside offers.
Using a credit or debit card allows us to make sure the person who claimed the offer is the one making the purchase. This way we can show gas stations working with GetUpside that their offers for you are driving more business for them." – GetUpside FAQ's
To a lot of us that's not a huge deal, but if you regularly use cash, this will be a bummer.
Few Other Restrictions To Note
Limit of two grocery cash back receipts per week
Cashback is calculated on the pre-tax and pre-tip total
Upside has the right to remove the referral program but says they will pay $1 for every referral you have if they decide to do so.
---
Is GetUpSide A Scam?
GetUpSide is not a scam, it seems to be a legitimate way to earn cash back when you purchase gas, but at this time the grocery and restaurant sections are limited. Again, this is only available in a few select parts of Virginia, Maryland, Delaware, North & South Carolina, Florida, and Houston, Texas. GetUpSide App is now available in most of the United States, but even if you can download the app does not mean you'll have offers near you.
If you live in an area where offers are available, I'd recommend using this app, to get started visit GetUpSide.com and you'll earn a $.20 bonus on your first gas purchase!
If you don't live in the area that they currently have offers you can visit their website and enter your email to be notified if they ever have offers in your area, or you can check out these apps that I recommend that are available everywhere: Ibotta, Dosh, Drop.
Cashback isn't for everyone, make sure to check out these other helpful links:
Work From Home Jobs Hiring Now
Do you think GetUpSide is a scam? I'd love to hear your thoughts and experiences on this review in the comments below!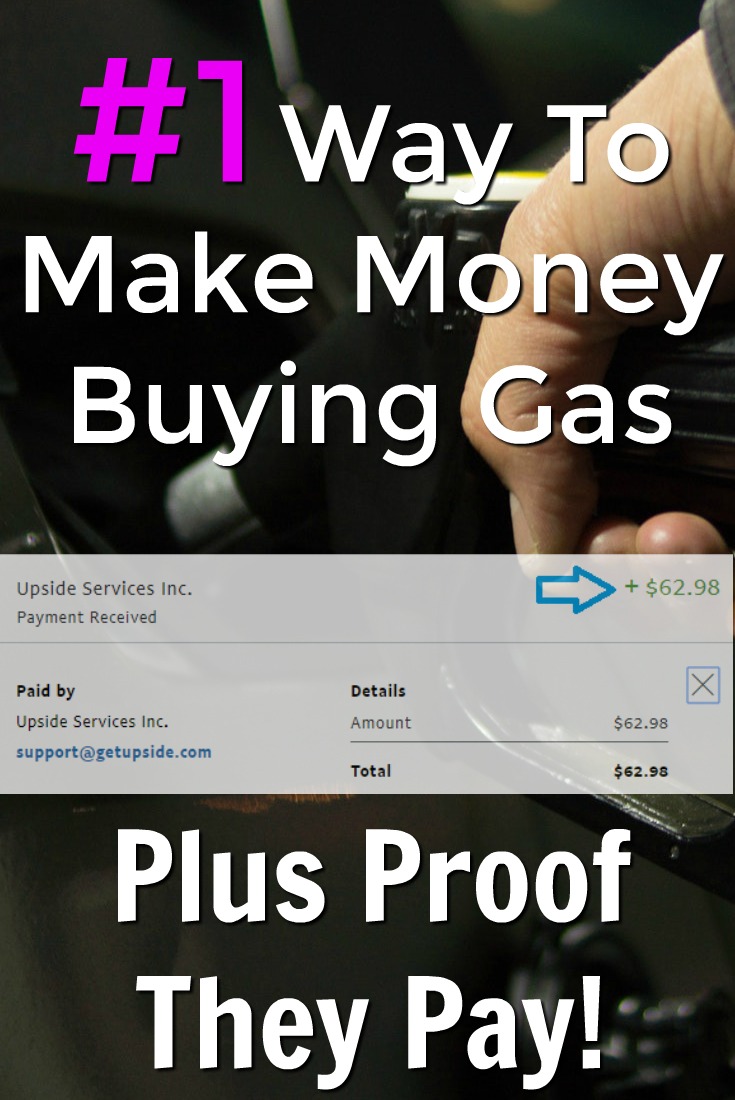 Summary
Reviewer
Review Date
Reviewed Item
Author Rating

Product Name
Price
Product Availability