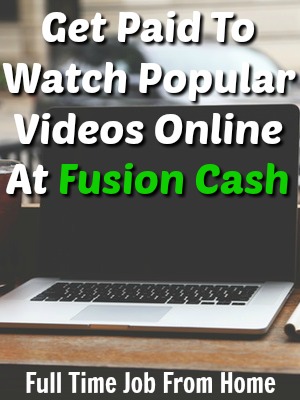 As most of you know I'm a huge fan of getting paid for things I already do on the internet everyday. One thing I do almost every day is watch videos. So I thought, I might as well get paid to watch videos.
There's quite a few sites that will pay you to watch videos, but my personal favorite is Fusion Cash. I like Fusion Cash the best because they pay you for every video you watch instead of getting paid a cent to watch 10 videos like other sites do!
Today I'll show you exactly how fusion cash videos work, proof that they pay, and how you can get paid to watch videos!
---
How To Get Paid To Watch Videos
Start Getting Paid To Watch Videos Here
1)Sign Up For A Free FusionCash Account And Get $5 Instantly
Before you can get paid to watch videos, you need to have a Fusion Cash Account. It's super easy, just visit the link above to sign up, confirm your email address, and you're all ready to earn!
2)Head To The Videos Tab
Across the top navigation of FusionCash you'll see a tab that says "videos", click there to get paid to watch videos
3)Find A Video You'd Like To Watch
You'll see a long list of videos available. It usually shows how long the video is and will always say how much it pays!
4)Watch The Whole Video
Click the video and a popup will appear, the video should start playing automatically. Watch the video till the end, then close the popup.
5)Get Paid!
If you refresh the page you'll see your earnings added to your account balance. From there you can withdraw your money via PayPal, Direct Deposit, or Check!
---
Does Fusion Cash Actually Pay?
I can sit here and show you how to watch videos all day, but the big question is do they actually pay you? I've been paid by Fusion Cash many times now. They offer payments via Check, PayPal, and Direct Deposit. Personally I prefer Direct Deposit and I've included a screenshot of my Fusion Cash Payment below along with my account balance as of today!
Payment Proof

My Fusion Cash Balance

As you can see I've been paid before and I make really good money watching videos with FusionCash!
Start Earning Cash For Watching Videos
---
How To Earn More With FusionCash
Fusion Cash isn't just a video site. They pay you to do all kinds of things which means you can make more money. Here's some great ways to earn more with FusionCash.
Paid To Sign Up
What most sites call offers. Get paid to sign up for free sites and free 30 day trials!
Paid To Call
Call and stay on the line. Get paid a few bucks for your time!
Paid To Click
Visit websites to get paid a few cents per site!
Surveys
You'll find a list of usually 15-20 surveys available all ranging from $.50-$3+.
Refer Your Friends
They offer a great referral program that gives you $1 for every friend that you refer, $2 once they complete an offer, and $5 every time they cash out!
Odd Ways To Earn
Not only does Fusion Cash have the normal ways to earn, but they also have some odd ways to earn like posting a picture of your payment, posting in their forum, signing up for their email list, and following them on social media.
These are just super easy ways to earn more with Fusion Cash.
Start Earning More With Fusion Cash
---
FusionCash Is Legit! How Do I Join?
I've shown you how you can get paid to watch videos online with Fusion Cash and I've shown you proof of them paying me. Now it's time for you to get paid to watch videos!
If you'd like to get paid to watch videos at Fusion Cash you can sign up for a completely free account here. One major bonus of joining through me is you get a $5 sign up bonus instantly!
Get started with $5 in your account by joining below!
[thrive_link color='green' link='https://fulltimejobfromhome.com/fusioncash' target='_blank' size='big' align='aligncenter']Get Paid To Watch Videos With Fusion Cash[/thrive_link]
Have You Been Paid To Watch Videos Before? Have questions on how Fusion Cash Works? You can leave a comment with your thoughts below!