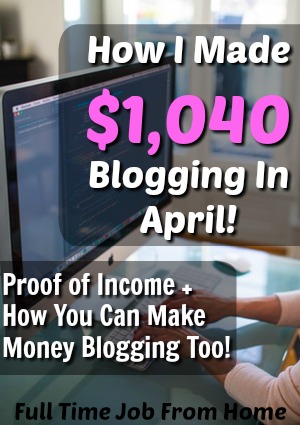 It's Brok with Full-Time Job From Home, and I've decided to change things up and start sharing some income reports from this blog. I feel, since My #1 Recommendation is blogging and making money with websites, I should show you some proof that it works and how much money you can make with a blog. Today I'll be sharing with my income from this site in April 2016.
Let me make a few things clear up front. 1) This is my income from this site only; I won't include income from any other sites I run or any other ways I make money online. 2) I will be sharing income from referring people to sites. This is not how much money I made taking surveys, watching videos, etc. on the extra income sites. 3) I've been blogging for over two years, I didn't just start a blog and make money overnight.
Now that we have that out of the way, let's get started with my income from Full-Time Job From Home in April 2016:
---
FTJFH April 2016 Income Report
Here's the income from April 2016, I'll do my best to explain to you where the income is coming from:
Affiliate Income:
Wealthy Affiliate:  $276.00  (My #1 Recommendation, Blogging/Website Building Training Community)
Panthera Network: $377.50  (CPA Network, Mainly Dealing With "Make Money Online" Offers)
These are the sites I promote inside Panthera Network that make up the earnings.
PaidViewpoint: $31.84  (My Favorite Survey Site)
Instant Cash Sweepstakes: $13.10 (My Favorite Poll Site)
Swagbucks: $25.00 (Paid To Search/Rewards)
Clixsense: $7.92 (Paid To Visit Websites)
Qmee: $9 (Paid To Search)
1Q: $25.50 (Paid To Receive Text Messages)
Ibotta: $92.00  (Paid To Grocery Shop)
Earnably: $4
Prize Rebel: $7.20
Feature Points: $8 (Paid To Download Apps)
Total Affiliate Income: $878.86
Ad Revenue:
Google Adsense: $35.00
Media.Net: $59.50
YouTube: $18.04
Fiverr: $48.60 (Private Advertising)
Total Ad Revenue:  $161.14
Total April 2016 Income:
$1,040.00
Learn How To Start A Profitable Blog
---
How Can You Make Money Blogging?
Starting a blog and making money is a lot easier than it sounds. I'm going to leave a few links that can help you learn how blogging works and some tools you can use to get started blogging.
If you'd like to learn more about the process of starting a blog and making money visit Start A Profitable Blog, I'll show you how the process works and an awesome site that will teach you how for free. If you already know how the process works, here's the site I recommend to build your first blog, it's called Wealthy Affiliate and you can get started for completely free!
If you have any questions about my blog and how I make money online, I'd love to hear your thoughts in the comments section below! I'll be continuing to share my blog income each month from here on out. Hopefully I'll be able to show some huge progress for the rest of the year! I'm hoping to see around $3,000 a month before the end of 2016! 🙂