Survey Savvy has been around for a while now, since 1999. I would not consider Survey Savvy a scam, but as a user I have found that it has gone down hill the last few years. Still it is a good paid survey site to join, especially when the key to survey sites is joining multiple sites!
Although Survey Savvy has went downhill it is still a very trusted survey company, but payments will take longer than they did a few years ago. Other than the payment time Survey Savvy is not a scam and sends you surveys that pay extremely well.
Updated 4/10/2015: I no longer recommend Survey Savvy, it's been going down hill for the last few years and I recently have had enough. Your earnings take a week or more to show up in your account, payments take at least a month to receive, and referral earnings can take up to 3 months to show up!
There is no reason to waste your time with this site when you can join a scam free site that is much better and not have these problems. To see the sites I recommend visit Scam Free Extra Income. 
---
What Is Survey Savvy
As I mentioned above Survey Savvy has been around for over 10 years now, and still operates the same way. You sign up and they send you surveys that you can then take and earn money. It seems that the more popular survey sites have turned into offering multiple ways to earn money. An example of this would be Cash Crate, but with Survey Savvy it's just surveys and referrals. What I like to call the classic set up for a survey site.
The process is pretty simple. You take surveys and get paid for them. Once you complete a survey your account will be credited. Once you reach the minimum payout amount you can ask for a payout. If your familiar with survey sites you already know exactly how it works.
---
Payment Options
Unfortunately the only option for payments with Survey Savvy is check. Survey Savvy says that you can expect a check in 4-12 weeks after requesting a payout. Which is longer than most survey sites, but you will get paid eventually.
The biggest positive about Survey Savvy is that their minimum cash out amount is $1. This is huge because most people give up on taking surveys before they reach the cash out amount such as making $12.00 when the cash out amount is $2o
---
Referral Program
The Survey Savvy Referral program gives you a unique referral id that can be posted on social media and on a website. They also have a built-in email service where you can send referral emails to your friends.
For each survey that your referral completes your paid $2.00
One problem with the referral program is survey commissions can take up to 4 weeks to apply to your account.
---
Survey Savvy Specifics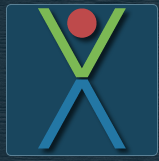 Advantages
Completely Free To Join
Minimum Cash out Amount $1
Surveys Sent Right To Your Email Everyday
High Payment amounts for Surveys
Disadvantages
Payments Made by Check: NO DIRECT DEPOSIT OR

PAYPAL

Checks could take 4-12 weeks to receive
Takes up to 4 weeks to get credit for referrals surveys
You will see from the list above that there are some advantages and disadvantages to this site. I wanted to touch on the disadvantages because at the beginning of this article I said that Survey Savvy had went downhill in the last few years.
---
More on the Disadvantages
I have used Survey Savvy off and on for a about 3 years now. I have to say that when I first joined the disadvantages were not a problem. Of course times have changed and not offering a form of direct payment was not a problem when I first joined.
My first few payouts went really smooth, both checks came pretty fast probably in about a week from requesting. But now it takes longer and it seems everyone is  having the same problems with payment. So far I have no problems with getting paid what I have earned, but it does take longer than it should.
Also when I started I didn't mess with referrals, but now I have and it is crazy how long it takes to get your account credited from your referrals surveys.
---
Payment Proof
One of the biggest complaints about Survey Savvy is the time it takes to get paid. I have posted a picture of my last payment. It took about a month to receive my check, but I did get paid the full amount.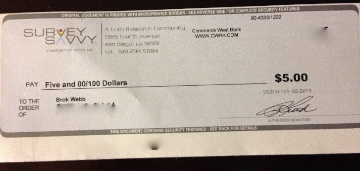 ---
Is Survey Savvy A Scam?
Website: SurveySavvy.com
Price: FREE
Score: 80 out of 100 65 Out Of 100 (I no longer recommend this site)
Verdict: Legit but not recommended
As A Survey Savvy Member I would recommend this site. I think the surveys are enjoyable and I have had no problems with not getting paid.  I no longer recommend this site because it's went extremely down hill lately. Payments take forever and earnings take forever to show up in your account. There are much better survey sites out there that I recommend that you can see here.
Unfortunately the company has gone down hill lately, but you will get paid it just might take a bit. I gave this site an 80 out of 100 because of the recent problems with length of payments. Other than the few disadvantages this site is worth pursing.
If you feel like Survey Savvy is not for you, here are two survey sites I use that pay on time!  Paid Viewpoint and Cash Crate
If you would like to learn how I make 95% of my online income visit Start Your Own Online Business. 
Thank you for reading this Survey Savvy Scam post. I do recommend Survey Savvy, but you may want to check out some of my high rated survey sites through the links above. Have you used any survey sites in the past? I'd love to hear your experiences in the comment section below!
Summary
Reviewer
Review Date
Reviewed Item
Author Rating