30
Is CashCrate Legit Or Is CashCrate A Scam?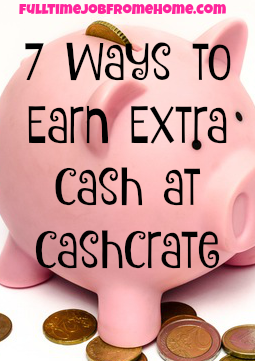 Closing March 31st, 2019. Not Accepting New Members: Check out my other recommendations on how to make extra money online.
The big question that will be answered in this review is if CashCrate's legit or a scam. There are tons of sites out there just like CashCrate, but the key is to find the best one that actually will pay you your earnings. I am here to tell you that CashCrate is 100% legit and I will show you proof of payment later on in this review.
In my opinion Cash Crate is one of the best survey sites on the internet.  It's my personal favorite and I use it every day to earn money on the internet. Cash Crate lets you earn money by completing surveys, offers, watching videos, completing tasks, checking in, referring friends, and shopping. It is a one-stop shop to earning money online and best of all it is completely FREE!
Please keep in mind that although CashCrate and other reward sites are legitimate they are going to be a tiny income, if you're looking for a full-time income online, check out My #1 Recommendation, it's how I made over $13,000 online last month!
In this CashCrate Review, we will take a look at what is cashcrate, how you can earn, how to get paid, and if CashCrate is Legit.
---
What Is Cash Crate?

Cash Crate is a Paid Survey Site. CashCrate was founded in 2006 and has been a leading paid survey site provider for the last 5 years. They did not stop at paid surveys. They also offer many other ways to make money by watching videos, offers, and referrals.
Since Cash Crate has been around they have built a great reputation around the web. They have great support, credit your account in a timely fashion, and always make payments!
---
Ways To Make Money With Cash Crate
There are many ways to earn with CashCrate. You can see most of the ways listed below with an idea of how much each of the activity pays. The amounts aren't exact, but it should give you a general idea of how much you will get paid for each.
Completing Surveys ($.50-$1)
Completing Offers ($1-$30)
Completing Tasks ($.05)
Watching Videos (1 reward point)
Shopping (3-25%) Update 4/14 Shopping No Longer Available Update 3/15 Shopping is Back!
Referrals (20% of what they make and 10% of what their referrals make + sign up bonuses)
Checking In ($.03 a day)

---
How To Get Paid From Cash Crate
One of the advantages of Cash Crate is their payment system. You can get paid by Check, PayPal, or Dwolla. Payments will be requested after you reach the $20 minimum cash out amount.
Last Month I Made

$13,841 Online
I Bet You're Tired Of Making Pennies Online. No More BS. If You're Serious About Making A Full-Time Income Online You Need To See The TRUTH. Stop Wasting Your Time With The Next Big Thing When There's Already A Proven Method That Works!
Payments will be processed at the beginning of each month. Payments usually take up to 10 days to process and of course electronic payments will be received faster than check.
You can get paid using:
---
Cash Crate Referral Program
For you that want to earn more with survey sites, referrals will be the key. Cash Crate offers a good referral program that can help you earn more. I go into detail below.
How Much Do You Earn:
1st level referrals (people you refer) will earn you 20% of their qualified earnings
2nd level referrals (people who your referrals refer) will earn you 10% of their qualified earnings.
$3.00 bonus when your referrals earn their first $10
Ways To Promote Cash Crate:
Cash Crate gives you some great tools to promote and gain referrals.
Banner ads (

to be

placed on a website or blog)
Built in email system (email your friends an invitation to join

CashCrate

)
Unique Referral ID (Post this link on social media or a website)
Gaining referrals with Cash Crate is the best way to earn more. Referrals make up about 70% of my earnings through Cash Crate each month!
---
My

CashCrate

Review
Closing March 31st, 2019. Not Accepting New Members
Website:

CashCrate

.com
Price: $0 Completely Free
Rating: 95 out of 100 (due to vast ways to make money and easy payments)
Verdict:  100% Legit
I have used  CashCrate for about 2 years now and I really like this survey sites and I consider them one of the best survey sites on the internet. A lot of other survey sites have problems with payments, but I have had no problems with Cash Crate payments.
I gave Cash Crate 95 out of 100 because I know from experience that this site is legit and is a good way to start earning money online.
Advantages:
Vast ways to make money
Payments Fast & Easy
Pays with

PayPal

Great Referral Program
Completely Free
Disadvantages: 
Minimum Cash Out Amount $20 (a little high)
So you can see that CashCrate is not a scam and really is legit. Some of the big things that set CashCrate apart from other sites is it offers multiples ways to earn, has a fantastic referral program, and payments are smooth and easy!
---
Cash Crate Payment Proof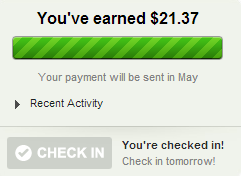 I don't have a picture of my check yet, because I did not take a picture of any of the checks I have received in the past, but by the end of May 2014 there will be a check!
UPDATED MAY 27th
I have received my check from CashCrate I received it on the 20th of the month. It arrived in the suggested time for the full amount.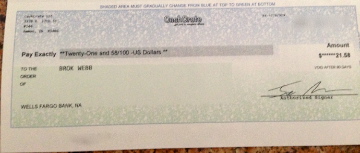 UPDATED January 20th
I have unlocked PayPal payments for CashCrate and am getting paid on the first of every month. I've also built up my earnings to where I am getting paid a good chunk of change each month!

---
How To Get Started?
CashCrate is no longer available. If you're currently a member you have until March 31st to cash out your earnings and switch over to Swagbucks.com.
Please keep in mind that although CashCrate, Swagbucks, and other reward sites are legitimate they are going to be a tiny income! If you're interested in making a large online income, check out My #1 Recommendation, it's how I made over $13,000 online last month!
Thank you for reading this review. Is CashCrate Legit or is CashCrate A Scam? I think I answered that question in this review and I will let the facts speak for themselves. If you have any questions or experiences with this company I'd love to hear about them in the comments section below!
Summary
Reviewer
Review Date
Reviewed Item
Author Rating