OpinionPlus Surveys Review: Is OpinionPlus A Scam?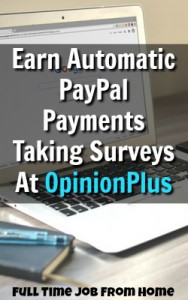 OpinionPlus is a new Survey site that I just came across a few weeks ago. I decided to check it out and see if it's a legitimate site or a new survey site scam.
I was pretty happy to see that the FAQs and homepage both state that this site won't make you rich and it seems that the payment system is not bad.
In this OpinionPlus Review I'll tell you how you can earn cash, how to get paid, the complaints I have, and if this survey site's a scam!
---
OpinionPlus Surveys Review

Site: OpinionPlus
Type: Survey
Score: 60 out of 100
Verdict: Legitimate, Not Recommended
In this OpinionPlus review, I gave them an okay score but did mark it legitimate. With that being said I don't recommend OpinionPlus. There're much better survey sites out there, in my opinion.
I'm a huge fan of getting paid via PayPal, but waiting over a month or more for payments is ridiculous. There's also a lot of complaints from members qualifying for surveys and not receiving many surveys.
In my opinion Opinion Plus is legitimate, but there's much better Extra Income Survey Sites out there.
Last Month I Made

$13,841 Online
I Bet You're Tired Of Making Pennies Online. No More BS. If You're Serious About Making A Full-Time Income Online You Need To See The TRUTH. Stop Wasting Your Time With The Next Big Thing When There's Already A Proven Method That Works!
---
How Does OpinionPlus Surveys Work?
OpinionPlus works just like most survey sites. When you sign up, you'll earn a $2 sign up bonus. You'll need to confirm your email and fill out a few profile surveys with some basic demographic information.
After you complete your profile, you'll start to receive survey invitations. You'll be able to see what the survey's about, how much it pays, and estimated time it takes to complete the survey.
Just because you received a survey invitation does not mean you'll get to take the survey and get paid. You first need to qualify by answering a few screening questions.
If you don't qualify, the survey is over, and you can try another survey. If you do qualify you can complete the survey and your earnings show up in your account balance.
---
OpinionPlus Rewards: How You're Paid
As you take surveys, earnings will be added to your account balance. You need $10 in your account before you can get paid. All payments are made via PayPal and are paid monthly.
For example, if your account reaches $10 in April, you'll get paid your $10 at the end of May via PayPal.
---
OpinionPlus Complaints & Concerns
Long Wait For Payments
One major complaint about OpinionPlus is the long wait for payments. If you think about it, payments are delayed more than one month.
If you reach $10 on April 4th, you'd have to wait until the end of May to get all of your earnings.
It's a long wait for just extra income, and it's a big turn-off for a lot of members.
Hard To Qualify For Surveys
Another complaint from most members is it's very hard to qualify for the surveys at OpinionPlus. Honestly, you'll get this complaint from most members on any site.
Just because you get a lot of survey invitations does not mean you'll ever get a survey that you qualify for. It's pretty much just part of taking surveys, but it can be very frustrating.
One site that only sends you surveys that you're pre-qualified for is PaidViewpoint. I recommend checking it out.
No Surveys After You Cash Out
I have seen proof that OpinionPlus pays, but there's a complaint that goes along with that. Members who have been paid say they received a few or no surveys once they reach the cashout amount.
It is pretty sad to see the members who get to the cash out amount are loyal users of the site and they're rewarded by not getting any more surveys.
---
Is OpinionPlus Surveys A Scam?
OpinionPlus Surveys is not a scam. It's a legitimate site that does pay its members. As I've laid out in this review, there're many complaints about this site, which is why I recommend other survey sites over OpinionPlus.
Personally, my favorite survey site is PaidViewpoint. It's a site that only sends you surveys you're pre-qualified for.
If that doesn't sound like it's for you, here's a long list of all the Extra Income Sites I Recommend.
Extra Cash is awesome, but here's how I make a much larger income online with My #1 Recommendation, you can also learn how to work directly with me for free!
Do you think OpinionPlus is a scam? Let me hear your thoughts on this review in the comments below! 🙂
Summary
Reviewer
Review Date
Reviewed Item
Author Rating