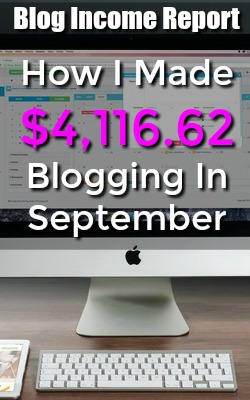 Welcome to another blog income report, today I'll share this blog's income for the month of September 2016. I hope these blog income reports help to inspire you to start your own blog. Over the last four months, I've gone from an income of $1,000 to over $4,000. If you take the time to learn and put what you learn into action, anyone can make money with a blog. If you have a blog and share your income, please leave a link in the comments so you can inspire readers to start a blog!
If you remember from last my month, my goal for Septemeber was $5,000. Unfortunately, I did not reach this, but I'll explain my thoughts on this a little bit later.
For now, let's cover some important things about this income report. This is my income from Full-Time Job From Home only. You'll see some "extra income" sites listed on this page, where I've made hundreds of dollars. This is from referring people, not from taking surveys, watching videos, etc. I still use all the extra income sites I promote, but most of the earnings are from referrals.
Now that we have that out of the way, here's my income from September 2016.
---
FTHFH Blog Income Report September 2016
Affiliate Income
Wealthy Affiliate: $691.00 (Blogging Training/Community) Read Review
Panthera Network: $739.55  (CPA Network "make money" "save money" offers) Read Review
Transcribe Anywhere: $78.80 (Transcription Course) Read Review
Ibotta: $1,311  (Cash Back Grocery Shopping App) Read Review
Swagbucks: $25  (Favorite Rewards Site) Read Review
Fusion Cash: $236.35 (Favorite Rewards Site) Read Review
Earnably: $5  (New Rewards Site) Read Review
Qmee: $6 (Paid To Search The Internet)  Read Review
FeaturePoints: $5  (Paid To Download Apps) Read Review
InstaGC: $10 (Rewards Site)  Read Review
PaidViewpoint: $30.58 (Favorite Survey Site) Read Review
InstantCashSweepstakes: $6.47 (Favorite Polls Site) Read Review
CashCrate: $30.96 (Rewards Site) Read Review
Clixsense: $12.75 (Paid To Visit Websites: International)  Read Review
Amazon Associates: $17.62 (Amazon affiliate program)
Gomez Peer Zone: $5.63 (Computer Tracking) Read Review
Total Affiliate Income: $3,211.71
Ad Revenue
Monumetric: $839.07 (Formerly The Blogger Network)
YouTube: $28.59
Google Adsense: $28.54
Media.Net: $8.71
Total Ad Revenue: $904.91
Total September Income: $4,116.62
---
September Goal Results
My goal for September was $5,000. I did not reach it, but I'm honestly not disappointed. In September I started a new offline project and barely spent any time working on this site. I went from posting three times a week to just once, and it did hurt my traffic some.
I was hoping that the drastic growth would continue, like the last four months, but I'm still happy making a few more bucks than August.
I guess the positive to take away from this is blogging is usually a pretty passive income. If you get busy and can't write content, you still have your previous work bringing in traffic and generating income.
---
October Goals
My end of the year goal is $5,000, so I'm going to make my goal for October $5,000. It's going to be another month of not much time spent writing content, so I won't be surprised if I don't reach it.
The real thing I'd like to see is at least a small increase in income and proof that I can passively earn over $4,000 a month with very little work.
*Don't worry, I'll be posting more very soon and plan to start posting every weekday in 2017!
---
Make Money With Your Own Blog
Again, I really hope these income reports are inspiring you to think about starting your own blog. Just four short months ago this blog's income was right around $1,000 a month.
If you have the drive to start a blog, I have some helpful resources for you. I highly recommend checking out Wealthy Affiliate. They teach you how to start a blog, drive traffic, and make money. You can start for completely free and upgrade if you feel like it's something you're interested in. They also have excellent tools like free hosting, keyword research tool, and a community full of helpful bloggers!
I also recommend checking out the Elite Blog Academy. The course is only open a few times a year, but you can get some awesome freebies now, they're currently sending out a free e-book called 7 ways to boost your blog's income overnight!
If you have any questions about this income report or the courses I recommend above, please leave a comment below. If you have a blog and would like to share your story or income, please leave a link below! 🙂