AppKarma Review: Get Paid To Download Apps Scam?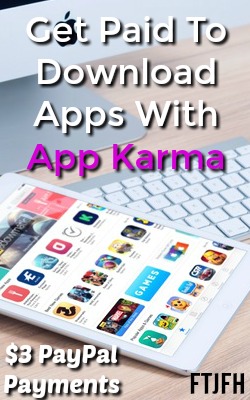 AppKarma is an app available for Android and IOS devices that pays you to download apps and watch videos.
The app is completely legitimate and one of the better "paid to download" apps I've seen.
Just like all the other apps, it's incredibly easy to install on Android, but there're a few extra steps on iPhones, but it still works well.
In this AppKarma review, I'll cover how to earn, the rewards available, complaints, and if this app is a scam!
---
AppKarma Review

App: AppKarma
Type: Download Apps
Score: 85 out of 100
Verdict: Legitimate
In this AppKarma review, I gave them a good score and marked it legitimate. I was pretty impressed with the app; they put a lot of effort into adding ways to earn. I also really like the rewards available, I always love to see PayPal payments.
Last Month I Made

$13,841 Online
I Bet You're Tired Of Making Pennies Online. No More BS. If You're Serious About Making A Full-Time Income Online You Need To See The TRUTH. Stop Wasting Your Time With The Next Big Thing When There's Already A Proven Method That Works!
Overall this app is pretty good, if you decide to join, you'll be earning extra cash with a legitimate app!
---
How To Earn At AppKarma
KarmaPlays
The main way to earn points is through KarmaPlays; these are apps you can download (most of them games) and get paid once you complete a certain task.
For example, you might get paid to download a game and reach level 5. Most apps pay from 50-500 points, depending on how long the task will take to complete.
KarmaQuizzes
Occasionally, you'll see some very easy KarmaQuizzes you can complete to earn 50 points. Most of these have to do with features inside the app.
For example, it might ask which of the following is not a reward option. You can use the app to find the answer, and it's an easy extra 50 points.
KarmaVideos
AppKarma will pay you to watch short app trailers, but it opens up the videos in your browser. I messed around with watching videos a bit, and it seems you get paid 5 points for each video you watch. There's a limit of 15 videos per day.
Achievement Badges
Achievement Badges are a simple way to earn more points and will unlock while you use the app to earn points. You can earn badges for consistently checking in, taking quizzes, installing apps, and watching videos.
Most badges give you a bonus of 50-500 points. You can also get level up badges that increase the number of points you'll earn by 5-12.5%
Again, you'll unlock badges by using the app so the more you earn, the more badge bonuses you'll receive.
---
AppKarma Rewards
Once you earn some points inside the app, you can exchange them for awesome rewards. You can cash out PayPal payments or gift cards to Amazon, iTunes, Google Play, Starbucks, Xbox LIVE, Playstation Store, and Steam.
PayPal payments start at $3; Amazon starts at $1, but most rewards start at $5, $10, or $20.
PayPal payments show up in your account within 48 hours, but usually much quicker. Gift cards show up quickly in the "My Rewards" section of the app.
---
AppKarma Referral Program
AppKarma does have a referral program that makes it easy to earn more and reach the cashout amount faster. You get a unique link that you can share with your friends. When they visit and sign up through your link, they become your referral.
You'll earn 30% of their lifetime earnings inside the app! They'll also be given 300 points for signing up through you!
*They also offer a VIP referral program that provides a higher percentage of earnings plus your referrals get a bigger sign-up bonus. It's designed for YouTube channels with 1,000 or more subscribers. Not sure if a high traffic blog works, but I don't see why not.
---
AppKarma Complaints
Lower Cash out Cost More Points
I like that they offer low cash out amounts for the Amazon and PayPal payments, but it's going to cost you more points. All $5 gift cards/payments are 5,000 points. If you look at the lower rewards, you'll be paying 1,750 points for the $1 Amazon gift card and 4,000 points for the $3 PayPal payment.
If you plan on continuing to use the app, it's almost better to wait for the $5 cash out amount, but you do earn bonus points and multiplier every time you cash out!
KarmaPlays Didn't Credit
I've reviewed many apps that pay you to download other apps, and they all have this problem, unfortunately. Sometimes it gets messed up, and it doesn't think you downloaded the app, but they include a few helpful tips.
Don't download apps you've used in the past
You haven't played with the app enough
Don't install multiple apps at once before getting credit
Not waiting long enough for it to process
If you follow these tips, most Karmaplays will credit.
---
Is the AppKarma App A Scam?
AppKarma is not a scam; it's a legitimate way to get paid to download apps. I was pretty impressed with this app, but there're a few complaints I have.
Overall, this is a good app to join and make some extra income in your spare time. If you'd like to learn more or to join, visit AppKarma.com.
Getting paid to download apps isn't the only way to make some extra cash. Make sure to check out an extensive list of sites I use to make an Extra Income Online!
Extra Income not for you? Have you thought about starting a blog? It's one of the best ways to create a substantial passive income online. My #1 Recommendation will show you how to build a website, drive traffic, and make money!
Do you think AppKarma is a scam? Want to share your experience? I'd love to hear your thoughts in the comments section below!
Summary
Reviewer
Review Date
Reviewed Item
Author Rating