3
SurveyCow App Review: Another Unlock Your Phone Scam?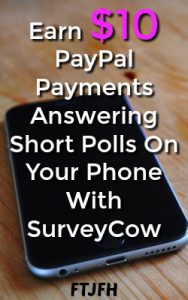 SurveyCow is an app available in the Google Play Store for Android mobile phones only.
It's an app that pays you to answer short surveys/polls before you unlock your home screen.
Getting paid to unlock your phone is not a new concept, but most of the apps just have display ads. SurveyCow does it a bit differently by giving you polls to answer.
In this SurveyCow App review, I'll cover how it works, how to get paid, if it's worth it, and if this app is a scam!
---
SurveyCow App Review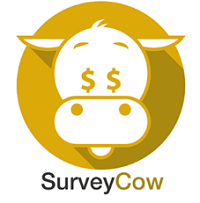 App: SurveyCow
Type: Unlock Your Phone
Score: 75 out of 100
Verdict: Legitimate
In this SurveyCow App Review, I gave them a decent score and marked it legitimate. The app will pay you, but it's not going to be a huge income.
There're a few things I'm not extremely excited about, but overall it's a legitimate app for extra income.
Last Month I Made

$13,841 Online
I Bet You're Tired Of Making Pennies Online. No More BS. If You're Serious About Making A Full-Time Income Online You Need To See The TRUTH. Stop Wasting Your Time With The Next Big Thing When There's Already A Proven Method That Works!
As long as you know that this app can make you about $10 in 40 days or so, you should be happy.
---
How Does the Survey Cow App Work?
Install The App
SurveyCow is available in the US, CA, UK, and Australia. If you have an Android smartphone, you can download the app for free by visiting the Google Play Store. You'll earn 100 points for joining, plus 250 points when you use the code: ZFBHTJ to sign up!
Answer Short Polls
Once the app's installed, you'll have short surveys to answer when you unlock your phone. Most of them are only 1 question, but occasionally longer surveys will come up.
The amount you get paid varies on a few things. You'll earn more as you answer repeat questions consistently. Also, longer multi-question surveys pay more.
"Beef" points are updated every 24 hours.
Build Up Beef Points & Get Paid
Every day your points are added to your account. Most members report making around 200 beef points a day. Once you earn 10,000 points, you can cash out $10 via PayPal.
---
How Does SurveyCow Pay?
Once you earn 10,000 Beef Points, you can redeem for a $10 PayPal payment.
It seems that payments are made each week on Friday. You'll also need to make sure that your PayPal account's verified.
---
SurveyCow Referral Program
The easiest way to earn more with the SurveyCow app is through the referral program. Once you download the app, you'll get a six letter referral code. Mine is ZFBHTJ. When a referral downloads the app and enters your code, they earn an extra 250 points. You'll earn 1,000 beef points ($1) per referral.
As you can see this is by far the fastest way to reach the cash out amount of $10.
---
SurveyCow App Complaints
Small Income/High Cash-Out Amount
Obviously, this app won't make you rich. It's an extra income for answering short polls. From what I've seen, most members make around 200-250 beef points a day. Do a little math and it requires about 40 days of earnings to reach the 10,000 ($10) cash out amount.
Some of you will think it's worth it, but others may feel it's too annoying for the small income. Either way, I wish the cashout amount was lower than $10.
Some Issues With App
Just looking through the Google Play Store reviews, some people have issues getting the app to work. A few reasons that come up the most include a weak internet connection or a conflict with another app.
They do have an email support team, and they seem to respond quickly to any issues you send them.
---
Is the SurveyCow App A Scam?
The SurveyCow App is not a scam, I've seen proof of payment on the internet, and I plan on using this app to make a small extra income. There's some things I'm not thrilled about, especially the high $10 cash out amount.
Overall it's a legitimate app to make an extra income. If you'd like to learn more or to join, visit the Google Play Store to download the app! You can enter the referral code: ZFBHTJ, to earn 250 bonus points.
Do you think this app is too annoying for the small income? Here're some other ways I prefer to make an Extra Income Online!
Extra Income not for you? Have you thought about starting a blog? My #1 Recommendation will show you how to build a website, drive traffic, and make money!
Do you think the SurveyCow app is a scam? Have additional information about the app? I'd love to hear your thoughts in the comments section below!
Summary
Reviewer
Review Date
Reviewed Item
Author Rating