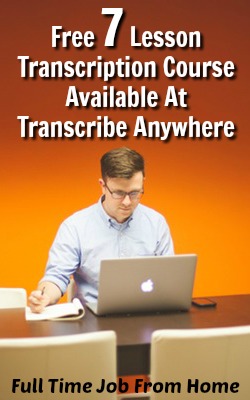 One legitimate type of work at home job, that's pretty popular, is Transcription. When I first came across transcription, it honestly sounded so easy, but my thoughts quickly changed when I tried it out.
Although transcribing seems like a pretty easy concept, it's a skill that you have to work on, and it's not easy. For this reason, it seems that a lot of beginners dive into transcription head first and end up getting a surprise once they get going.
Today I'd like to share with you a pretty awesome free transcription course that Transcribe Anywhere offers. This is a 7 lesson course that will explain exactly what transcription is, if it's right for you, and give you the tools you need to become an awesome transcriber.
Making a full-time income transcribing from home is awesome, but I prefer a much more passive way to earn, check out My #1 Recommendation to learn how I made over $13,000 online last month!
Here're the details of the course.
---
What's Included In the Free Course?

The free course at Transcribe Anywhere is a seven lesson course that gives you an overview of general transcription work. Here's what all of the lessons cover:
Lesson 1: You'll learn about Janet, the teacher of the course, who's an expert transcriber who's worked in many fields of transcription.
Lesson 2: Learn why transcription work is needed and two keys to success as a transcriber.
Lesson 3: Learn the biggest myths about transcription work.
Lesson 4: Learn nine signs that transcription work is not right for you.
Lesson 5: Learn how much transcribers make and the key details that affect how much you make as a transcriber.
Lesson 6: Learn where transcription work comes from and where you can find transcription work.
Lesson 7: Learn what it takes to get started as a successful transcriber including where to find a job and what equipment is recommended.
Learn More About The 7 Day Free Course
---
Who Should Take The Free Course?
This course is honestly beneficial to anyone who has any interest in transcription work. Even if you don't think transcription is the best option, you can learn a lot of great information about finding work at home jobs in general.
After taking the course, I have to say that this course is not only a great resource to learn the basics of transcription, but it's perfect to find out that transcription work isn't for you which can save you a lot of time in the long run.
My Recommendation is if you have any interest in working at home or transcription, sign up for the free 7 lesson course.
---
Do They Offer Any Other Training?
Transcribe Anywhere does offer some other training if you find that transcription work is right for you I highly recommend checking out the rest of their training.
They offer an intensive course on general transcription and legal transcription. These are both paid courses, so it's not for everyone, but if you find that transcription work is for you, it might not be a bad idea to invest in the general transcription course.
No need to worry about any paid training at this time, you can still sign up for the free course here.
---
How Do I Get Started?
If you have any interest in transcription work, the free 7 lesson course is a great option to learn more and make sure that transcribing is right for you.
To learn more or to sign up for the free course, visit TranscribeAnywhere.com to get started.
Again they do offer other courses that are paid, but might as well take the free course and make sure transcription is right for you before paying.
If you didn't find what you were looking for here, check out these helpful links to other ways to make money from home:
How I Made Over $13,000 Online Last Month
Extra Income Sites I Use and Recommend
Work From Home Jobs Hiring Now
If you have any questions about this course, please leave comments below! If you've already taken the free 7 lesson course at Transcribe Anywhere, I'd love to hear your feedback in the comments section below!
Summary
Reviewer
Review Date
Reviewed Item
Author Rating