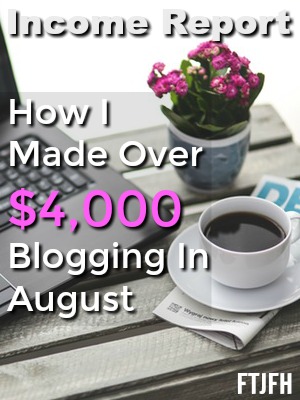 Welcome to another blog income report, today I'll cover this blog's revenue for August 2016. August was another great month for my blog, and I'm happy to say traffic and income are still growing! I even met my goal of $4,000.
If you've missed any income reports, you can see all of my income reports here. The reason I started sharing income is because of My #1 Recommendation, which is blogging. I thought if I'm going to recommend blogging I should show you that you can make money doing so! If you'd like to learn more, visit How To Start A Profitable Blog.
Before I share my income, lets get a few things straight. One, the income I share here is from this blog only. Second, you'll see some extra income sites listed on the income report; this is how much I made referring other members. It's not my income from taking surveys, watching videos, etc. I still use all the sites I recommend, but the numbers you see below are from referring members.
Now that we have that out of the way, here's my August income.
---
August Blog Income Report
Affiliate Income
Wealthy Affiliate :  $390 (Blogging Training/Community) Read Review
Panthera Network : $787.45 (CPA Network "Make Money/Save Money" Niche) Read Review
Ibotta : $1,700 (Cash Back Grocery Shopping) Read Review
Fusion Cash : $403.50 (Rewards Site) Read Review
Ebates : $60 (Cash Back Online Shopping) Read Review
Earnably : $15 (Rewards Site) Read Review
Paid Viewpoint : $48.47 (Survey Site) Read Review
Instant Cash Sweepstakes : $7.97 (Polls) Read Review
Qmee : $13.05 (Paid To Search) Read Review
CashCrate : $33.31 (Rewards Site) Read Review
Clixsense : $25.33 (Rewards Site) Read Review
InstaGC : $10 (Rewards Site) Read Review
Feature Points : $10 (Paid To Download Apps) Read Review
1Q : $33.75 (Paid To Answer Polls) Read Review
Total Affiliate Income:
$3,537.83
Ad Revenue
Google Adsense : $140.33
Media.Net :  $49.42
YouTube : $60.40
Monumetric : $274.44 (Formerly Bloggers Network)
Total Ad Revenue :
$524.59
Total August Income:
$4,062.42
---
August Goal Results
Last month I set a goal of $4,000 for August. I was a bit surprised, but I met my goal. I honestly didn't think I'd see that much of an increase; July was $3,200.
Luckily, I started with a new higher paying affiliate program and my income from all affiliate programs increased. I also started with a new ad network that helped out a lot! Again, I'm surprised I reached my goal but happy that I found some new income to make the increase!
---
September Goals
As mentioned, I was surprised I made my August goal, but I'm going to keep the trend going of expecting big income jumps each month. My end of the year goal is $5,000 a month. I've been able to increase my income each month, so I'm going to make my September goal $5,000!
Make sure to check back next month and see if I can reach it, but in the meantime, here's how you can start your own profitable blog!
---
Start Your Own Profitable Blog
I hope that these Income reports inspire you to start your own profitable blog, that's the reason for them at least lol.
If you're interested in blogging, I have a few different resources for you.
If you'd like to learn more, visit How To Start A Profitable Blog. You can also learn about Wealthy Affiliate; it's a training community that will teach you how to build a website, drive traffic, and make money!
If you have any questions about blogging or the sites I make money with, make sure to leave a comment below! 🙂