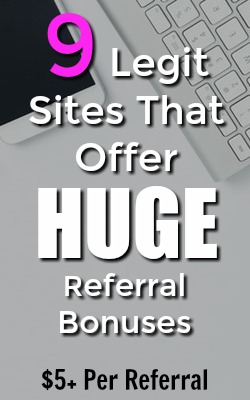 Supplemental income sites can be a powerful way to add a few hundred extra dollars to your pocket each month. A boost anyone's budget could use! So when you find great, scam-free sites like those highlighted on Full-Time Job From Home, wouldn't it be great to refer your friends and family members to help them make a little extra cash as well?
We have rounded up nine of the best, legitimate, extra income sites on the web that offer strong referral bonuses. These programs add money to your pocket just for connecting your friends to the sites that are already making you money.
Please keep in mind that these are just extra income sites that won't make you a huge income. Even though you get huge sign-up bonuses, most of these sites have cash out amounts you have to reach before you get paid. If you're looking to make a full-time income online, check out My #1 Recommendation, it's how I made over $13,000 online last month!
---
9 Sites With Awesome Referral Programs
Ebates is a popular service to get cashback for purchases you are already making online. With over 2,000 stores with active cashback options from Ebates, the service has earned a 95 out of 100 rating on FTJFH. But it also has one of the best referral programs on the web. If you haven't joined yet, sign up today to get your $10 sign-up bonus and start inviting your friends!
Ebates offers $25 per referral, for the first 3 people you refer to the program. To receive your referral, and for your friends to get their $10 sign-up bonus, your friends have to make a purchase of over $20 through Ebates. If you refer 10 people, you will earn a total of $150. 25 people nets you $400. And the bonuses increase from there.
BeFrugal is the lesser known sibling of Ebates, with even more cashback sites. BeFrugal is connected to over 5,000 online retailers with cashback rebates of up to 40%! It is completely free to use and earnings can be paid out via check, PayPal, or Amazon gift card. If you haven't joined yet, you receive a $10 bonus when you earn $10 or more in cash rebates on the site.
BeFrugal offers $10 per referral. To receive your referral, friends need to earn $10 or more in cash rebates. This generally requires a higher expense than Ebates but is still a strong rebate offer for purchases your referral would have been making anyway. For instance, Hotels.com offers 11% cash back for a completed hotel stay, so your referral booking one night away for their child's hockey tournament would likely earn you both your $10 bonus.
Ibotta is a very popular cash rebate app for groceries, being far more manageable than coupons and offering searchable rebates across a wide variety of stores. However, the app is expanding beyond its original grocery store base, offering rebates for apps like Uber, Lyft, and Amazon. Despite primarily being for shopping in brick-and-mortar stores, it still earns a 95 out of 100 rating from FTJFH and its referral program puts it well over the top to establish a permanent home on your phone!
Ibotta offers $5 per referral. To receive your bonus, and for your friends to receive their $10 sign-up bonus, referrals must submit a receipt through the app that takes advantage of an Ibotta rebate. Note that "Any Item" rebates, don't count towards account activation. Referring friends also grows your "team", which can help you earn extra bonuses each month.
Be sure to watch out for special opportunities that Ibotta offers for extra referral bonuses periodically throughout the year. These could increase your referral earnings to $10 or more per person during those times.
4. Decluttr – $5
If your home is feeling a little cluttered, or you have boxes in the basement you haven't opened in ages, Decluttr is an awesome service to earn cash quickly. You can get instant quotes on the site for CDs, DVDs, video games, books, cell phones, and other tech. Then ship it off to Decluttr with a free shipping label and get fast payments via PayPal or direct deposit the day after your shipment has arrived.
Decluttr offers $5 per referral, for your first 10 referrals. After selling your first item, or items, through Decluttr, you will get a unique referral code to send to your friends. You'll receive your $5 cash payment when they complete their first order.
5. JOANY – $25 – No Longer Available
While JOANY ties Ebates for the highest cash referral bonus on the list, it has been shifted down as not everyone will qualify for the JOANY survey, making it somewhat harder to refer your friends.
JOANY is a paid health insurance survey from a healthcare concierge service that helps individuals navigate the complicated health insurance system in the US. It takes less than 10 minutes to complete and you receive $25 for taking part via PayPal or Amazon. But, there are a few stipulations!
To be eligible for the JOANY survey, you have to have bought your 2017 or 2018 insurance through your state's exchange, not receive health insurance through your employer, and have an active, non-short term health plan. All your answers for the survey are protected under HIPAA.
Referring eligible survey takers for JOANY will earn you an extra $25 cash bonus. You can participate in JOANY's referral program whether or not you qualify for the survey yourself. Complete the survey here, and if you are deemed ineligible you will still receive a referral code. There are no limits on referrals!
6. FusionCash – $8 total, plus $5 per cash out for life
FusionCash is another paid survey site where you can get cash to complete surveys, watch videos, listen to music, and more. Earning a 90 out of 100 score on FTJFH, this is one of the top survey sites on the web.
FusionCash offers a $1 referral bonus when your friend verifies there email, an additional $2 bonus when they complete their first offer, and a $5 bonus when they cash out their earnings. With FusionCash, you need $25 to cash out your earnings. But, every time one of your referrals cashes out – for life! – you earn another $5 bonus. Connecting friends who will likely use the platform regularly to earn extra cash will only increase your referral bonuses.
7. MyPoints – 775 points (~$4.43), plus 10% of referrals' earnings
MyPoints operates like Swagbucks, allowing you to earn points that can be exchanged for gift cards by shopping online, taking surveys, watching videos, playing games, and more. You can also shop online deals and cashback offers for gift cards.
MyPoints offers a three-stage referral program. Including 25 points when a friend accepts your invitation to join, 750 additional points when that friend spends $20 or more on the site, and 10% of your friend's lifetime points earnings. The first 775 points are worth about $4.43 in gift cards. The 10% point bonus over time will not reduce what your friend earns, but will be generated as additional earnings to you.
8. Swagbucks – $3, plus 10% of referrals' earnings

Despite paying out in Swagbucks (SBs) which can be converted into gift cards, Swagbucks is the highest rated paid survey and paid to search site on FTJFH with a 96 out of 100 rating. Swagbucks offers many ways to earn SBs including completing offers, watching videos, playing games, and searching online. You get 500 SBs, the equivalent of $5, for signing up today or 1,000 SBs if you make a purchase with one of Swagbucks' cashback partners (similar to Ebates).
Swagbucks offers 10% of any referrals lifetime earnings, plus 300 SBs (equivalent of $3) for both you and your referral if your referral earns 300 SBs before the 1st of the month after they joined. Your 10% bonus will not be taken out of your friends' account, but will be generated as additional earnings to you.
9. CashCrate – No Longer Available!
CashCrate is a legitimate paid survey site, earning a 95 out of 100 rating on FTJFH. There are multiple ways to earn including completing surveys, offers or tasks, watching videos, online shopping, and more. You can be paid via check or PayPal.
CashCrate offers $3 bonus for a referral from any country, with an extra $1 (for a total of $4) for referrals in the United States, Canada or United Kingdom. The referral bonus is earned once your friend earns their first $10 on CashCrate. In addition, you will earn 20% of any survey commissions generated by referrals.
---
More Ways To Make Money Online!
I hope you enjoyed this list of 9 side hustles with the best referral bonuses. If you have any questions, feel free to leave comments below.
Again, just because these sites pay huge sign-up bonuses does not mean that they will make you rich, they are just small extra income sites, if you're interested in making a full-time income, check out My #1 Recommendation, it's how I made over $13,000 online last month!
If you didn't find what you were looking for here, check out these helpful links:
Extra Income Sites That Pay Me
Work From Home Companies Hiring Now
How I Made Over $13,000 Online Last Month
Do you know of any other sites that have huge referral bonuses? Let's hear your thoughts in the comments below!
Note From Brok: Make sure to check out the bio below to learn more about a new contributor to Full-Time Job From Home