Is tutoring for Tutor Vista A Scam, or a real work from home opportunity?
With TutorVista.com, you can earn a corporate salary while working full or part-time from home. TutorVista was started in 2005, providing over 11 million tutoring sessions to date.
Its operations are located in India, but much of their market is abroad, with most of their services in the US. In fact, good communication skills in English is required.
In this TutorVista Review, I'll cover the qualifications, and computer and connectivity requirements. I'll also go over the application process, pay, schedule, and feedback from current and past tutors. 
---
TutorVista Requirements
Good English communication skills aren't all that you need to be a tutor with TutorVista. They want you to have a master's degree or more in your field. Or a bachelor's degree AND a teaching degree. Some skills like Engineering will be accepted with less than a master's degree.
They require that you work a minimum of 4 hours per day, and you'll need a computer and reliable internet connection. Plus you'll need to be willing to learn tools and technology that are being used in online teaching.
---
Specific Computer and Connectivity Requirements
High-speed Internet access (ISDN, DSL, a cable modem or faster connection)

Windows PC with Internet Explorer 5.0 or higher

At least 256mb RAM, and a Pentium 3 or faster processor

Speakers and a microphone (or headset and microphone, speakers)

Microsoft Word
Here're some other tutoring jobs if you can't meet TutorVista's strict requirements.
---
TutorVista Application Process
It's pretty simple: send your resume to jobs@tutorvista.com, and they will contact you if you qualify, and they need tutors for the subject or subjects you have experience in. They are currently looking for Math, English, Statistics, Physics, Chemistry and Biology tutors. But you can send in your resume for other subjects, and they will contact you in the future if they need a tutor in your area of expertise.
TutorVista covers Kindergarten to the undergraduate level, so there is a wide range of opportunity if you're an out of work teacher, or if you want to have a part-time job at night.
You'll receive training of computer usage, technology tools, and familiarization of TutorVista methodology and curriculum for various grades. Training will include trial tutor sessions with trainers and other tutors. The amount of training you receive will depend on your skill level and the subject, but typically runs for 35 hours, over a 7 day period. There is no indication if the training is paid.
---
How Much Does TutorVista Pay?
I found another review site that says you can expect an hourly rate of $8-39 per hour based on your experience and level of expertise.
---
TutorVista Schedule
Although they boast being a flexible work-from-anywhere job, they require that you work a minimum of 4 hours per day. And later go on to say that you can choose part-time for 4 hours a day, or full-time for 9 hours per day.
The times are scheduled, so there isn't a lot of flexibility, and many of the hours worked will be in the evening. I think it will be hard to work a full day if your day doesn't start until late afternoon at the earliest. But full-time is an option.
The sessions are normally 45 minutes in duration. Once you have a student, they try to keep you together to give better continuity for both the tutor and student. It sounds like you will be able to work together to schedule mutually agreeable times or make changes to your schedule if you do it in advance.
---
TutorVista Feedback
Glassdoor has 33 reviews of TutorVista. They scored well overall, at 4 out of 5 stars. And 81% would recommend to a friend. I guess it's all about perspective. Some said it's flexible; some said it's not. You have to work a minimum of 4 hours per day, and some commented that back to back sessions are common.
Pay is low was commented a handful of times. Several said it's a good place to get started or to hone your tutoring skills.
---
Is Working at TutorVista.com a Scam?
Based on the information that I found online and from current and former tutors, I do think TutorVista is legit! But you have to be highly educated and disciplined to do this type of work from home.
If you want to apply or see if you qualify, send your resume to jobs@tutorvista.com. Or check them out for yourself! http://www.tutorvista.com/teaching-jobs
Please let us know if you have experience with TutorVista, or if you apply, we want to know! Good luck to you!
TutorVista has some pretty strict requirements. If you're interested in tutoring but don't meet their requirements, check out these 38 legitimate work at home teaching and tutoring jobs. 
If tutoring isn't for you check out these helpful links to some other ideas: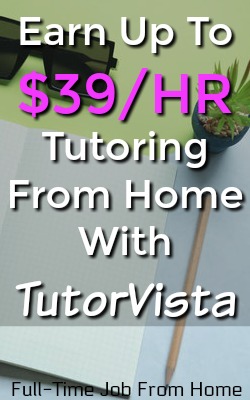 Summary
Reviewer
Review Date
Reviewed Item
Author Rating