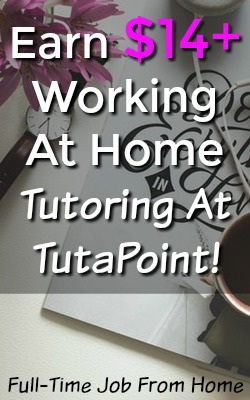 TutaPoint.com has offered live, online, one-on-one tutoring services for high school level courses since 2007. Services include coursework and test preparation, as well as academic interests such as learning a foreign language.
TutaPoint.com is based out of New York City and provides tutoring services from right here in the United States. They offer reinforcement activities for students at no extra cost, and measure their student's successes against the National Common Core Standards.
Students have the flexibility of requesting immediate help or scheduling their tutor lesson for a specific time. These flexible options for students equals flexibility and variety for the tutors.
---
TutaPoint.com Requirements
TutaPoint.com believes that the best tutors are professional educators, so to become a tutor with TutaPoint.com, you'll need to be one of the following:
a certified teacher
retired teacher
teaching assistant
professor
undergraduate or graduate student
substitute teacher
or another professional with exceptional expertise in an academic area serviced by TutaPoint.com.
In addition to your educational knowledge, you must have a minimum of 2 years tutoring experience.
Before a tutor is invited to join the TutaPoint.com team, they must complete a thorough application, provide references, and undergo an educational background check and a criminal background check.
---
TutaPoint.com Technical Requirements
Tutors must be equipped with the tools necessary to connect with the students. If a tutor does not have everything needed, TutaPoint.com has arranged for discounted pricing for tutors who need to acquire the necessary equipment.
System Configuration Requirements include:
Flash player: 10.3 or later
Browser: Internet Explorer, Chrome, Safari, Firefox, Opera
Operating system: Mac OS X, iOS, Microsoft Windows, Android, Linux
Port 1935 RTMP or Port 80: Should be open
You can go to this WizIQ link to test your system for compatibility with the WizIQ Virtual Classroom. If any of the tests fail, you can follow on-screen suggestions to possibly fix the issue.
At the WizIQ link, your Internet connection speed and screen sharing ability will also be tested.
---
TutaPoint.com Application Process
If you want to apply, go to their website, scroll down and click Apply Now. After filling out the forms, you'll undergo educational and criminal background checks. Interviews will be conducted by video feed, and all newly hired tutors start in a probationary period.
---
How Much Does TutaPoint.com Pay?
Tutors with TutaPoint.com are considered independent contractors. All tutors start at $14 per hour, plus you'll have the ability to earn bonuses and performance incentives. As you tutor more, your pay rate will increase.
Other benefits of tutoring for TutaPoint.com include a flexible schedule and the ability to work from anywhere. Tutors will be able to network with other educators, utilizing TutaPoint.com's private message board. And you'll also have the ability to grow your own student base through TutaPoint.com's Tutor Marketing Package.
---
When and How Does TutaPoint.com Pay?
TutaPoint.com pays their tutors twice a month by either a live check or direct deposit. Paid hours are based on the time spent with students in TutaPoint's online classroom. Students are billed in 5-minute increments, with a minimum of 15 minutes.
If you're logged in and available to take an instant request, you won't be "on the clock" until you are actually in a virtual classroom with a student. While you need to commit to being available for a minimum of 5 hours per week, they don't guarantee a minimum amount of hours with regards to pay.
As an independent contractor, if a tutor earns more than $600 in a calendar year, TutaPoint.com will issue a 1099 for income tax reporting purposes.
---
TutaPoint.com Schedule
Instant, live tutoring is available from 9 AM to 1 AM Eastern Standard Time. Scheduled sessions are coordinated by each individual tutor and can be scheduled outside of the standard times.
During the school year, tutors are expected to commit to a minimum of 5 hours per week, whether in scheduled sessions or by taking instant tutor requests.
---
Where do TutaPoint.com Students Come From?
TutaPoint.com students span the United States and Canada. They learn about TutaPoint's services through their school, library, or through TutaPoint.com's elaborate marketing campaigns.
Tutors can also build their own student base by utilizing TutaPoint.com's exclusive marketing program. If you need support from the company, they offer this as a free service to their tutors.
---
Does TutaPoint.com Provide Training?
TutaPoint.com provides training videos covering policies and procedures. They also equip their tutors with a handbook, sample lesson plans, and a technical guide to help navigate their website. Ongoing training is also provided.
---
TutaPoint.com Feedback
Glassdoor reviews are not spectacular. They only have two reviews, and the reviews are neutral to poor, mostly based on management and expectations.
A past tutor claimed the tutoring experience was awkward at times. The tutors are required to use their video feature, similar to Skype, but the students are not required to use video on their end. So they felt uncomfortable and that they lost some communication and recognition of understanding what happens when you can see someone's facial expressions.
On a different review site, I found the student and parent reviews to be positive. This is due to the immediate response, flexible payment options, and safe environment for adolescents.
I actually contacted TutaPoint.com to clarify a couple of things, and to my surprise, I received prompt responses on a Saturday night! The responses were pleasant and helpful, like receiving an email from a friend, but with all of the confidentiality jargon and signature at the bottom.
---
Is Working at TutaPoint.com a Scam?
The information I found while reviewing the TutaPoint.com website, information on other review sites, and my personal interaction with them, all leads to indicate that TutaPoint.com is not a scam. TutaPoint.com is, in fact, a legit work from home opportunity, which seems to be relatively attainable with some education and prior tutoring experience.
Let us know if you decide to apply!
If tutoring isn't for you check out these helpful links for some other ideas:
Summary
Reviewer
Review Date
Reviewed Item
Author Rating