Points2Shop is a new site that I consider a paid to do site. Basically Points2Shop lets you earn points by taking surveys, completing offers, and completing tasks.
In exchange for your points you can get cool rewards like gift cards, products, and cash payments via check or PayPal.
Points2Shop is not a scam. It's actually a pretty good paid to do site. In this Points2Shop Review I will cover all the ways you can earn with this program and get into detail on what you can exchange your points for.
Without any more delay lets jump right into this Points2Shop Scam Review.
---
Points2Shop Review
Website: Points2Shop.com
Price: Free
Score 85 Out of 100
Verdict: Legit
In this Points2Shop Review I gave this program a good score and a legit verdict. Overall this site is pretty good, but there are some things that I don't like about this program, one being that it's very confusing to new members because it has so much information inside the site.
Within this review I will do my best to cover everything that I did and don't like plus how it all works.
---
How Points2Shop Works
In this section I'm going to cover all the little details you need to know about this site. I will cover how to earn, how to redeem, and much more about Points2Shop.
How To Earn With Points2Shop
Points2Shop offers a whole bunch of different ways to earn. Here is a breakdown.
Offers:
This section is just like any other offers tab of a paid to do site. You are given free and paid offers to choose from.
Most free offers have you fill out information or sign up for something free like a survey site. They don't require you to put don't a credit card or cost you anything, but pay much less than the paid offers.
The paid offers usually require you to put a credit card down for a free trial or purchase a product. These offers pay much better, but you need to remember to cancel your membership to avoid being charged for the service after the free trial period.
Surveys:
Points2Shop offers a few different types of surveys. They're basically the same just come from different third-party providers.
From what I see the surveys pay pretty well and tell you an estimated time for completion.
Games: 
In this section you can play for fun or go up against other members for cash in over 100 games. To win points you have to actually be good at the game or beat someone, but if you're in to that this is an option to win some extra money.
Mobile Apps: 
In this section your required to download an app onto your mobile device. Inside that app there is a list of apps you may download and get paid.
Most of the apps you need to open and use for a few minutes to get credit for them. Another great site like this is TapBooty.
Inviting Friends: 
The last way to earn is with the points2shop referral program. This program is pretty detailed so I have included a complete breakdown of it below, but you can earn by referring your friends.
How To Get Paid By Points2Shop
Points2Shop offers a ton of ways to get paid. The whole idea behind the name of the site is you can basically buy anything off amazon if you have enough cash for it.
They also offer gift cards to stores like Amazon, StarBucks, and much more.
They do offer cash payments in the form of Direct Deposit, PayPal, Dwolla, and Check. The minimum cash out amount for these options seem to be $5, but there is a few applied to your earnings.
To give you an idea of the buying things through Amazon part of the payment system take a look at the picture below.
Basically you exchange points for the actual cost of the goods on Amazon, Points2Shop then purchases these products for you and ships them to you!
Points2Shop Referral Program
The Points2Shop Referral Program is pretty damn difficult, but I will do my best to explain and include some pictures.
Basically it's a 3 tier program on the percentage side and a 4 tier program on the bonus side based on what country your referral comes from. Yeah I know confusing. Let's start with the percentage side.
For every first level referral, or people you refer directly you earn 15% of their total earnings. For the 2nd tier, or people your referrals refer, you earn 10% of their earnings. Last the 3rd tier,  or the people you refer referrals referrals….lol, earn you 5%. Here is a diagram to explain.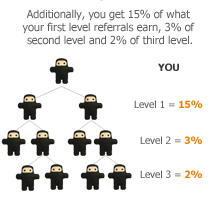 Now for the 4 tier bonus side, this part has to do with what country your referral comes from the first tier is United States and United Kingdom. Each referral you earn from these countries will earn you a $.50 bonus when they join and a $.50 bonus when they complete their first offer. I don't want to explain the rest so here is a diagram.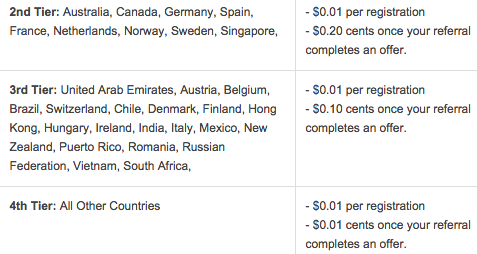 As you can see it's very confusing, but is actually a pretty profitable referral program!
Points2Shop Honour Levels
The last thing I want to cover about Points2Shop is the Honour Levels. Basically this the ranking of how much you've earned and how involved you are with this site.
Each level has tasks to complete to reach the next level and each unlocks some great new things like instant PayPal payments (instead of 3-5 days) and higher referral earnings.
I'm not going to go into detail on each level, but raising your honour level can help you earn more money with this program.
---
Is Points2Shop A Scam
Points2Shop is not a scam, they do pay and I've been paid by them several times. As long as you know that this site is not going to make you rich you should be pretty satisfied with this site.
Although the site is a bit confusing at first and many hoops to jump through when it comes to rising in rank I think this site is worth a join because they do pay and you can earn some extra side income each month with this program.
If you're interested in joining Points2Shop check out the next section. I will also cover some other sites that I recommend over Points2Shop that are very similar.
---
How To Join Points2Shop?
Now that you know that Points2Shop is a pretty good "paid to do" site. If you would like to join you can do so by clicking here.
If you would like to see the list of sites like Points2Shop visit All Scam Free Jobs. The sites I highly recommend are CashCrate, Fusion Cash, and SwagBucks.
If you're not into "paid to do" sites I have a better opportunity for you. If you would like to learn how to make a full-time income online visit Start Your Own Online Business.
Thank you for reading my Points2Shop Review. Points2Shop is not a scam, but I do recommend other sites over it. If you have questions about this or any other site please leave comments below!
Summary
Reviewer
Review Date
Reviewed Item
Author Rating