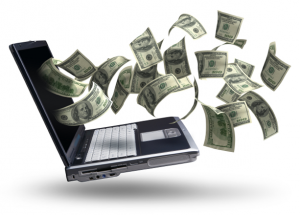 Are you being downsized? Are you tired of a daily commute that puts wear and tear on your car and also on your sanity? Have life circumstances changed and you now have loved ones to care for? All of these situations can lead a person to start thinking about working from home as an alternative to the usual work-a-day grind.
When, first thinking about how to make money from home, there are a few things to take into consideration.
Do you want to work for yourself or would you be willing to work for others in a non-traditional capacity?
Do you have skills or talents that would be sellable on the internet?
Do you have a computer, online access and some space or time to work from home?
Are you willing to spend some time on learning about how to make money from home?
If you answered, "yes", to these questions then it is time to study the various options open to you and choose where you would like to start. The following are some of the most common ways to start earning money from home:
Writing, Editing and Artwork
There are many companies and businesses out there that need people who can write and edit copy or who can illustrate products and services for their websites and business papers. There are even websites that are set up to help businesses and writers find each other.
It's not uncommon to earn a living just by writing content for other people's websites through the forms of articles or blogs. If you can create graphics or take photographs that can illustrate concepts, then this can only boost your earning potential.
Set Up Your Own Website
If you have interest in a subject or hobby, you can create a website that features information about it and that produces regular content that others will enjoy reading. You can earn money by selling advertising space and the more people you have visiting your website, the more advertising dollars you can make.
You can even make money by having links that your visitors can click and link through to a business site, and if they buy a product or service, you'll get a finder's fee or a percentage of the sale.
Help Companies Learn More About Their Markets
By answering surveys or by becoming a mystery shopper, you can help companies learn about what the public thinks about their products and services and you can earn a fee for each survey or shopping trip.
There are many sites where you can signup & complete surveys. Most of the sites provide $5-$10 for completing one survey. You can receive atleast 20-30 surveys in a month if you signup on 5-6 sites.
Similarly, you can become a mystery shopper & earn rewards & money for providing your shopping experience for different products. You can search online for companies where you can join as a mystery shopper.
---
Simple Online Jobs
There are dozens of ways you can make money by working online from home. If you have basic knowledge of computer & internet then you can try number of different online jobs & earn some cool money.
Programs like online surveys, crowdsourcing jobs, blogging, captcha jobs etc. are good for people who want to make $200-$300 working part time.
You can check these online jobs on surejob.in where you can find some of the top programs. You can download their training pack & start working on different programs.
Online jobs are most suitable for homemakers, students, retired & unemployed because they have sufficient time for working in free time.