TapBooty is no longer available. Check out the Extra Income Sites I Recommend!
What the heck is TapBooty? I know that's exactly what I was thinking when I first heard the name and I though there was no way TapBooty was legit!
I have to say though TapBooty is a pretty cool little app that can earn you money for downloading apps on to your apple or android phone or device.
TapBooty is legit and in this TapBooty Review I will be telling you exactly what it is, what I thought about the app, and why it's legit!
---
What Is Tapbooty?
TapBooty is no longer available. Check out the Extra Income Sites I Recommend!
Tapbooty is a website that pays you for downloading apps on apple and android phones and devices. Mostly all apps are free to download and all it requires is you to open the app. Tapbooty also pays you for referring your friends and their earnings.
---
How Does Tapbooty Work?
Booty Coins
Booty coins are the measurement of money within Tapbooty I only cover this because I feel like you will be confused if not. Every $1 is equal to 1000 booty coins.
My Tapbooty App/Downloading Apps
Here is how the process works. First you will sign up for Tapbooty through the website, which can be done here, once you have a Tapbooty account you will install the my tapbooty app on your device. Within the My Tapbooty app you will see all the apps you will be paid to download. Simply click on the app you would like to download and it takes you to the app store. Click download and then open the app.
Most apps only require you to open the app for 30 seconds or so and then you will receive credit.
Getting Credit
When ever you receive credit for downloading an app you will get a push notification to your device or a notification on your computer you can see an example below.

The newly rewarded Booty coins will be added to your account total!
---
Tapbooty Review
Website: Tapbooty.com
Price: FREE
Score: 90 out of 100
Verdict: LEGIT
TapBooty is no longer available. Check out the Extra Income Sites I Recommend!
I gave Tapbooty a 90 out of 100 because I found that it was a pretty good program. There were a few things that I didn't like about it, but the main thing is that you will get credit and they do actually pay you!
This is one of the first programs I have review that pays you to download apps I have done some research on others and have found this to be one of the very best around.
I highly recommend you joining Tapbooty, because I think it's a pretty easy way to earn some extra cash while wasting time on your phone! =)
---
Things I Liked About Tapbooty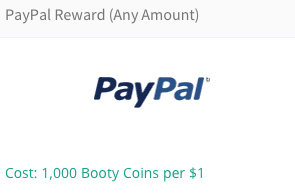 Payments:
The number 1 thing I liked about Tapbooty was their payment system. I am not usually a huge fan of companies
that use their own type of currency to stand for dollars, but the Booty coins system is pretty simple. Tapbooty has a few different options for payments. PayPal is the only cash option. There are other options such as Amason, Walmart, and Target.
The minimum cash out amount for PayPal and Amazon Gift Cards is $1 or 1000 booty coins. The other gift cards are all $5 or 5000 booty points.
I choose to be paid by PayPal and have recently received a payment that you can see below. I received my payment instantly after requesting it!

Referrals:
The next best thing about Tapbooty is they offer a referral program where you can invite your friends which means more earnings!
Here is how it works: When one of your friends join you both will receive 100 booty coins. Also for every 1000 booty coins your referral earns you earn 100 booty coins for the life!
There is no limit on how much a referral can earn you so when your friends earned you earn!
---
Tapbooty Concerns
Rewards Aren't Instant & not always credited
The number one concern with Tapbooty is that sometimes the credit for downloading apps is not instant which means you don't know if counted for a couple of days. This can get extremely frustrating. But most of the apps will credit within just a few seconds of opening the app.
I have had a few apps there did not get credited for a few days. I was able to easily contact support and tell them the issue. They quickly responded and credited my account.
Although this is a concern, at least with me every situation has been handle correctly and been taken care of!
Limited Earnings
One thing you have to know going in with Tapbooty is this program is not going to make you rich. It's more a few bucks a month or a program you combine with multiple other programs to make up a good chunk of change. You can see my list of supplemental income sites here.  
As long as you're not expecting to make $1000s of dollars you won't be disappointed with Tapbooty.
If you're looking to make $1000s of dollars online click here!
---
Final Verdict
Although there are a few concerns with Tapbooty I do highly recommend this program to make a few extra bucks online each and every month. From what I have seen it's one of the best programs that pays you for downloading apps.
All my experiences with Tapbooty have been positive and all payments have been instant with no problems!
TapBooty is no longer available. Check out the Extra Income Sites I Recommend!
Join Tapbooty Here! Get 100 Booty Coins!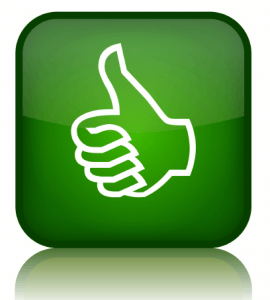 ---
What To Do Now?
If you would like to join Tapbooty and earn 100 free Booty Coins you can do so by clicking on TapBooty. You may also want to check out all the sites that I have claimed as SCAM FREE JOBS. These are great for combining with each other to make a good chunk of change online.
You might not be interested in just making a few bucks online. You may want to make $1000s of dollars each month which I understand. If you would like to learn more on how I do this check out my #1 Recommendation.
Thank you for reading this TapBooty Review and I hope I have shown you that Tap Booty Is Legit. If you have had experiences with this company I would love to hear about them in the comments section below!
Summary
Reviewer
Review Date
Reviewed Item
Author Rating