Dollar Sign Up is basically a "paid to do" site, very similar to SwagBucks or CashCrate.
Dollar Sign Up seems completely legit and scam free, but I still prefer a few sites over it. Dollar Sign Up is still in its early stage compared to a lot of over sites, so I hope it will get better.
In this Dollar Sign Up Review I will show you all the ways you can earn, how to get paid, and the other important details of this site.
---
Dollar Sign Up Review
Website: DollarSignUp.com
Price: Free + Premium Membership Offered
Score: 70 Out of 100
Verdict: Legit
In this Dollar Sign Up Review I gave them an okay score and marked this company legit. Although the site is pretty good, there are other sites that I highly recommend over Dollar Signups.
Mostly because the design and layout of the site and some other reasons that I cover later in this review.
If you do join Dollar Signups you are joining a legit paid to do site that will pay you for your work. I would recommend checking out SwagBucks and CashCrate, they are very similar and are better then this site.
---
Is Dollar Sign Up A Scam?
How To Earn With Dollar Sign Up
Surveys: Dollar Sign Up does offer some surveys that you can take on their site, but in this section it's mostly promotion for other survey sites. It's basically a list of survey sites you can join.
If you join and complete the profile survey you get paid a small kickback. I wish they had more surveys that you could take, but looks like you will need to join other sites to take surveys.
Offers: In this section you will be completing offers for cash. Most of these are free, but there are some that do require a credit card free trial or for you to buy something.
The free offers usually consist of filling out forms with your information. Most of the paid offers have to do with free trials with services such as credit score sites.
Visit Websites: This part of the site pays you to visit websites. They consider it viewing ads, but your going to be taken to a website and must view it for a duration of time. After you stay on the site for the required time your account is credited.
Videos: You actually can get paid to watch videos, although it's not going to be a huge income, you choose a video from the list and watch it entirely. After the video finishes your earnings will be added to your account.
Tasks: This section requires you to complete a simple task that usually requires just a few minutes of your time. Usually filling out some sort of information, but also can include joining sites time from time.
How To Get Paid By Dollar Sign Up
One of the best things about Dollar Sign Up is they do offer multiple ways to get paid. Personally I'm a fan of cash options. With cash they offer payments through PayPal and Solid Trust.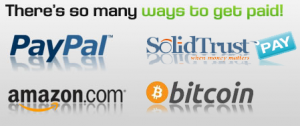 They also offer some gift card options, the big one being Amazon, but they also have the option for Bitcoin if your into that.
Either way you should find a way to get paid that works for you easily.
Dollar Sign Up Referral Program
The Dollar Sign Up Referral Program is okay. Basically with a free account you will earn 5% of your referrals earnings, which is pretty low compared to most sites that I use.
They do have premium account options that allow you earn more, but I recommend sticking with a free account if you do decide to use this program. Personally I just have a free account and unless you rely and have a ton of referral earnings upgrading won't do much for you.
---
Is Dollar Sign Up Legit?
What I Liked
I really liked that Dollar Sign Up offers multiple ways to earn, I also liked that they have a lot of different payment options including PayPal, which is my favorite way to get paid.
The Dollar Sign Up referral program is pretty good and they give you some good tools such as banners to try to get referrals.
Another thing I liked is this site shows you how many times an offer or survey has been completed, which is a major advantage in my book because it shows how easy it is and that people are actually getting credit for the task.
Overall the site is pretty good when it comes to the major details like payments.
What I Didn't
The biggest thing I did not like about Dollar Sign Up is the layout of the site. If you have seen SwagBucks, a similar site, you know that it's laid out very nicely and professionally.
To me the layout isn't professional and gave me the feeling of a brand new start-up site, which always makes it seem like a scam.
I also wasn't a big fan of all the ads they have on their site. I understand they are trying to earn more money, but on a site that you join and they make money when you do, I feel like its unnecessary and annoying.
Another thing I don't like about this program is that they offer premium or paid memberships to the site. This mostly affects the referral program, which I covered earlier in this review, but I feel like it's a not needed feature of this site.
If you do decide to join I recommend just sticking with the free account, but I'd join some other sites below before joining Dollar Sign Up.
---
Is Dollar Sign Up Worth Your Time
Dollar Sign Up and sites like it are worth your time as long as they are legit and pay you your earnings. Sites like these aren't going to make you rich, but they can be a good side online income.
As long as you know that you're not going to be bringing in thousands of dollars each month you should be pretty satisfied with Dollar Sign Up and the other sites I recommend.
If you would like to Join Dollar Sign Up you can do so by clicking the picture below.

I've talked about a few other sites like Dollar Sign Up, if you would like to see the full list of sites I recommend over Dollar Sign Up visit All Scam Free Jobs.
If you would like to learn more about how I make a full-time income online visit Start Your Own Online Business. 
Thank you for reading this Dollar Sign Up Review. This site is not a scam, it's actually completely legit, but there are some sites I recommend over it. If you have any questions about this site please leave comments below and make sure to share!
Summary
Reviewer
Review Date
Reviewed Item
Author Rating