2
Appdango Review: Get Paid To Download Apps Scam?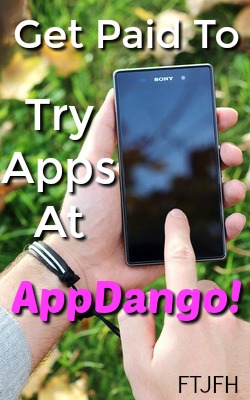 Appdango is an app available in the Google Play Store that pays you to download apps. This is not a new way to make money on your phone, but not all of the apps are legitimate.
Appdango seems to be legitimate but is it the best option to get paid to download apps? My personal favorite is FeaturePoints, but there're many other options out there!
In this Appdango review, I'll cover how to earn points, the rewards available, complaints I have, and if this app is a scam.
---
Appdango Review

App: Appdango
Type: Download Apps
Score: 50 out of 100
Verdict: Legitish (not recommended)
In this Appdango review I gave them a bad rating, but it seems to be legitimate with a lot of complaints. I've seen proof of payment on the internet from this app, but it appears that most of the reviews in the app stores are negative, especially the latest ones.
Last Month I Made

$13,841 Online
I Bet You're Tired Of Making Pennies Online. No More BS. If You're Serious About Making A Full-Time Income Online You Need To See The TRUTH. Stop Wasting Your Time With The Next Big Thing When There's Already A Proven Method That Works!
A lot of problems revolve around people not getting credit when downloading apps. In my opinion, you should stay away from appdango, just because there're better options out there that don't have so many complaints. You can see a long list of apps here. My personal favorite is FeaturePoints.
---
How To Earn At Appdango
Once you sign up for AppDango you'll see a long list of apps you can download to earn points. You know the name of the app, a brief description, and how many points you'll earn.
Once you find an app you'd like to download, click on the app. The link will open to the app in the Google Play Store.
All you need to do is install the app as you normally would. Once the app is installed, make sure to open and use it for a few minutes.
Occasionally, apps will require you to reach a certain level of a game or complete a particular task inside the app.
Most apps pay 25-300 points depending on the requirements. All the apps that I've seen so far are completely free to download.
Once you're done using the app, open Appdango and you should see points in your account balance.
---
Appdango Rewards
Once you earn some points downloading apps, you have a few reward options available. Rewards start at $5 and $10 amounts. $5 gift cards cost 2,500 points while $10 gift cards cost 5,000 points.
You can cash out at any time via PayPal, Amazon, Best Buy, Facebook, Fandango, iTunes, Nike, Target, and Walmart.
PayPal payments will show up in your account within 48 hours, while gift cards are sent to your email!
---
Appdango Refer a Friend
Appdango does have a referral program that lets you earn more. It's not like most programs where you earn a percentage of their earnings. With Appdango you'll earn 25 points when they sign up and 25 points after they download their first app.
If you break that down, you'll earn $.10 per referral, not great.
They give you a referral link plus a few ways to share your link on social media inside the app.
---
Appdango Complaints
No Credit For Apps
If you take a look at the app store reviews, there's a ton of complaints from members saying they downloaded some apps and did not get credit for it.
I'll be honest, every once in a while you won't get credit for an app on all of the sites like this. Usually at least 1 in 10 or more doesn't credit just because there was an issue.
But with Appdango it seems that very few apps ever give you credit. There's also complaints of members not receiving referral earnings!
Payments Rejected
This claim only came up a few times on over 1,000 reviews, but they do have to approve your cash out before it's released. A few members say that their $5 PayPal payment was rejected.
Of course, they could have been violating the TOS, but it's something to note.
---
Is Appdango a Scam?
Appdango doesn't seem to be a complete scam, but there's some negative feedback from members. I honestly used the app for a bit and received credit for 2 of the 3 apps I downloaded.
My recommendation is to skip this app; there's plenty of other options to get paid to download apps. One of my favorites is FeaturePoints; it's easy to use, and they offer PayPal payments start at $3!
If downloading apps isn't for you, here's a long list of other ways to make an Extra Income Online!
I rarely use small extra income apps anymore. That's because my time is much better spent starting a blog. If you're tired of making pennies online, check out My #1 Recommendation to learn how to build a website, drive traffic, and make money!
Do you think Appdango is a scam? Have payment proof? I'd love to hear your thoughts on this review in the comments below! 🙂
Summary
Reviewer
Review Date
Reviewed Item
Author Rating