2
50 Ways To Make Extra Cash For The Holidays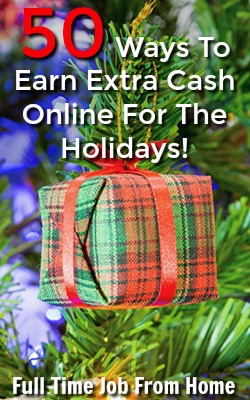 The holiday season is right around the corner. If you're like me, you'll be spending more than usual, so it's a perfect time to find some extra cash.
There're tons of ways to make some extra money for the holidays, but today I'm going to give you a long list of ways to make extra cash online.
If you start using some sites on this list, you can have an extra $10, $20, maybe even $100 in extra spending money.
Take a look at this long list and find the best extra income sites for you. Leave me a comment if you have any questions about making extra cash for the holiday season!
---
50 Ways To Make Extra Money For The Holidays!
Shopping
The first way I'd like to cover is by shopping. PLEASE DO NOT buy anything online for the holidays without earning some cash back. I've listed some excellent sites and apps below that will pay you cash back on all your online and in-store shopping. Make sure to use a few of these during the holiday season!
Online Options
In-Store Options
Survey Sites
One of the most popular ways to make money online is surveys. Let me be clear up front; surveys won't make you rich. You can expect a small extra income from these. You also have to qualify for surveys, which can be a very frustrating process. If you are eligible for surveys, you can make a decent little extra income. Here's a list of survey sites that are legitimate.
Reward Sites
Reward sites are probably my favorite way to make extra money online because they offer a wide variety of ways to earn. Reward sites pay you to take surveys, watch videos, visit websites, play games, and much more. You usually earn points which you can exchange for gift cards or cash payments. Here's a list of awesome reward sites that can make you extra cash this holiday season.
Last Month I Made

$13,841 Online
I Bet You're Tired Of Making Pennies Online. No More BS. If You're Serious About Making A Full-Time Income Online You Need To See The TRUTH. Stop Wasting Your Time With The Next Big Thing When There's Already A Proven Method That Works!
Usability Testing
Website and App owners are looking for feedback from normal people. That makes usability testing an easy way to make some extra income. While recording your screen and voice, visit a website and give feedback. Most sites pay $10-$12 per 20-minute test!
English Second Language Tutoring Apps
Are you fluent in English? You can get paid to talk to English Second Language students directly through an app on your phone! Most of these sites pay $10-$12 an hour!
Browser Extensions
Browser Extensions are an easy way to make extra money. These take a few minutes to set up; after you can earn money forever. Some of these browser extensions do track how long you stay on websites, so if you're uncomfortable, I suggest skipping these opportunities.
Mystery Shopping Apps
With the apps listed below, you can get paid to visit local stores and give feedback. These are location based if you live in a big city more opportunities will be available. Most "mystery shops" take less than 20 minutes to complete and pay $1-$10.
Run Errands/Delivery Apps
Another way to earn extra money is by making deliveries in your local area. Again these are location-based apps; some are only available in select cities. Most drivers say that make $10-$15 an hour.
Extra Income Apps
I love to make extra money, and now it's even easier on your smartphone. You can get paid to do almost anything on your phone, here're a few apps I use all the time!
---
More Ways To Earn
I hope you enjoyed this long list of ways to make extra money for the holidays. All the sites on this list are legitimate and will pay. Again, please do not buy anything this holiday season without using the sites at the top of this list. You could be earning cash back!
This list is not the only ways to make money online. My #1 Recommendation is blogging. If you start now, you could have a full-time income by the time next years Christmas shopping comes around.
Make sure to check out How To Start A Profitable Blog or see how Wealthy Affiliate will teach you how to build a website, drive traffic, and make money!
Do you have any other ways you'll be earning extra cash this holiday season? I'd love to hear your thoughts in the comments below! 🙂